Good morning, Pittsburgh. Here's your day in sports for Tuesday, September 1, 2015.
What's on tap for today:
Duquesne will announce the school's new athletic director in a press conference at 10 a.m.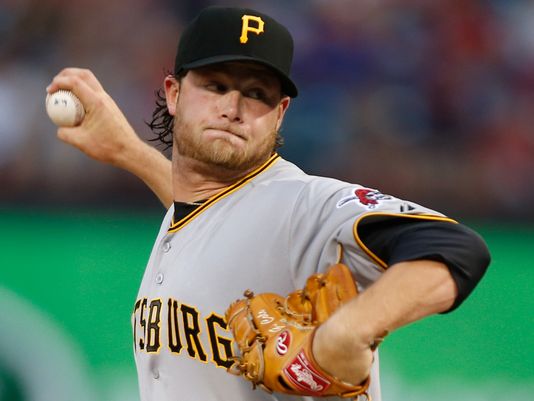 The Pirates (79-50) are back in action after a much-needed rest day. They're in Milwaukee for the first game of a nine-game National League Central road trip that will also see them visit the Cardinals and the Reds.
If the Pirates want to catch the Cardinals, they'll need to improve their play inside the division. The Bucs are 21-29 against the Central and 58-21 against the rest of the league. Gerrit Cole (right) will face Jimmy Nelson. First pitch is at 7:10 p.m. ROOT Sports Pittsburgh
The Wild Things (39-51) are on the final road trip of the 2015 season. They'll try to pick up some wins against the West Division's basement dwellers, the Schaumburg Boomers (37-53). First pitch is at 7:30 p.m. 93.5 WJPA-FM
Pittsburgh headlines:

The big news out of Oakland on Sunday was that the Pitt Panthers are set to change their helmet logo — and the logos of the rest of the athletic department — to a version of the logo used from 1973 to 1996.
What do you think, Pitt fans? Which Pitt helmet logo do you prefer? (photos above)
[poll id="146″]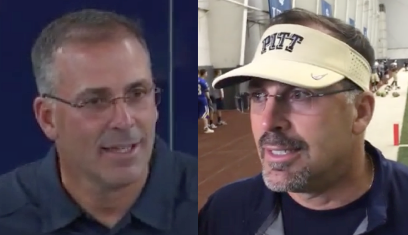 The other big (sarcasm) news item of the day for the Panthers was Coach Narduzzi's first weekly press conference; in which, he appeared clean-shaven for the first time since training camp (left).
I think he looks good either way, but I'm partial to beards. No word on if he's inked a new sponsorship deal with Gilette.
Coach Narduzzi's entire press conference can be found here and it will air on ROOT Sports Pittsburgh today at 1 p.m, followed West Virginia head coach Dana Holgorson's first weekly press conference of the season. Penn State's James Franklin will have his first 2015 weekly press conference today, as well.

At the risk of burying the lead, the Steelers were also big-time newsmakers on Monday, bringing in veteran kicker Josh Scobee in a trade with the Jacksonville Jaguars.
The Steelers also released a statement on the suspension of wide receiver Martavis Bryant and made their first round of preseason cuts, getting down to the 75-man roster limit a day early.

The Pirates were quiet at the trade deadline, but they plan to bring a half-dozen players up from Triple-A Indianapolis when the rosters expand today.

Robert Morris University announced on Monday that Kody Van Rentergem has been promoted to assistant men's hockey coach for the 2015-16 season.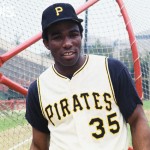 On this date in 1971, against the Philadelphia Phillies, the Pirates featured the first all-minority starting lineup in Major League Baseball history. The Pirates started Rennie Stennett (2B), Gene Clines (CF), Roberto Clemente (RF), Willie Stargell (LF), Manny Sanguillen (C), Dave Cash (3B), Al Oliver (1B), Jackie Hernandez (SS) and Dock Ellis (P).
The all-minority lineup wouldn't last long, as Ellis couldn't get out of the second inning, despite being staked to an early 4-2 lead. He gave up five runs, all earned, while facing only 11 batters. Relievers Bob Moose, Bob Veale and Luke Walker would allow only two more runs over 7 2/3 innings, though, and the Pirates came back to win, 10-7, mostly thanks to a Sanguillen (right) two-run home run.
He said it: "I had to go down to see [head trainer Rob Blanc] yesterday to get some Tums." — Pitt head coach Pat Narduzzi on his nerves coming into his first game as an NCAA head coach.
Photo credit: USA Today, Corbis Images