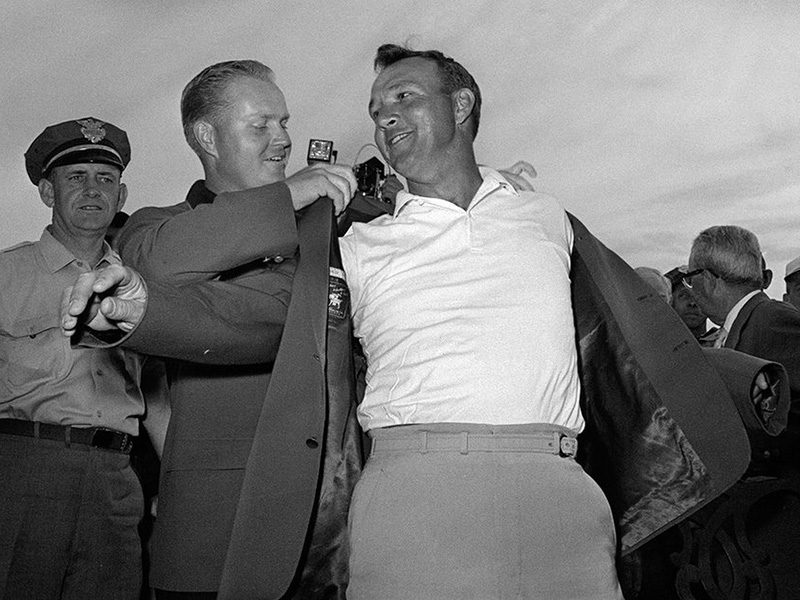 (AP Photo)
According to multiple reports, golfing legend Arnold Palmer passed away Sunday in Pittsburgh at age 87.
Palmer, who was born in Latrobe, PA, is generally regarded as one of the best golfers of all time. Nicknamed "The King," he won seven major championships (the Masters four times, the U.S. Open once and the Open Championship twice), and his 65 wins on the PGA tour are tied for fifth all-time.
He was inducted into the World Golf Hall of Fame in 1974 and was awarded the Presidential Medal of Freedom in 2004. In 2012, he received a Congressional Gold Medal for his work on and off the course.
With his larger-than-life persona, he was golf's first superstar in the TV age and helped popularize the sport and make it what it is today. Palmer came from a humble background, learning to play golf from his father, a head professional and greenskeeper at Latrobe Country Club. Palmer proved golf wasn't just a rich man's game — and he made it cool.
Biographer James Dodson said, "We loved him with a mythic American joy. … He represented everything that is great about golf. The friendship, the fellowship, the laughter, the impossibility of golf, the sudden rapture moment that brings you back, a moment that you never forget, that's Arnold Palmer in spades. He's the defining figure in golf."
An icon in every sense of the word, Palmer was beloved by all and was followed all over the course by his fans, who called themselves "Arnie's Army." Legendary TV producer Frank Chirkinian once said of Palmer, "The cameras capture the essence of a person. They either love you or hate you. And they loved Arnold."
And Palmer loved his fans, too. It was reported that he spent six figures a year in return postage for his fan mail.
Palmer once said, "It is a rare and difficult attainment to grow old gracefully and happily." But, by all accounts, he did just that.
He will be greatly missed.