The 2013 offseason produced multiple coaching changes for the Pittsburgh Steelers. Special teams coach Danny Smith, wide receivers coach Richard Mann, and offensive line coach Jack Bicknell Jr joined the Black 'n Gold. And with the hiring of Bicknell, rumblings of a switch from a power to zone blocking scheme. We'll look at the Steelers vs Chiefs, Bicknell's former team, from last year to see specifically what changes could occur.
The zone blocking scheme, created by Howard Mudd, has two basic plays: inside and outside zone. On inside zone, the running back will run to the inside hip of the tackle if the "bubble" (gap without a lineman) is over guard and the outside hip of the guard if the bubble is over the tackle.
If it's outside zone, the running back's target is the tight end.
Blocking it is simple: If a lineman is uncovered, a defensive lineman is not shaded over any part of his body, he will zone (combo) block with his playside lineman. If covered, he looks to his backside lineman. If he is also covered, they both man (base) block. If uncovered, they zone block.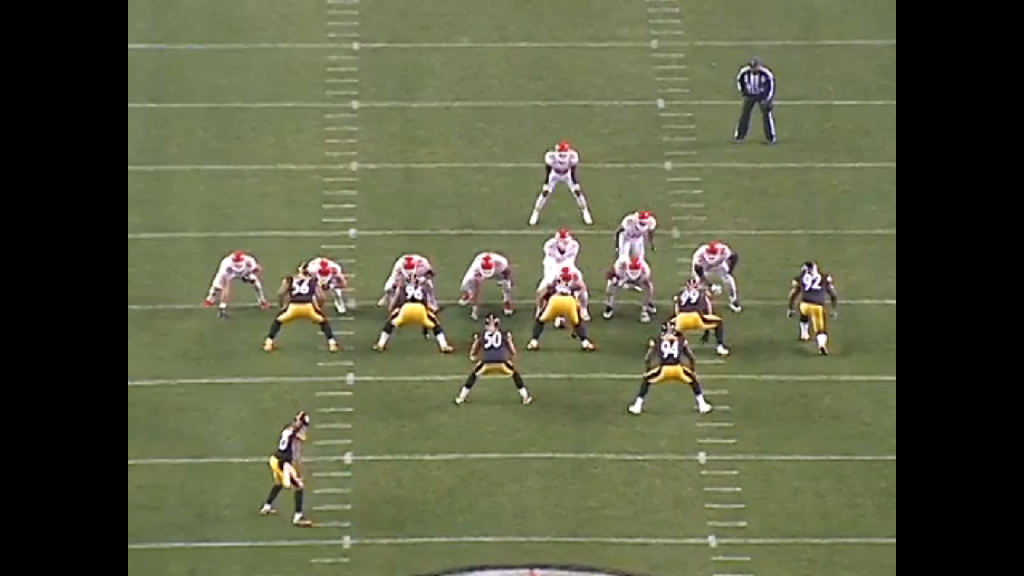 On the first Kansas City snap, the Chiefs are in 21 personnel, motioning Dwayne Bowe into the backfield. Inside zone that goes for nine yards.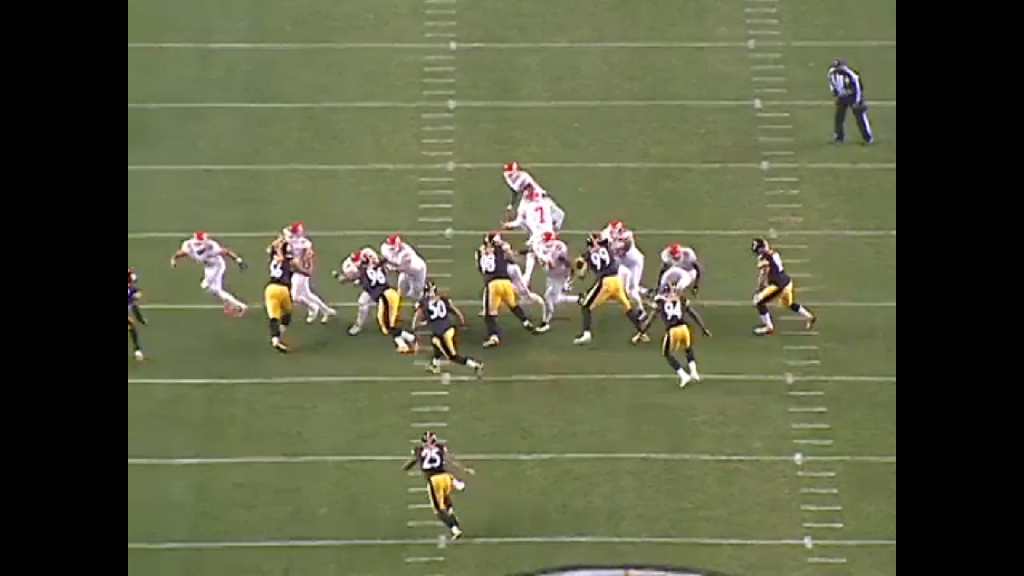 Blocking rules come into play. The RT is covered by Ziggy Hood but the RG is not (the "bubble") so the two combo block before the guard eventually reaches the second level to base block Larry Foote. The tight ends base block.
With Hood getting sealed to the outside, Charles squares his shoulders and cuts up as soon as he eludes Casey Hampton, picking up nine yards before Clark is forced to make the tackle.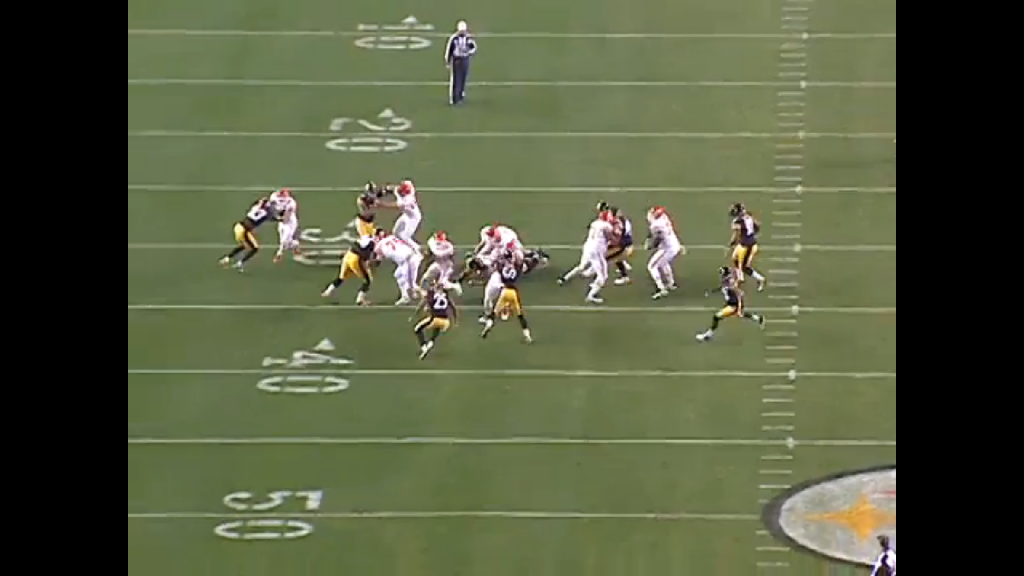 What zone plays allow the running back to have is freedom. There are no set holes the back has to run through. It's about utilizing his vision to find a running lane. Perfect example in just a few plays later. Same design, inside zone.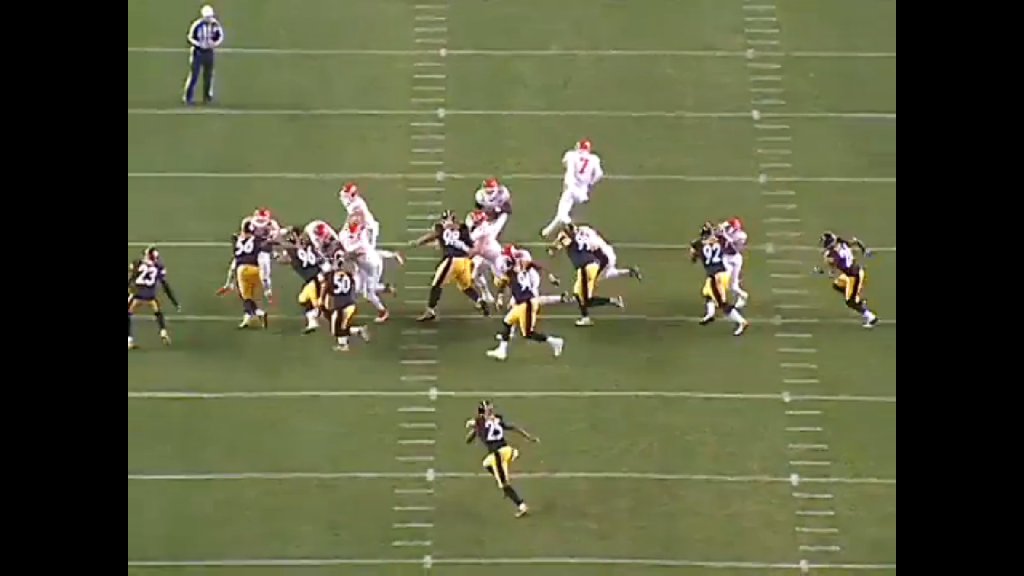 Lawerence Timmons overpursues, allowing Charles to cut back. Base blocks on the backside and Charles goes for seven.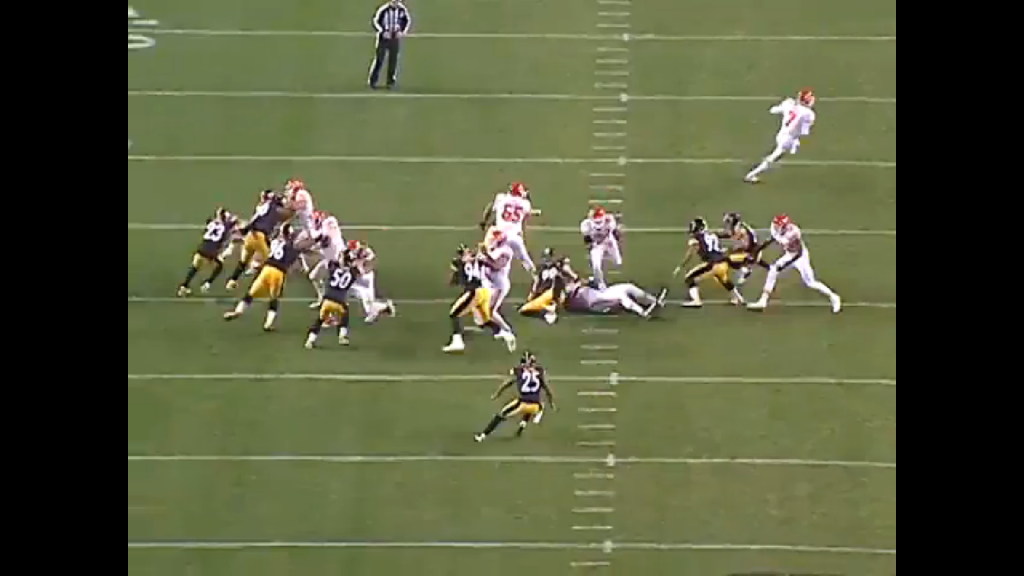 The most dangerous scheme an offense can have is one that can change mid-play based on how the defense reacts to it. That's why plays like the read option are so difficult to stop.
And a quick look at outside zone. Out of I-Form with KC running it to the open side (away from the TE).
RT and RG base block, the C and LG combo, with the FB acting as the lead blocker.
A Steelers' safety was forced to make the tackle on six of the Chiefs' first 12 run plays, with Will Allen missing one on a Jamaal Charles' touchdown. If you can get to the second level untouched in the running game, defenses will be in for a long following week of film study.