Julian Howsare has always made the most of every situation he's been put into.
Make it out of Altoona and into a college football program. Check.
Become an All-American. Check.
Sign an NFL contract. Check.
The last check mark for Howsare came just minutes after May's NFL Draft had ended. For Division II football players like Howsare, who played his college ball at Clarion in the PSAC West, being drafted sometimes isn't the outcome but rather signing as an undrafted free agent. Those who sign in the first 10, 15 minutes or so, generally are prized prospects. Howsare was among those called by the New York Jets.
"I had a couple other teams calling, but in the end I felt the New York Jets were the best for me," Howsare said. "I loved what they were about defensively and everyone associated with the organization. I could not be happier with the decision I made."
There's not much time for prospects like Howsare to celebrate signing with a team following the draft. Typically, those guys are put on a plane for whichever town their team calls home the very next morning to iron out details and get ready for rookie minicamps.
Howsare's tale was no different. But, then again, he'd been preparing for the moment for quite some time.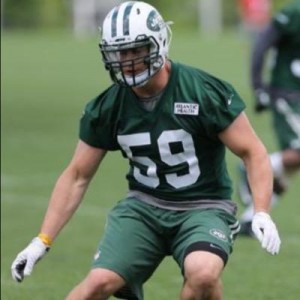 "The last couple months have been very time consuming preparing for an NFL mini camp," he said. "I was focused on preparing myself as best I could for any opportunity that would present itself. I also attended the super regional combine and my pro day at Villanova."
In addition to physical preparation with workouts, Howsare also had to find the right company to represent him when preparing for the NFL. A long process, Howsare said he consulted those close to him.
"I took my time with the agent process and made sure that I picked the right one to represent me on my journey to the NFL," he said. "I also used my family in helping me with the decision. In the end I made a great choice with Tier 1 sports management."
At Clarion, Howsare was a man among boys and everyone knew it.
He racked up 53.5 tackles for loss over his four-year career for the Golden Eagles, 28 of which were sacks, along with being named a first-team All-American and PSAC West Defensive Player of the Year on multiple occasions. To say the least, he was a force to be reckoned with.
Coming into a rookie mini camp, however, he's just another player on a field that features other athletes who were the same way at their own college. Howsare took those mini camps as an opportunity to soak up as much knowledge as he could.
"Rookie mini camp was a great experience for me," he said. "I learned so much over that weekend, and I continue to grow as a football player every day I am here."
Once mini camp was over, organized team activities (OTAs) soon followed with the rest of the team. Howsare said those OTAs were another outlet where he could learn something new each day.
"OTAs are a great chance for me to continue to learn the playbook and get more comfortable with the defense," he said. "We have meetings, practice and training during the day so there is plenty of opportunities for me to learn everyday."
For someone who has trained at a high level for quite some time like Howsare, offseason workouts came easy. The 6-foot-3, 255-pound defensive end said workouts were much like he went through in the offseason when he was in college and said they were "about getting yourself ready physically and mentally for the upcoming season."
According to the Jets' website, Howsare is listed as a linebacker rather than a defensive end. He's currently battling with 12 other linebackers on the current roster for a roster spot, one being third-round pick Lorenzo Mauldin at outside linebacker. Howsare is one of three undrafted free agent linebackers currently listed on the roster and is the only one from a D2 school.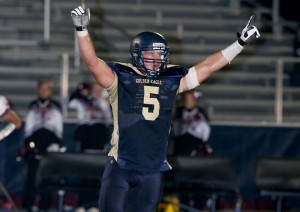 But he's not worried. He said he's prepared, both on and off the field.
"Clarion did a great job in preparing me for the NFL and the real world," he said. "I learned a lot in my years at Clarion University that have helped me greatly in the last couple weeks. I learned so much from the coaching staff and left there with a lot of useful football knowledge."
Howsare and the Jets will continue with offseason OTAs this week, finishing up on Friday. They'll then have off until the mandatory mini camp, which begins June 16. In July, the team will begin seven-day-a-week workouts to prepare for the preseason. These summer sessions are crucial for Howsare to make an impact on the defense and in the eyes of new defensive-minded head coach, Todd Bowles.
The Clarion product believes that he's motivated even more to succeed knowing that he's from a smaller school and encourages any other players from schools like Clarion to never give up on their dream.
"My advice for other small school football players who are looking to go pro would be to continue to chase the dream and never let anyone you can not make it from a small school," he said. "Let that be motivation to continue to work hard every single day."
Photo Credit: New York Jets / Clarion Athletics