It's hard to think of Pittsburgh Sports legends and not include the name Dick Hoak on any list.
The mere fact that Hoak accomplished what he did in both his playing and coaching career without ever leaving his backyard makes Hoak's accomplishments that much more special.
Those not familiar with Hoak, he not only was a high school standout at Jeannette High School, but took those talents to Penn State University where he excelled on both sides of the ball. From there Hoak was drafted by the Pittsburgh Steelers where to this day he remains sixth on the Steelers all-time rushing list.
But Hoak may be even more known as a coach. Just like as a college and pro player, he got to do it in his own backyard, serving as an assistant for the Steelers.
Add it all up and Hoak spent a whopping 45 years with the Steelers as a player and a coach.
Who better to talk Pittsburgh football with than a guy who lived it for close to a half of a century?
This is the first of a three-part series in which we look at Hoak's early days as a college player at Penn State University.
The biggest thing about Hoak's journey is that he did it all right here. In an age and a profession where players and coaches bounce around from organization to organization, Hoak was the exception to the rule.
"That's one thing that I really enjoyed about my career," said Hoak. "I was around people that I knew. There were kids I went to high school with that I was at Penn State with. As a Steeler I lived in my same house until I got married. It was just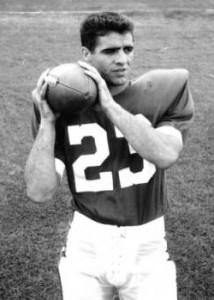 great because if I ever needed anything I knew where to go. If I needed a doctor, if I needed someone to fix my roof or put a furnace in, I knew where to go. That's one of the reasons I never left, just being around the people I knew."
Coming out of high school, Hoak was both a quarterback and a running back and was drawing interest around the nation.
But for him it really only came down to two options- Penn State or Michigan State.
Eventually Hoak's choice was an easy one.
"Coming out of high school, I really could have gone wherever I wanted to go," said Hoak. "All the big schools, including a number of schools from the Big 10 were options. But it was kind of always going to be Penn State or Michigan State. Why? I don't know. That was even before I visited either one of the schools. Back then television wasn't that big and Michigan State would be on once and a while and I always liked watching them play. But I enjoyed Penn State and it wasn't that far from home so my family could come watch me play."
Hoak got to Penn State in 1957 as a freshman and as you can imagine, things were much different than they are today.
Hoak committed to Penn State as a quarterback, but rules prohibited freshmen from playing so he had to watch most of his first year.
"It was a great experience," said Hoak. "Naturally things were much different than they are now, especially having to play both ways. We only played two games with our freshmen team, but at the end of the season the freshmen got to practice with the varsity."
Hoak played quarterback as a freshman, but that didn't last long as the Nittany Lions had all three quarterbacks coming back for Hoak's sophomore season in 1958, including Galen Hall, who ended up coaching at Penn State and Richie Lucas, both of who played in the NFL.
That forced a switch to running back for Hoak for the 1958 season, something that he was willing to do as he also played safety on the defensive side of the ball.
"I came back for my sophomore season and a couple weeks before the season began I got called into the coaches' office," Hoak added. "They said Dick we have all three quarterbacks coming back and we want to redshirt you. I said that was fine. But then we lost like three running backs to injury and they came to me and asked about switching to running back. We opened the season that year against Nebraska and I was back returning the opening kickoff so the redshirt was gone."
The switch to running backs lasted Hoak's sophomore and junior seasons before another position switch needed to be made.
This time it was back to quarterback as the Nittany Lions only had Hall coming back as a quarterback in 1960.
"They asked me before spring practice if I would switch back to quarterback and I said that was fine," said Hoak.
Even though the switch was made to quarterback, Hoak still had his hands full playing both ways as a safety, which further shows how times have changed.
"Back then you didn't have free substitution," said Hoak. "You couldn't just run on and off the field when you wanted.  You had to report to an official. So what we did up was we had two first teams. One team would play seven or eight minutes of the first quarter and the other team would play the rest of it. But you were allowed to have a wild card and Galen wasn't a very good defensive player so when he was in there on offense I would take his place on defense so I would end up playing offense and defense most of the time."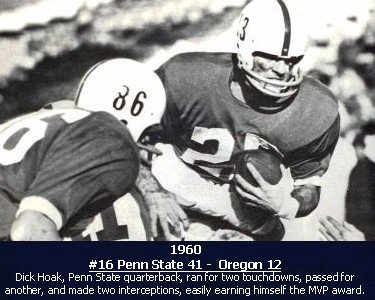 During that 1960 season Hoak's versatility showed as he had success as both a passer and a runner, as well as a defender.
Hoak was voted the Penn State MVP in 1960 for a team that finished 7-3 and finished ranked No. 16 in the AP Poll.
When asked about one moment that stood out above any others while in college,  that one was an easy one as it was Hoak's final game in a Penn State uniform.
Penn State defeated the Ducks 41-12. Hoak didn't let the three-foot snowbanks on the sidelines bother him as he had a major role in the victory.
"We played Oregon in the Liberty Bowl that year," said Hoak. "I had a good game. I think I intercepted two passes and I threw for a score and ran for two scores and ended up getting MVP of the game. It was nice to finish my college career that way."
Hoak graduated that year and 55 years later still keeps a very close eye on the Penn State program, a place that still holds a special part in his heart.
"Yeah I follow it very much," added Hoak. "My three kids went there. I used to enjoy going up there and visit my kids a lot."
Check out part two of Hoak's story tomorrow when we discuss his NFL career as a Steelers' player.
Photo Credit: