Jaromir Jagr. Martin Straka. Petr Nedved. Robert Lang. Petr Sykora.
For the last 25 years, Pittsburgh has been a mecca for Czech forwards in the NHL.
Starting with the drafting of Jagr in the first round of 1990, 11 forwards from what would become the Czech Republic have skated in black and gold, accounting for 2,857 games and 990 goals. Six of the top ten Czech scorers in NHL have played for the Penguins and the Penguins had the first – and so far only – Czech head coach in Ivan Hlinka.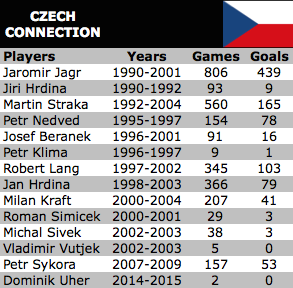 So, when I asked the Penguins fifth-round draft pick Dominik Simon what he knew of Pittsburgh before he was drafted by the club in May, I was surprised by the answer.
"I didn't know much," Simon said. "I just knew that it was a steel city and what I read on the Internet, so I was nicely surprised when I came."
Simon, who flew over from Europe for this week's camp, arrived on Saturday, giving him an extra two days to experience the city.
"I was just walking through the city, downtown, and then I saw the Pirates playing, so the first experience great," he said.
That's all well and good, but what of the team? Surely a younger Simon had some experience with the Penguins.
"They are one of my favorite teams since I was young," he said, assuaging my fears. "I had the most stuff and shirts. I liked Chicago, Pittsburgh and Detroit."
If Simon decides that he needs to learn more about the city, he has some quality sources.
"My GM in Plzen, Martin Straka played here and so did Jaromir Jagr, who I played with at the World Championships, so I'm sure they will send me something about it," he said. "Straka told me that if I'm not going to stay in Plzen, he's going to tell me all about Pittsburgh, so it's great for me."
Simon, 20, has an interesting decision to make this offseason. He could return to Plzen in the Czech Extraleague, where he has excelled playing against professionals, or he could come to North America for what would likely be a stint in the AHL with Wilkes-Barre/Scranton.
He could also decide to go to the Russian KHL, where he was drafted by Yaroslavl Lokomotiv. Simon, who plays center and left wing, has oodles of talent, so there should be no shortage of teams around the globe vying for his services for the 2015-16 season.
"Pittsburgh can still offer me a contract," he said. "So, I'm just waiting now and we will see what will be next."
Photo credit: Martin Rose/Getty Images Europe