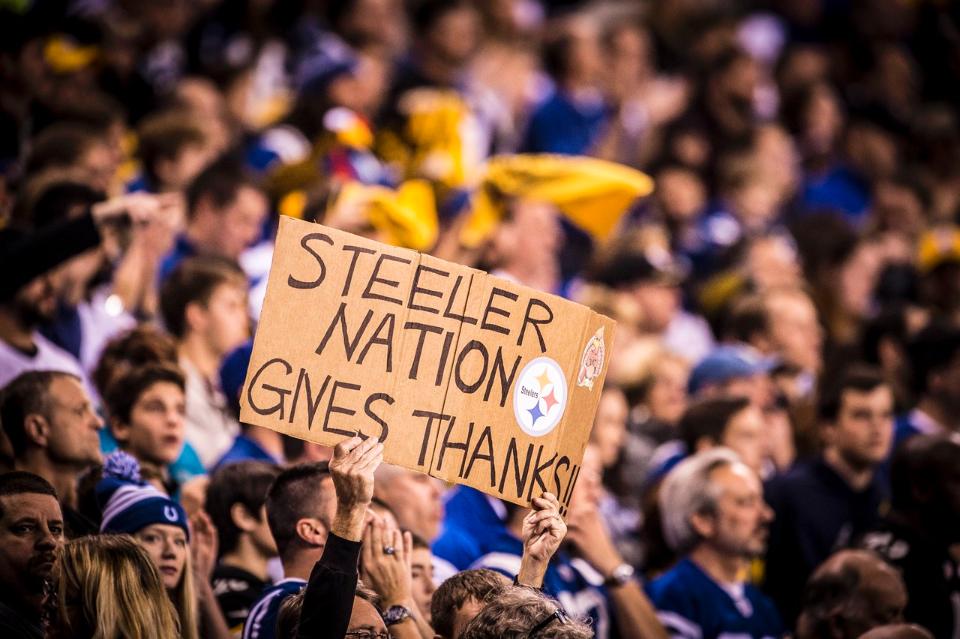 The Pittsburgh Steelers raked in their second-straight win, beating the Indianapolis Colts 28-7 on Thanksgiving night.
Quarterback: Ben Roethlisberger has been shaky in recent weeks, but, against a depleted Colts secondary, he looked like the MVP of the NFL. Roethlisberger completed 14/20 passes for 221 yards and three touchdowns — he didn't throw a single interception. Late in the fourth quarter, head coach Mike Tomlin decided not to let Roethlisberger embarrass the Colts any longer, so Tomlin threw backup quarterback Landry Jones in there to close it out. Grade: A
Running Backs: Le'Veon Bell might just be back to his usual self. He posted his second straight 100-plus-yard rushing game against the Colts, totaling 120 yards on 23 carries. Bell found the endzone first for the Steelers. At times, Bell was relieved at times by Fitzgerald Toussaint, who rushed for 28 yards on six carries. Grade: A-
Wide Receivers: Antonio Brown and Roethlisberger have re-established their connection! The duo connected for three touchdowns, and Brown recorded 91 yards on five receptions. Eli Rogers and Cobi Hamilton had quiet nights in Indianapolis, combining for 41 yards on three receptions. Grade: A-
Tight Ends: The tight ends were much better in helping Bell earn some yards on the ground, however, in the air, they were barely there. Ladarius Green had two receptions for 67 yards, but Jesse James didn't have a single reception. Grade: C+
Offensive Line: The offensive line did a stellar job protecting Roethlisberger, as the Colts didn't record a single sack. The offensive line was the main reason Bell was able to have back-to-back 100-plus yard games. Grade: A+
Defensive Line: The defensive line truly found a diamond in the rough when it comes to Javon Hargrave, who recorded five tackles and sacked backup quarterback Scott Tolzien. Stephon Tuitt had a pretty quiet week after having a monster game against the Browns, recording two tackles. Grade: A-
Linebackers: James Harrison became the Steelers' all-time sack leader against the Browns, and he apparently wanted to keep that number going up with a sack of Tolzien. Lawrence Timmons led the linebackers in tackles with 10. Making his season-debut was Bud Dupree, who recorded two tackles and one quarterback hit. Grade: A-
Secondary: The secondary didn't have a bad outing, but it did allow Tolzien to throw for 205 yards. While that's a significant improvement, the number still needs to go down. Mike Mitchell and William Gay both had a successful day against the Colts. Gay even recorded a kind of hat trick, as he sacked Tolzien, recorded an interception and forced a fumble. Mitchell also had an interception, and he led the secondary in tackles with seven. Grade: A-
Special Teams: Chris Boswell really didn't have a busy day, as he wasn't ever sent on to attempt a field goal. However, he did convert all four of his extra point attempts. Punter Jordan Berry wasn't especially busy either — he punted the ball four times and put one punt inside the Colts' 20-yard line. Berry's longest punt of the day was 54 yards. Grade: A
Coaching: Steelers fans held their breath after Bell's touchdown to see if Tomlin would go for the two-point conversion. Tomlin played it safe and sent Boswell on for the extra points after each touchdown. The only bad look was the fake punt led by Colts punter Pat McAfee. The Steelers 'special teams couldn't read it, and the Colts gained 35 yards. Grade: B+
What's Next?
The Steelers will host the New York Giants at Heinz Field on Sunday, Dec. 4. The game will kickoff at 4:25 p.m. EST.
Image credit: Pittsburgh Steelers