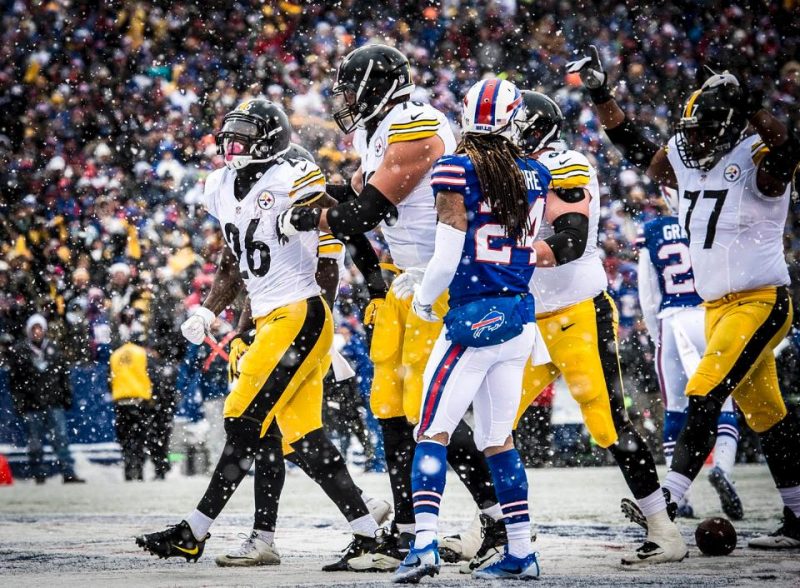 (Photo by Pittsburgh Steelers)
The Pittsburgh Steelers' win streak is now at four games.
It's perfect timing for the Steelers, who are making a push to be AFC North champions; they're now ahead of the Baltimore Ravens. If the Ravens lose to the New England Patriots on Monday Night Football, the Steelers will remain in the division lead.
This isn't unfamiliar territory for the Steelers, who have always been known as a strong December team. Pittsburgh kicked off December football with a win over the New York Giants and, Sunday, continued to look dominant with a 27-20 win over the Bills.
The Steelers have three more games against divisional opponents coming up. The big win over the Bills, with its strong running game, will give Pittsburgh a lot more confidence heading down the stretch.
Without further ado, here are the grades for the Steelers' Week 14 win.
Quarterback:
Ben Roethlisberger is lucky to have gotten out of Ralph Wilson Stadium with the win. The quarterback didn't have a good day against the Bills' defense, throwing three interceptions and completing only 17/31 passes for 220 yards. Putting it into perspective, Roethlisberger had his worst game of the season against a fairly mediocre defense. At least he didn't fumble the ball.
Grade: D
Running Back:
Le'Veon Bell steamrolled Buffalo's defense. He rushed for more yards (238) than Roethlisberger threw for. Bell broke the Steelers franchise record for most rushing yards in a single game with those 238 yards on 38 carries. He also had more total yards than the Bills did as an offense. In addition, he also scored all three of Pittsburgh's touchdowns. The game brings Bell to over 3,800 rushing yards on the season.
Grade: A+
Wide Receivers:
Nobody stole the show in the air, but they weren't really expected too. Once the Steelers saw Bell dominate on the ground, they decided to keep running the ball. Antonio Brown led the group with 78 yards on five receptions, including a 40-yard connection between him and Roethlisberger.
Grade: B+
Tight Ends:
The tight ends certainly helped Bell out with blocking in the run game, but they didn't do much in the air. Again, the Steelers kept running the ball, so there wasn't much they could do there. Ladarius Green led the group with two receptions for 25 yards.
Grade: B
Offensive Line:
The offensive line kept Roethlisberger safe and was the reason for Bell's success. Easily one of the more underrated offensive lines in the league, the group was also seriously helped out by fullback Roosevelt Nix in the blocking game.
Grade: A+
Defensive Line:
Stephon Tuitt had an assist on a sack and had one tackle. It wasn't a great day of tackling, but the defensive line did hold Buffalo running backs LeSean McCoy and Mike Gillislee to only 61 yards on 14 combined carries.
Grade: A-
Linebackers:
Pittsburgh's linebackers had a field day against Bills quarterback Tyrod Taylor and his receivers. Linebacker Bud Dupree, who admitted it was his first time playing football in the snow, recorded two sacks against Taylor, and Ryan Shazier added a sack of his own. Shazier led the linebackers with six solo tackles and two assisted tackles.
Grade: A
Secondary:
Safety Sean Davis and conerback Artie Burns keep giving head coach Mike Tomlin and defensive coordinator Keith Butler something to smile about. Davis led the entire defense with six tackles and one assisted tackle, and he also recorded 1.5 sacks. Burns recorded his third NFL interception and had three tackles.
Grade: A
Special Teams:
Kicker Chris Boswell returned from his abdominal injury with a bang. The kicker converted two field goals from 37 and 39 yards, and made 3/3 extra point attempts. Punter Jordan Berry didn't have much work to do, but his two punts averaged 40.5 yards. One of his punts was downed inside the 20 yard line, and his longest punt was 56 yards.
Grade: A+
Coaching:
Tomlin decided to play it safe with the weather and not go for two point conversions after Bell's three touchdowns. The move paid off, as Boswell made all three of his extra points. Tomlin was smart to keep running the ball with Bell and not rely too much on Roethlisberger. Grade: A-
What's Next?
The Steelers will face the Cincinnati Bengals at Paul Brown Stadium on Sunday, Dec. 18 at 1 p.m. EST. Pittsburgh comes into the game with a 8-5 record while the Bengals are 5-7-1.