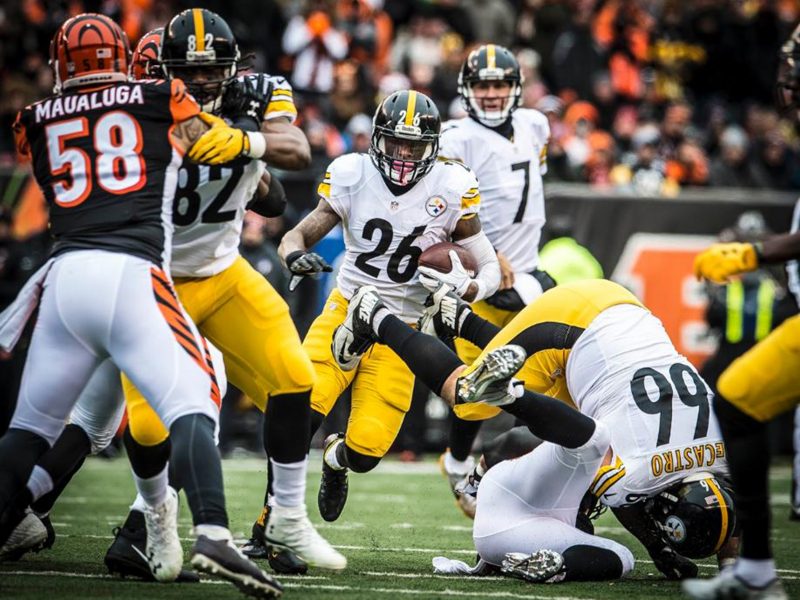 (Photo by Pittsburgh Steelers)
There was plenty to be learned from the Pittsburgh Steelers' 24-20 comeback win Sunday over the Cincinnati Bengals. However, it may have been Bengals running back Jeremy Hill who learned the most important lesson: Don't disrespect the Terrible Towel.
With a 9-5 record, the Steelers are in first place in the AFC North, but the Baltimore Ravens are close behind with an 8-6 record. Cincinnati, with the loss and a Baltimore win, was officially eliminated from playoff contention.
Without further ado, here are the grades for the Steelers in their Week 15 win.
Quarterback:
Ben Roethlisberger wasn't stellar by any means, but when it came to moving his team down the field and into field goal range, he did just that. Roethlisberger threw for 286 yards on 21/36 completed passes and didn't throw any picks. Late in the fourth quarter, Roethlisberger found Eli Rogers for a 24-yard touchdown late in the fourth quarter — Pittsburgh's only touchdown. At this point in December football, it doesn't matter if the win is ugly or pretty — a win's a win.
Grade: B
Running Back:
Le'Veon Bell's streak of 100-plus yard games ended Sunday after four games. Against Cincinnati, he did come close, however, rushing for 91 yards on 23 carries. While Bell wasn't flashy like he was against the Buffalo Bills last weekend — granted, the Bengals defensive line is a lot better than the Bills — he got the job done. On the ground, Bell and Sammie Coates, who "rushed" twice for nine yards, picked up seven first downs.
Grade: B
Wide Receivers:
When they were called on, the wide receivers — for the most part — delivered against Cincinnati's secondary. Rogers led the pack with his one touchdown and five receptions for 75 yards. Antonio Brown didn't have a stellar day, but did make big catches when needed, making three receptions for 58 yards.
Grade: B+
Tight Ends:
Give some credit to Ladarius Green. The tight end, who got banged around a lot, is certainly tough. However, there may be cause to worry. Green, who recorded five receptions for 72 yards, is currently in concussion protocol after taking a hard hit. Fellow tight end Jesse James was absent the whole game, not making a single catch and dropping a potential first down pass.
Grade: B-
Offensive Line:
Sure, Bell didn't have another 200-yard game, but, Sunday, the offensive line kept Roethlisberger safe. Only Geno Atkins found Roethlisberger — once. Other than that, the line held up, giving Roethlisberger plenty of time in the pocket to find his receivers.
Grade: A-
Defensive Line:
The biggest question here is injuries. Stephon Tuitt left the game almost immediately after it started with a knee injury. Filling in for him was Dan McCullers, who had two tackles and one assisted tackle. The defensive line did a good job of stopping the run, holding Hill to just 43 yards on 20 carries — they did let Hill and quarterback Andy Dalton score on rushing plays, however.
Grade: C+
Linebackers:
Ryan Shazier and Lawrence Timmons had a day against the Bengals. Shazier was the only player on the entire defense to find Dalton for a sack, and Timmons picked off Dalton to shift momentum tremendously. Timmons also led the defense with five tackles and three assisted tackles.
Grade: A
Secondary:
Dalton couldn't find a single receiver in the air for a touchdown in the red zone, and the credit needs to go to the secondary. Ross Cockrell broke up a potential touchdown in the first quarter, and rookies Artie Burns and Sean Davis were locked in on their players on man-to-man coverage. Pittsburgh's secondary held Dalton to only 157 passing yards.
Grade: B+
Special Teams:
All hail Christopher Lynn Boswell. The kicker, who recently came back from an abdominal injury, converted all six of his field goal attempts. Three of the six kicks were for 49 yards, while the others were from 45, 40 and 30 yards out. Also, Boswell deserves a ton of credit for stopping what could've been a touchdown from Alex Erickson on a return.
Jordan Berry's lone punt went 40 yards, pinning the Bengals inside their 20-yard line. And Greg Warren, the long snapper, did his job perfectly.
Grade: A++
Coaching:
Head coach Mike Tomlin elected to go for the two-point conversion after the Roger-Roethlisberger touchdown, but the attempt failed. Either way, it was still a smart move. The game would have still been a one-score game if the two-point conversion worked. Offensive coordinator Todd Haley and defensive coordinator Keith Butler need to work with their squads on the penalties.
Grade: B
What's Next?
The Steelers have a big Christmas Day matchup against the Baltimore Ravens at 4:30 p.m. EST at Heinz Field. The Steelers and the Ravens will likely be battling to see who takes home the AFC North title.