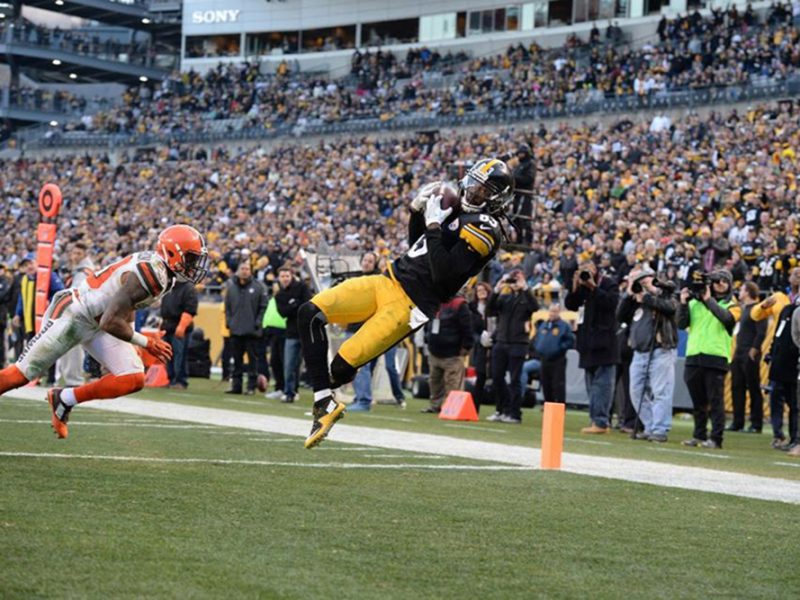 (Photo by: Pittsburgh Steelers)
There's no doubt about it: The Pittsburgh Steelers like to make their regular-season finale interesting.
Sunday, Pittsburgh elected to rest quarterback Ben Roethlisberger, running back Le'Veon Bell, wide receiver Antonio Brown and center Maurkice Pouncey — the team's four Pro Bowl-ers — for the playoffs, and it almost cost the team in the final game of the season.
The Steelers (11-5), led by quarterback Landry Jones and running back DeAngelo Williams, barely squeezed out a 27-24 win over the Cleveland Browns (1-15). It was Pittsburgh's seventh win in a row.
Now, it's time for some playoff football. But, to hold you over until then, here are the grades for the Steelers' win over the Browns.
Quarterback:
Sunday, Landry Jones was in something of a similar as Cleveland quarterback Robert Griffin III; both quarterbacks were basically playing a "tryout" game. But while Griffin was playing to see if he is the quarterback of the Browns' future, Jones was playing to see if he'd be resigned by Pittsburgh or whether the team would let him walk as a free agent.
Jones looked terrible in the first half, but he picked up in the second half and in overtime. In total, he completed 24 of 37 passes for 277 yards and threw three touchdowns and one interception. The numbers look nice, but, on TV, it looked shaky.
Grade: B-
Running Back:
Have yourself a day, DeAngelo Williams. Williams hasn't played much for the Steelers this season — what with the return of Le'Veon Bell and an injury to Williams — but, against the Browns, Williams scored twice. His first touchdown came off an 11-yard pass from Jones, and his second was a 1-yard run into the endzone.
Williams carried the ball 23 times for 67 yards.
Grade: A
Wide Receivers:
Darrius Heyward-Bey, Demarcus Ayers, Eli Rogers and Cobi Hamilton should all be commended for their tremendous work against the Browns. Ayers caught a touchdown in the third quarter, while Hamilton had the game-winning touchdown reception in overtime. Rogers led the pack with six receptions for 61 yards.
Grade: A
Tight Ends:
Jesse James was the only tight end to record a reception against the Browns, catching two passes for 16 yards. He had a drop in the endzone for what should have been an easy touchdown, but he did help in the blocking scheme for Williams, resulting in the back's two touchdowns.
Grade: C
Offensive Line:
Jones was sacked four times, and Williams didn't rush for 100-plus yards. However, the offensive line gave Jones a perfect amount of time on that last touchdown (from Jones to Hamilton) to help win the game. Good enough (at least against the Browns).
Grade: B
Defensive Line:
After a horrendous first half, the entire defense picked up in the second half. On the defensive line, end Ricardo Mathews and nose tackle Javon Hargrave went out of the game with injury, joining Stephon Tuitt (who didn't play in the game) on the sidelines. Dan McCullers had three tackles, two assisted tackles and one sack.
When it came to the running game, the line allowed Isaiah Crowell to rush for 152 yards on 19 carries.
Grade: C-
Linebackers:
Ryan Shazier picked off Griffin, building a spark for the defense. Shazier led the linebackers with seven tackles, and one assisted tackle. Bud Dupree played well — he finished with both a sack and a forced fumble on the stat sheet — as did Jarvis Jones, who also had a sack and forced fumble.
However, the linebackers also need to be held somewhat accountable for Crowell's 152 rushing yards.
Grade: B+
Secondary:
Safety Sean Davis led the secondary with eight solo tackles and one assisted tackle — and he had his first solo career sack. Fellow safety Mike Mitchell had seven tackles to follow Davis, and Mitchell was robbed on a late facemask call that was given to Cleveland and helped the Browns get within scoring position.
Cornerback Artie Burns almost picked off Griffin in the third quarter; the defensive back finished the day with five solo tackles and three assisted tackles.
Grade: B+
Special Teams:
Chris Boswell didn't use his leg much, only kicking (and making) three extra point attempts. However, Jordan Berry used his punting leg eight times. Berry put two punts inside Cleveland's 20-yard line. Berry also had a booming punt of 64 yards out of his own endzone.
Grade: A
Coaching:
Mike Tomlin had Todd Haley and Ben Roethlisberger team up to call plays for Jones. The game's biggest head scratchers were calls to run the ball with the Steelers barely on their own 1-yard line. Luckily, Pittsburgh avoided a safety due to Williams' gritty running.
Grade: C-
What's Next?
The Steelers will host an AFC playoff game versus the Miami Dolphins at Heinz Field on Sunday, January 8 at 1:05 p.m. EST.
The two teams met earlier this year, in Miami, and the Dolphins claimed the 30-15 win.
However, the Dolphins are without their starting quarterback, and Pittsburgh has home field advantage — now the Steelers just need to figure out how to shut down running back Jay Ajayi.