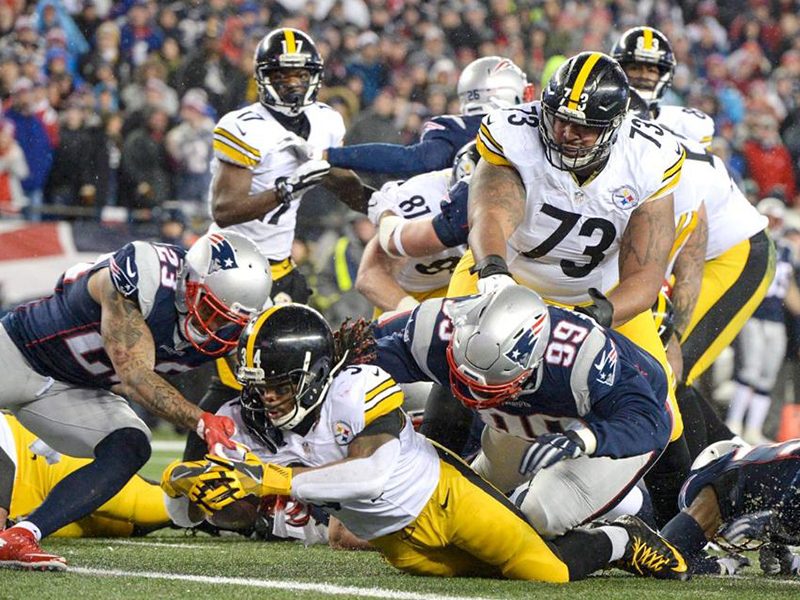 (Photo by: Pittsburgh Steelers)
Houston, we have a problem.
That problem is simply that the New England Patriots beat the Pittsburgh Steelers to once again to head to yet another Super Bowl. The Steelers, in reality, didn't do much to halt the Patriots' passage to Houston, where Super Bowl LI will be held.
For New England, it seemed like another walk around Boston Park.
Plenty of Steelers fans made the trip to sit in the trenches of Gillette Stadium and cheer on the Black and Gold. However, those fans had to sit through an abysmal end to a resilient 2016-17 season. I say resilient because Pittsburgh overcame a poor 4-5 start to win nine straight to get to the AFC Championship Game.
In less than two weeks, Steelers fans who can muster up enough courage to watch the Super Bowl will be rooting for the Atlanta Falcons, who beat the Green Bay Packers in the NFC Championship Game, to hoist the Lombardi Trophy.
For others who don't want to watch the Super Bowl and still want to sulk over Pittsburgh's loss to the Patriots, here are the grades from the game to help you do so.
Quarterback:
Ben Roethlisberger, when looking at the numbers, didn't have a horrible night. He threw for 314 yards on 31/47 completed passes. Roethlisberger led his offense down the field on multiple occasions, but he had a hard time finding any receivers in the endzone. Roethlisberger did find Cobi Hamilton once in the endzone, but Roethlisberger also later found Patriots cornerback Eric Rowe for an interception.
Grade: B
Running Backs:
Give DeAngelo Williams credit for the touchdown because it gave the Steelers and their fans some hope. After Le'Veon Bell went down in the first quarter with a left groin injury, Williams came on to replace him. But Williams rushed only 14 times for a meager 34 yards. Bell only rushed six times for 20 yards.
At least neither of them fumbled.
Grade: C+
Wide Receivers:
Turn that frown upside down, Antonio Brown. After reportedly pouting in the end zone, Brown led the receiving group with seven receptions for 77 yards. Eli Rogers wasn't far behind him, catching seven passes for 66 yards. However, it was Hamilton, who finished with two receptions for 37 yards, who caught the touchdown.
Grade: C+
Offensive Line:
The offensive line didn't open up many holes for Williams or Bell, but it did keep Roethlisberger safe. New England's defense couldn't break through for a single sack of Roethlisberger. Also, the offensive line gets a good grade for the stellar performance it had in the 2016-17 season.
Grade: A
Defensive Line:
Rookie nose tackle Javon Hargrave gives Pittsburgh plenty to be excited about. He managed to sack Tom Brady while also tacking on two solo tackles and three assisted tackles. However, it was another quiet game from Stephon Tuitt, who only had one tackle.
In the running game, the defense did fairly well. Despite the fact that LeGarrette Blount scored a touchdown, he was held to just 47 rushing yards on 16 carries.
Grade: C
Linebackers:
Lawrence Timmons led the entire defense with nine solo tackles and five assisted tackles. James Harrison, who, after the game, announced he "wasn't done" playing football, finished the game with four tackles, despite being held by the Patriots' offensive line a majority of the game.
Grade: C
Secondary:
This is where the defense really struggled.
Ross Cockrell, Mike Mitchell, William Gay, Artie Burns, Sean Davis and Robert Golden made New England's Chris Hogan look like an All-Pro wide receiver; he caught nine passes for 180 yards and scored two touchdowns. Tack on Julian Edelman's 118 yards on eight receptions and one touchdown and it was a nightmare for the secondary.
The one positive? Davis' sack of Brady. Make that two rookie sacks on the veteran quarterback.
Grade: D-
Special Teams:
Chris Boswell missed an extra point attempt, but, in the end, it didn't affect the game much. He did convert his lone field goal attempt, from only 23 yards out.
Jordan Berry didn't have his best day punting, punting four times for an average of 33.5 yards. However, he did pin the Patriots inside their own 20-yard line twice.
Grade: B-
Coaching:
When will the offensive play-callers (ahem, offensive coordinator Todd Haley) learn that on 3rd & 1, rushing the ball is a good idea? Instead, the called play tends to see Roethlisberger throw the ball with man-to-man coverage on the receivers. However, the golden rule is that making an AFC Championship game means little changes.
Don't expect many coordinators to venture away from Pittsburgh this offseason.
Grade: D+
What's Next?
The Steelers have a few players heading to the Pro Bowl on Sunday. Ryan Shazier was called as a replacement and will join teammates Brown and guard David DeCastro down in Orlando, Fla.
Roethlisberger, Bell and center Maurkice Pouncey were all named to the Pro Bowl but decided to withdraw.
Looking further ahead, the Steelers own the No. 30 overall pick in the 2017 NFL Draft.