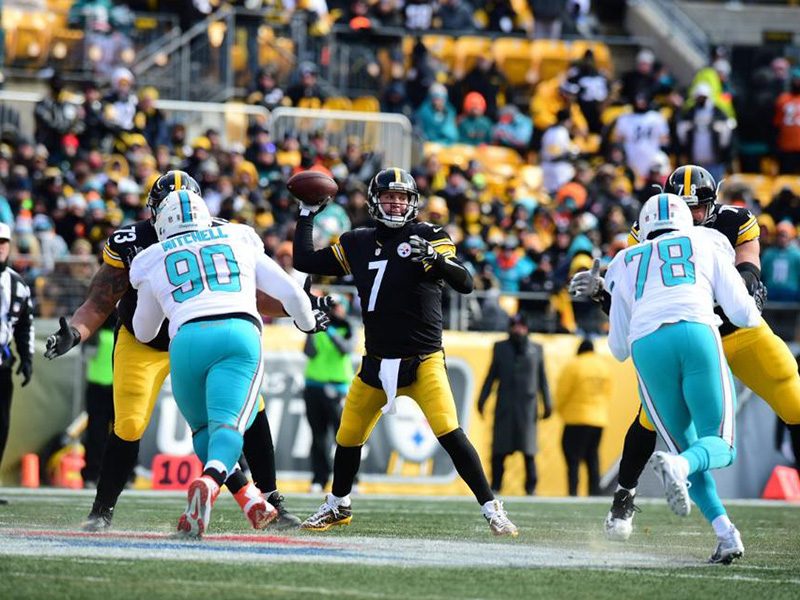 Ben Roethlisberger got off to a phenomenal start vs. Miami. (Photo by: Pittsburgh Steelers)
The Pittsburgh Steelers faced a familiar foe Sunday, and they weren't about to be beat twice in one season. When the Steelers and the Miami Dolphins faced off the first time — back in October — Miami looked like the dominant team in its 30-15 win.
This time, at Heinz Field during one of two AFC Wild Card game, it was the Steelers that won in a dominant fashion, 30-12, meaning Pittsburgh is moving on in the NFL playoffs.
Before the Steelers board their plane for Kansas City, grades are served!
Quarterback:
Ben Roethlisberger was on fire in the first quarter, finding Antonio Brown for two touchdown passes for 50 and 62 yards. But after that superb first quarter, Roethlisberger's play started to decline. He threw two interceptions into the arms of cornerback Xavien Howard and safety Michael Thomas.
Roethlisberger injured his foot on his final play before taking a knee; he wore a brace to his postgame press conference. However, he has since shed the boot and said he's ready to go for Sunday.
Grade: B+
Running Back:
Two touchdowns from Le'Veon Bell and 167 rushing yards isn't a bad postseason start for the running back in his first postseason game. Bell actually even broke the Steelers franchise record for most yards rushing in a playoff game. In the air, Bell only caught two passes for seven yards. But the rushing yardage is what Bell gets paid for.
Grade: A+
Wide Receiver:
Antonio Brown caught both — long — touchdown passes from Roethlisberger. Brown led Pittsburgh's wide receivers with 124 yards on only five receptions. Demarcus Ayers was second on the list, but he came nowhere near close to Brown's numbers (Ayers had only two passes for 21 yards.)
Grade: A-
Tight Ends:
Ladarius Green's absence is still painfully noticeable. Xavier Grimble was practically absent, while Jesse James only caught one pass for six yards.
Grade: D+
Offensive Line:
When the offensive line does well, Bell does well. And when Bell does well, the Steelers win football games. The offensive line only let the Dolphins — specifically Ndamukong Suh — find Roethlisberger once for a sack.
Grade: A
Defensive Line:
Stephon Tuitt is back, ladies and gentlemen. He didn't record any sacks against Miami quarterback Matt Moore (filling in for the injured Ryan Tannehill), but Tuitt did record four total tackles. Javon Hargrave also made his injury return, but he only recorded one assisted tackle.
Grade: B-
Linebackers:
Bud Dupree absolutely crushed Moore in the second quarter, and the linebacker was flagged for it. But Dupree then made up for the penalty by assisting James Harrison on a sack. Harrison recorded another solo sack and forced a fumble, while Lawrence Timmons — who led the linebackers with eight solo tackles and six assisted tackles — had two sacks. Ryan Shazier recorded Moore's only interception.
Grade: A+
Secondary:
Mike Mitchell recorded the secondary's only sack of Moore. Pittsburgh had a bit of a scare when safety Sean Davis left the game for a short time with a shoulder injury, but he returned, finishing the game with three solo tackles. Ross Cockrell led the defense with eight solo tackles, while Mitchell also recorded a forced fumble.
Grade: A-
Special Teams:
Chris Boswell missed his first extra point of the entire season, but he converted his lone 34-yard field goal attempt. Punter Jordan Berry averaged 35 yards on two punts.
Grade: B+
Coaching:
Head coach Mike Tomlin didn't beat himself up for keeping Roethlisberger in the game in the fourth quarter, but Tomlin did regret giving his quarterback such intense play calls. Lesson learned, Coach Tomlin. If you're up 20-plus points against the Kansas City Chiefs on Sunday, throw Landry Jones (or even Zach Mettenberger) in for Roethlisberger.
Grade: B
What's Next?
The Steelers will face the Chiefs at Arrowhead Stadium on Sunday, with a kickoff time of 1:05 p.m EST.