Former Penguins goaltender Thomas Greiss caused a stir on Monday after making his debut with the New York Islanders at their new home in Brooklyn, the Barclays Center. After the Islanders' 4-2 victory over the Winnipeg Jets on Monday afternoon, Greiss was asked how the atmosphere was in his first game in New York.
"It was fun to play (here), especially coming from Pittsburgh," he said to Islanders Insights. "It's pretty dead there."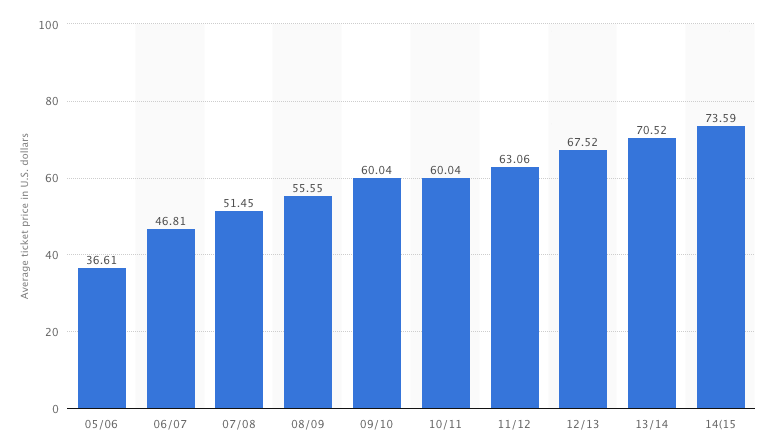 Greiss, who played only one season in Pittsburgh before signing a free-agent deal with the Isles this offseason, may have a point. Despite the Penguins' 377-game home sellout streak, his criticism is one that rings true. The environment at Penguins home games hasn't been the same since they left Mellon Arena for their new digs across the street in 2010.
Part of the problem may be that the Penguins have priced out the average fan. The average ticket price at Consol Energy Center last season was $73.59, a more than 100% increase over the last 10 years. (Graphic courtesy Statista.)
With the team on the market for sale, and demand for tickets still high, change in that department will be slow to come by.
Meanwhile, the team has tried strategies to engage the fans at their home games, including giving 100 playoff tickets to local radio station 96.1 KISS-FM morning shows hosts Mikey and Big Bob in an effort to increase fan interaction.
Beyond what the team has done and continues to try, there isn't much that can be done about the problem. The economics of the NHL, with meager TV revenues compared to the other major sports, demand that the team make as much money on tickets as possible. With the team's local television ratings on ROOT Sports again pacing the league in 2014-15, interest in the team is clearly still at a high level.
For the Penguins it's a nice problem to have. Despite the raucous crowds the last few seasons at their former home, they spent the better part of a decade unable to sell out Mellon Arena before the arrival of Sidney Crosby and Evgeni Malkin re-energized the fanbase.
This ownership group is about at the end of it's tenure with the club, so changes, be it to the pricing structure of tickets or to the building itself, will probably have to wait. For now, Pens fans will have to begrudgingly agree that Greiss is right.
Select tickets are still available for the team's home opener on Tuesday night against the Montreal Canadiens.
Photo credit: Getty Images