Previously, we've taken a look at who the Pittsburgh Pirates' impending free agents as well as their players arbitration-eligible players. The latter story did not cover Pedro Alvarez, Neil Walker or Mark Melancon, since their situations are worth a closer look. All three will be eligible for free agency after the 2016 season, and Walker and Melancon are already 30, with Alvarez being 28.
So, here is a closer look at all three's off-season situations.
Pedro Alvarez – It is hard to remember any Pittsburgh Pirates' player whose career has been as much of an enigma as Alvarez. His debut in 2010 was one of the most anticipated arrivals for a prospect in quite some time for the Pirates after he was drafted second overall in the 2008 Major League Baseball Entry Draft. Since then his career has had as many ups and downs as a ride on the Phantom's Revenge at Kennywood. From being demoted to Triple-A Indianapolis in 2011, to leading the National League in home runs in 2013, to consistently airmailing throws from third base to first in 2014 it has been hard to really know what to expect from Alvarez. He moved to first base in 2015 to help mask his defensive deficiencies, but still had a rough year on the diamond. His 23 errors was the third most in baseball, and almost double the second most total among first basemen. His 27 home runs led the team, but did not live up to his power potential.
It is hard to see Alvarez in a Pirates' uniform in 2016. He is projected to make $8.1 million in arbitration, and the Pirates are unlikely to want to give that money to a defensively-challenged player that is also streaky on offense. The Pirates also have Michael Morse under contract next season, who showed well in his brief time with the Pirates. He had a .275/.390/.391 line and has power potential, though he did not show it last season. He is not a plus defender, but would be an upgrade over Alvarez. With top hitting prospect Josh Bell knocking on the door in Triple-A Indianapolis, it is likely the Pirates start the year with Morse until Bell is ready to take the job over. While unlikely, they also could make a run for Jung Ho Kang's former teammate in Korean, Byung Ho Park.
Neil Walker – A fan favorite since being drafted in the first round out of Pine-Richland High School in 2004, the hometown-kid may find himself playing for a new team in 2016. Walker has always been a solid second baseman, but last season he ranked tenth out of 20 second baseman in wins above replacement. His .269/.326/.427 line with 32 doubles and 16 home runs may not win him another Silver Slugger, but still quality production. His biggest weakness is his range on defense, which gave him some of the worst advanced fielding stats for a second baseman. He was 20th in runs saved, and 28th in UZR/150 (Ultimate zone rating, scaled to average number of chances on a season).
There is talk that Walker could be given a first baseman's glove in 2016 with Alvarez not likely to return to the Pirates. The injury to Jung Ho Kang, though, complicates that plan because Josh Harrison, who could have started at second base, will likely start next year at third base with Jordy Mercer at shortstop. Walker is projected to make $10.7 million in arbitration, which may seem high but the reality is the Pirates are likely best off paying him. It is unlikely they will pay much less than that for another quality second baseman on the open market, and would have to get one by way of trade. Ideally, the Pirates bring Walker back for one more year and spend the year getting Alen Hanson or Max Moroff ready to be the starter in 2017 and beyond.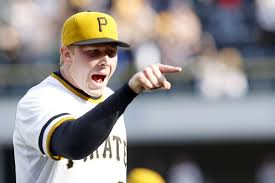 Mark Melancon – Melancon had arguably the best season a Pirates' closer has ever had. His 51 saves in 53 chances led the Majors, and was the most in club history. His cutter is one of the best in baseball, and helped him earn his second All-Star selection. Melancon has been arguably the best pitcher in the "Shark Tank" bullpen since he came over via trade from the Boston Red Sox in 2013. But the Pirates find themselves in a similar situation they did with Joel Hanrahan, the closer the Pirates used to acquire Melancon: Pay a dominant closer, or sell high on him? Hanrahan came off All-Star seasons in 2011 and 2012 and was one of the best closers in baseball when the Pirates sold high on him to the Red Sox. Hanrahan ended up making $7 million from the Red Sox after he was traded, which is less than the $10 million Melancon is projected to receive.
Considering their past of selling high on relievers and history of finding quality relievers from out of nowhere, Melancon may have pitched his last with the Pirates. If he is dealt they will probably move Tony Watson to the closer's role, while finding another buy-low candidate or two to help round out the backend of their bullpen. Trading Melancon would not be easy, since he was a staple of one of the best bullpens in baseball over the last three seasons. However, it is also worth keeping in mind that Hanrahan, who was only a year older than Melancon when he was dealt, fell off the face of the Earth after being traded. However, there were reports of Hanrahan having conditioning issues and a decline in velocity, which could have led to his struggles and eventual Tommy John surgery, neither of which appear to be a concern with Melancon. It would be nice to see Melancon back with the Pirates, but the Pirates deserve the benefit of the doubt if they trade him for a reliever that was in a similar situation to him in 2013.
Photo credit: AP Photo (main), USA Today (inset)