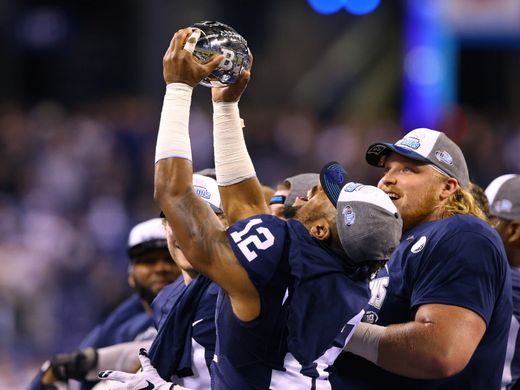 This program wasn't supposed to be here.
This program was supposed to live in mediocrity as a result of the fallout from the Jerry Sandusky scandal and the sanctions that followed — or so almost everyone thought.
But this program, the Penn State Nittany Lions, is a champion once again, overcoming insurmountable odds to become the 2016 Big Ten Champions after they beat the Wisconsin Badgers 38-31 Saturday evening.
How they got to that point is incredibly impressive — and it all began and has ended in the same place.
The city of Indianapolis has played a major role in the Penn State football program's recent history. It was in this very city, where the Nittany Lions took on the Badgers on Saturday night, where the harshest sanctions in NCAA history were dished out to the program as fallout from the child sex abuse scandal.
You see, just up the road from Lucas Oil Stadium sits the headquarters of the NCAA, the governing body of intercollegiate athletics and the governing body that levied the sanctions against Penn State.
The sanctions Mark Emmert and his committee handed out as it had an impact on the team itself were:
Five years probation;
A four-year postseason ban;
Vacating of all wins from 1998 to 2011 — 112 wins in all (this stripped the Nittany Lions of their shared Big Ten titles in 2005 and 2008 and removed 111 wins from former head coach Joe Paterno's record, dropping him from first to 12th on the NCAA's all-time wins list); and
Loss of a total of 40 initial scholarships from 2013-17 and, in that same time frame, limiting the program to 65 total scholarships — only two more than a Division I FCS school is allowed.
"If there is no struggle, there is no progress." —Mike Gesicki
This year is the first Penn State has been able to compete with a full 85 scholarships since 2011. That added depth played a huge role in returning the Big Ten Championship trophy to Happy Valley.
"Since I've been here, there's obviously been some downs and some struggles and some adversity, but without that, you can't grow and you can't improve," Gesicki said.
On the championship stage, Penn State's ability to overcome adversity paid huge dividends. Against the Badgers, the Nittany Lions went down 21 points in the first half, but they came out on fire in the second half and put their first play from scrimmage into the endzone to creep back into the game.
Redshirt sophomore quarterback Trace McSorley put the team on his back en route to the victory and had a record performance against the Badgers. The dual-threat quarterback accounted for four of the five Penn State touchdowns Saturday night and threw for a Big Ten championship game record 384 yards and four touchdowns.
Running back Saquon Barkley punched home the remained touchdown, while kicker Tyler Davis added a field goal to round out the scoring.
Penn State put on a show in the second half for the fans in Indianapolis, exploding for 24 points while holding Wisconsin to just three points following the Badgers' 28 point outburst in the first half.
"I wouldn't change anything that's happened in the past," Gesicki said. "I think that it's made our team — and myself — better because of it. And this Big Ten Championship kind of speaks volumes to all that adversity and how we've handled it and how we've grown from it."
"This is just the beginning." —James Franklin
The next chapter for the Penn State program began Saturday night when head coach James Franklin was presented with the Big Ten Championship trophy. The five years of struggles and hardships the Nittany Lions have gone through have paid off and made them stronger — and that's something Franklin takes pride in.
"That's the thing I'm most excited about," Franklin said. "Obviously, our guys are understanding how to win in football, but they're also learning how to win in life, how to handle adversity, how to constantly believe in yourself, get knocked down, get back up again, keeping a positive attitude, great work ethic, competing in everything you do and willing to sacrifice things, other things that aren't crucially or critically important to you. So I'm just proud of our guys for so many different reasons."
It's fitting that Penn State won its first Big Ten Championship without Paterno after a regular season that started with many calling for Franklin to be fired.
"Our kids believe. And I think I know that sounds very simplistic and it's silly, but our guys believe in each other. They believe in the coaches. They believe in the plan," Franklin added.
Penn State will have 12 seniors graduate this year, far fewer than most big college programs, meaning the Nittany Lions are continuing to build the foundation for the future.
"This is a foundation. And the fortunate thing is we get to continue building on that foundation this year … foundation for the future one play at a time," Franklin said.
As Franklin said after the division-clinching win against the Michigan State Spartans: "This is just the beginning."
And it got started right here in Indianapolis.
Image credit: Aaron Doster/USA TODAY Sports