Four Pennsylvania State Athletic Conference West Division NCAA Division-II men's basketball teams are ranked in the latest Atlantic Region top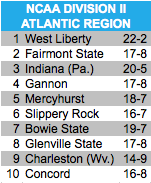 ten.
Sitting at the top of the rankings are 22-2 West Liberty (Wv) and 17-8 Fairmont (Wv) State from the Mountain East Conference, which are then followed by four straight PSAC schools.
Indiana University of Pennsylvania (21-5) is ranked third in the region thanks to a strong non-conference record. Gannon (18-8), currently in first place in the conference, is ranked fourth, followed by Mercyhurst (18-7) and Slippery Rock (16-7).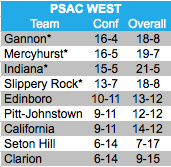 IUP, Gannon, Slippery Rock and Mercyhurst have also already clinched their berths in the PSAC Conference Tournament. The top six teams in each of the PSAC's two divisions will qualify for the tournament, with the top two in each division receiving a bye.
In a battle for the final two post-season slots in the west are Edinboro (10-11 in PSAC), Pitt-Johnstown (9-11 in PSAC) and California (9-11 in PSAC).
All four ranked teams will hit the road this weekend, with IUP at UPJ, Mercyhurst at Seton Hill, and Gannon at Cal on Saturday and Slippery Rock at Clairton on Sunday.
The PSAC regular season will wrap up on Wednesday, with Gannon hosting Seton Hill, IUP hosting Clarion, Slippery Rock hosting California.