The Pittsburgh Penguins will have a familiar face in a new role for the 2015-16 season. Former assistant coach Jacques Martin will re-join the coaching staff with the new title of special assistant to the head coach.
Martin, 62, was listed as a member of the scouting staff for the 2014-15 season with the title of special adviser of hockey operations. He is the lone member of the 2013-14 coaching staff that is still with the organization.
Martin's new role will be that of an "eye in the sky" for Penguins head coach Mike Johnston. Martin will observe the games from the media level and communicate his observations back to the bench during games.
"I'm really looking forward to it," Martin said in a statement released by the team. "I have a good relationship with the coaching staff and management. Being closer to the team and provide feedback, use my experience from over the years, just giving them another option."
Martin has plenty of NHL experience. He has been a head coach in the league with four different teams: St. Louis, Ottawa, Florida (where he was also general manager) and Montreal.
As a member of the scouting staff last season, Martin's responsibilities included pre-scouting the Penguins opponents, which is a role he will continue with a modern twist.
Instead of traveling ahead of the team to see the Penguins' upcoming opponents, Martin will now perform that task via video while traveling with the team.
"When you look at most teams they have three (assistant) coaches on staff. They have the benefit of having a coach upstairs," Martin said. "I'll be able to fulfill the role."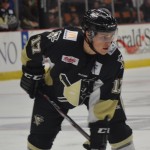 MINOR MATTERS: The Wheeling Nailers, the Penguins' ECHL affiliate, released their 20-man season ending roster for the 2015-16 season on Tuesday. The Nailers now have until July 1 to qualify up to eight players, which would give the Nailers exclusive rights for the upcoming season.
Forwards: Tyler Fernandez, Adam Krause, David Gilbert, Patrick McGrath, Zack Torquato, Derek Army, Cody Wydo, Shane Bakker, Sahir Gill, Riley Brace, Jarrett Burton, Chaz Johnson and Max MacKay
Defensemen: Paul Cianfrini, Mike Slowikowski, Evan Wardley, Mike Ratchuk, Tristan Llewllyn, Justin Sefton and Ben Blood.
Photo credit: CBS Sports (main), Brian Mitchell (inset)