With Monday's news that Jamie Dixon is now the former head coach of the University of Pittsburgh, it brought plenty of emotion from Pitt fans.
A lot of that sentiment was negative as many are glad that Dixon is headed to TCU.
While it is true that Dixon's teams have underachieved in recent seasons, the reality is that Dixon will be missed at Pitt.
Hands down, Dixon is the classiest individual I have ever had the privilege of covering and I wish him nothing but the best at TCU. I for one will be rooting for him to turn that program around in the same fashion that he helped turn the Pitt program around.
Dixon, while taking on a new challenge as a basketball coach, will also miss Pitt as well.
"What I don't want is people to think that I don't love Pittsburgh or I didn't love being at Pitt, because I did," Dixon told the Post Gazette's Paul Zeise. "I loved my time there and I loved every minute of it, and if it weren't TCU, I'd still be there getting ready for next year."
"I obviously still care about Pitt and I always will. I'll be a Pitt fan for life."
You simply can't deny what Dixon has accomplished on the bench at Pitt.
In his 13 seasons he compiled a 328-123 record, which included a 143-83 conference record; a 239-39 home record; one conference title and 11 NCAA Tournament appearances.
Sadly though Dixon was never able to get his team over the hump as his teams disappointed in both conference tournaments and especially the NCAA Tournament, where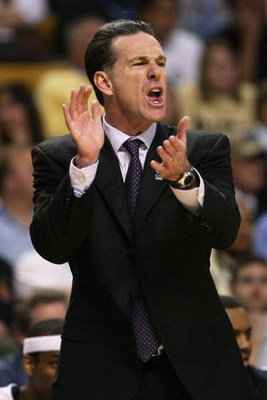 Pitt only got past the Sweet 16 one time. Dixon posted only a 12-11 mark in NCAA Tournament games.
Despite the failures in big games, Dixon will still be missed.
He recruited good kids who did well in the classroom and left Pitt much better people than when they came in. That doesn't do much in terms of wins and losses, but that is the goal of a coach and Dixon's players loved him as much as he loved them.
And Dixon won, let's not forget that. He just didn't win the big one, which a lot of coaches haven't.
The calls are out for Sean Miller to come back to Pitt, but last time I checked he has had the same failures with much more talented Arizona teams.
For all he has done at Pitt, it always bothered me that Dixon was so underappreciated by the Pitt fan base.
Pitt fans have very short memories of where the program was before Ben Howland arrived and Dixon not only built on Howland's success, he took it to another level.
The bottom line is that the Pitt basketball program wouldn't be relevant without Dixon's contributions.
However since Pitt was bounced from the Elite Eight in 2009, a lot has changed.
The biggest was the move from the Big East Conference to the ACC in 2013.
While having the opportunity to play in perhaps the best conference in college basketball, it really hurt Pitt from a recruiting standpoint.
Dixon no longer has had the success recruiting in New York and other talent rich areas that he had when the Panthers were members of the Big East.
However Dixon still had talent and the Panthers struggled to find consistency in terms of wins. With each loss the public criticism of Dixon grew. There was also the non-conference schedule, which never improved.
All those factors led to Dixon having to make a tough decision.
"The timing was right," Dixon said. "I was at Pitt for 17 years. That is a long, long time in today's game.
"TCU was a great opportunity for me to get a fresh start. It is a place I obviously love and a place where I know the people who are there in the administration. That's a big deal for me."
At the end of the day though, Dixon will be missed.
It just became clear that there was a ceiling on how much the Panthers would improve under his watch.
Thirteen years is a long time and Dixon's success should not be forgotten from Pitt fans.
A new coach is going to come in with a lot of talent in place and will have a bigger recruiting budget in place to hopefully get Pitt over the hump.
If he does, Dixon's place in Pitt history should not be forgotten.
Dixon may not have reached his ultimate goal as Pitt head coach, but his accomplishments should be appreciated by the fans.
As one of the classiest people I have ever come in contact with, I for one will miss Coach Dixon and wish him nothing but the best in his new challenge.
Photo Credit: USA Today Sports