When you consider the path many players take to get to the NFL, it often follows a similar course. Normally this starts at the prep level, where the player gets labeled a "can't miss" prospect. The number of "stars" beside their names from the most reputable recruiting services then validates these players and guarantees they will be courted by the top programs in the nation.
Scholarship offers flow in, sometimes before the player has even played a snap at the high school level.
These players then hone their craft at many of the top Division I programs, putting their time in and then enter the draft the moment they become eligible. Many of the NFL's top players have taken this path; from blue chip recruit to NFL stardom.
For Clarion University's standout defensive end/linebacker Julian Howsare, the journey to the NFL has not been quite as easy or predictable. Though lightly recruited, Howsare always believed in the dream of making it to the NFL, and after a decorated career as a Golden Eagle, it's a real possibility.
Getting to Clarion in first place was part of the challenge. While at Altoona High School, Howsare began to hear from college programs his junior year, but a coaching change for his senior season made finding the right fit more difficult.
"My junior year, I talked to a good number of Division I schools, especially from the MAC, along with schools like Pitt and Maryland," Howsare said. "After a coaching change going into my senior year, I had to go through most of the process on my own, and that's when I started looking at PSAC schools. Clarion showed a lot of interest, and I really liked the school and coaches, so that's when I decided to go in that direction."
Howsare would waste little time once arriving at Clarion, quickly becoming an impact player after redshirting as a freshman. In 2012, Howsare would prove to be one of the best defensive players not only in the PSAC conference, but in the country. His stat line included 58 tackles, 14 sacks and four forced fumbles, which helped him earn Football Gazette's first team All-Conference and All-Region, along with being named third team All-American.
2013 would be another banner year for Howsare, as he would have 83 tackles and 18 tackles for loss. Howsare would also add 10 sacks, two interceptions, two forced fumbles and four blocked kicks to his impressive season. This would culminate with Howsare being honored as the PSAC West Defensive Player of the Year, along with once again being named first team All-Region and third team All-American.
As a senior this year, Howsare would continue being one of the most dominant defensive players in the country for a third straight season. In spite of having a target on his back and being the focal point of opponents game plans, Howsare would arguably have his best season yet, as he had a career-high 86 tackles, including 16 tackles for loss, 11 sacks, three blocked kicks and two fumble recoveries.
This has earned him his second straight PSAC Defensive Player of the Year award, and will almost certainly earn him his third straight All-American honor when the teams are announced later this week. Maybe most impressively, Howsare has also been nominated for the Gene Upshaw Award, which is given to the best offensive or defensive lineman at the Division II level.
"It's amazing feeling to be recognized for my play, and to have that hard work pay off," Howsare said. "This is especially the case with the Upshaw Award. That's just an amazing honor because it's also an award for leadership and being a great teammate, so to be named a finalist is such an honor."
In spite of all of the individual honors, the one regret that Howsare had at Clarion was being able to help his team win more games. During his four years as a starter, Clarion was only able to compile a 13-31 record, including a 2-9 senior season. Howsare spoke of the frustration with losing.
"It was definitely tough. Every year we went in with the goal of winning the conference and to win as many games as possible," Howsare said. "The way I looked at it, I could have the best game in the world, but it did not mean nearly as much when we did not win."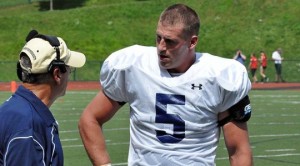 Howsare certainly did not let the lack of winning or the fact that he often faced multiple blockers play in and play out as a reason to hang his head. In fact, the challenge was something that only made him work harder, and continue to work towards his goals.
This, of course, includes a shot to make an NFL roster next season.
Though the 6'3, 255-pound Howsare spend much of his career playing at defensive end, many pro scouts feel that he has the speed and athletic ability to play outside linebacker in a 3-4 scheme at the next level. After all, Howsare has been timed in the high 4.5/low 4.6 range in the 40, and proved to be extremely versatile at Clarion, often lining up all over the field while proving capable of not only rushing the passer, but also covering tight ends and backs in the passing game.
"From what I have gathered, most of the scouts I have talked to seem to think I will end up playing as a 3-4 outside linebacker, but I honestly believe I could also play as a defensive end with my hand in the dirt. I don't think I'm undersized to handle that if asked," according to Howsare.
With 41 career sacks while often facing two or even three blockers at a time, there seems to be reason to believe Howsare has the pass rushing ability to make an impact at the next level.
Even after being one of the best defensive players in the country for three consecutive seasons, Howsare not only continued to regularly play special teams, he wreaked havoc doing it. Understanding his ability to thrive as a special teams player could be his ticket onto an NFL roster, as Howsare never even considered taking a break from the third phase.
"My coaches were sometimes a little uneasy with me playing special teams," Howsare stated, "but it was something I prided myself on, and thrived doing. I also understand that this is going to be a big key to making an impression at the next level, so that motivated me even more to continue proving I could make an impact on special teams."
The next step in making an impression with NFL scouts has already started. Howsare played in his first postseason All-Star game, The National Bowl, last weekend in Miami, Florida. Howsare wasted little time making an impression playing against some of the best players at the Division II level, earning Defensive MVP honors for the game.
Howsare is hopeful that this will help be a catalyst for an invite to more All-Star games in the coming weeks, including ones that might allow him to play against some of the best Division I players.
"I'm really trying to get into the East-West Shrine or the NFLPA All-Star game because that would give me the best opportunity to prove myself against D1 competition", Howsare noted. "And from there, it's all about getting prepared for the combine and training for pro day."
Considering there are currently over 100 players in the NFL who played at the Division II level, there is no reason why an impressive showing at the NFL combine won't open some doors to an NFL opportunity. Though the evaluation process is still in the early phases, Howsare has been told that strong showing in the coming months could mean a legitimate opportunity to prove his worth at an NFL training camp.
Though Howsare has not taken the easiest path to get to this point, there's reason to believe Howsare just might beat the odds and fulfill his dream of an NFL career.
"Right now, I'm being told that I'm probably a late-round pick to priority free agent, but these next couple months will be the biggest factors in changing that. It could change, a lot to be honest," Howsare said. "Hopefully when it's all said and done, I'll have done enough to warrant being drafted and make the most of my opportunity"
Photo credit: Clarion University Athletics