The Pittsburgh Penguins first-round draft pick and top forward prospect Kasperi Kapanen has ended his season and his native Finland and will soon join the Penguins' top farm club in Wilkes-Barre/Scranton.
Kapanen, 18, scored 11 goals and recorded 10 assists in 41 games with KalPa of the Finnish Liiga. It was a disappointing season for the youngster, who played well for stretches but failed to dominate the league as hoped. He also added one goal in five games for Team Finland in the under-20 World Junior Championship.
Kapanen will join Wilkes-Barre/Scranton (38-22-7, 2nd in AHL East) as they finish their playoff run. The AHL Penguins are eight points behind the Hershey Bears for first-place in the AHL's East Division. The AHL operates under the old NHL system, so if WBS remains in second in the division, they will be the fourth seed in the playoffs. Their current first-round opponent would be the Hartford Wolfpack, who they host tonight at 7:05 p.m.
While the Penguins salary cap problems will prevent Kapanen from getting any playing time in Pittsburgh, general manager Jim Rutherford has left the door open to recalling Kapanen in the playoffs.
"That's the first step," he said to the Pittsburgh Post-Gazette's Jenn Menendez of the move to Wilkes-Barre.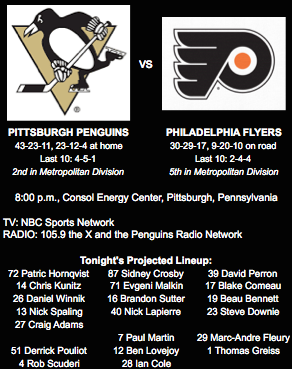 TONIGHT'S OPPONENT: The Penguins and Flyers will grace NBC Sports Network's Rivalry Night for the second time this season. It the third game overall between the cross-state rivals in 2014-15.
The Flyers have won both contests earlier in the season, a 5-3 drubbing in Pittsburgh in October and a 3-2 overtime win in Philadelphia in January.
The Flyers have had their way with the Penguins over the last few years, starting with a six-game series win in the 2012 playoffs. Since then, the Penguins are just 3-5-2 against the Flyers and have lost six straight games.
Consol Energy Center hasn't been a place the Flyers fear, either. Since the Penguins' new digs opened in 2010, the Pens are just 3-10-3 against Philadelphia.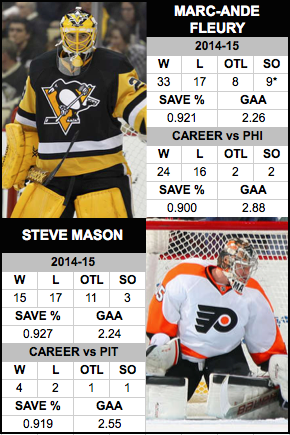 "I think honestly we take them out of their game," injured Flyers winger Wayne Simmonds said to The Canadian Press. "I think they hate us so much that everyone's blood is just boiling the whole game."
Penguins head coach Mike Johnston expects a playoff atmosphere tonight, despite the Flyers already being eliminated from the postseason.
"Our games with the Flyers in the past, they've been real battles," he said. "It's going to be two teams that don't like each other very much and they've had a history of very good battles, so it will be a playoff-like tune up."
LOOK OUT, LORETTA: Longtime Penguins broadcaster Mike Lange was honored in a Pittsburgh city council ceremony on Tuesday.
Lange has been the voice of the Penguins since 1976 and has been with the team for 40 years. In that span, he's called over 3,000 games.
"Quite honestly, it's overwhelming because to me, it shows what you put into something comes back," Lange said to Michelle Crechiolo of Penguins.com. "That the people of Pittsburgh and everybody involved think enough to be able to have a proclamation for something that I love to do and really don't consider it to be anything more than what anybody else does, really for a job and what they do for a livelihood, it is very special to me and it's an award I'll cherish for a long time."
THE 4077: Center Evgeni Malkin did not practice on Tuesday, but assistant coach Gary Agnew said that it was just a maintenance day. He did not practice again in today's optional morning skate.
Agnew was running practice because head coach Mike Johnston was in Canada for his mother's funeral. Johnston returned to practice today and will be back behind the bench tonight.
Injured defenseman Kris Letang (concussion) and Christian Ehrhoff (upper body) will both miss tonight's game.
Letang is still being monitored and has not skated or exercised. Ehrhoff skated by himself before practice and may be allowed to rejoin the team for practice on Thursday or Friday.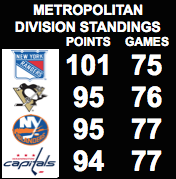 SCOREBOARD WATCHING: The Washington Capitals beat the Carolina Hurricanes 4-2 on Tuesday to draw to within one point of the Penguins and New York Islanders. The Pens have a game in hand on both of those clubs.
The New York Rangers won again on Tuesday to increase their lead in the division to eight points. With only six games remaining, it would be a tall order for another Metropolitan Division team to catch the Rangers.
MINOR MATTERS: Wilkes-Barre/Scranton Penguins goaltender Matt Murray was awarded the AHL's goaltender of the month award for March. It is the second consecutive month that Murray has won the award.
In March, Murray was 7-1-1 with a .955 save percentage, a 1.21 goals-against average and three shutouts. On the season, he is 22-9-3 and leads the AHL in save percentage (.940), goals-against average (1.59) and shutouts (10).
 The Wheeling Nailers (33-30-3, 4th in ECHL North) won three-of-four games of a huge home stand last week to put some separation between them and the Cincinnati Cyclones for the fourth and final playoff spot in the North Division. The Nailers still are only one point ahead of the Cyclones, but they have two games in hand. Wheeling also is only three points behind third-place Kalamazoo and has a game in hand on the Wings.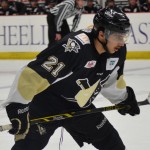 Forward Sahir Gill was named the ECHL's player of the week on Tuesday. Gill had five goals, including two game-winners, and four assists for nine points in the four games last week. The Nailers travel to Elmira for a 7:05 p.m. start against the Jackals tonight.
The Nailers will get center Jean-Sebastien from Wilkes-Barre, at least for tonight's game. The 21-year old center has played 40 games with WBS this season, with nine goals and 10 assists, and has played 12 games with the Nailers, earning four goals and two assists.
#CAWLIDGEHAWKEY: After the regional finals last weekend, the Frozen Four field is set for April 9 and 11 in Boston, MA. Pens prospect Jake Guentzel and the UNO Mavericks will face the Providence Friars in the first semifinal while presumed top-two NHL draft pick Jack Eichel and Boston University will take on traditional powerhouse North Dakota in the second semifinal.
YOUNG GUNS: The NHL's International Scouting Service announced its updated Top 30 prospects list today. Three local junior players are highly ranked. Connor McDavid of the Erie Otters (OHL) is ranked first, while his teammate Dylan Strome has moved up to third. Youngstown Phantoms (USHL) center Kyle Connor is ranked 13th.
Photo credit: Pittsburgh Penguins (main), NHLI/Getty Images (infobox), Brian Mitchell (inset)