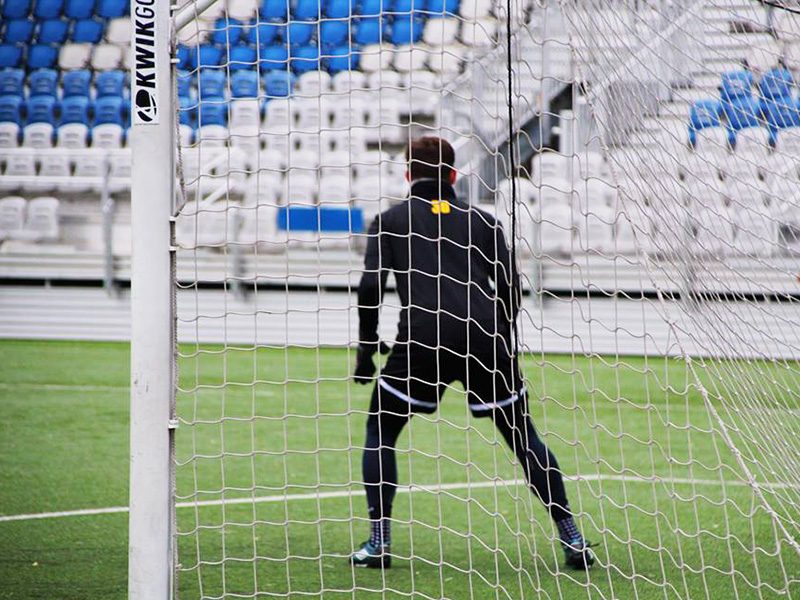 While Keasel Broome currently wears the No. 1 goalkeeper jersey, the race for the starting job is still tight. (Photo by: Rachael McKriger)
Every single soccer match, each team has 11 players on the field.
The number of defenders, midfielders and forwards varies from team to team, from coach to coach, from game to game (the lineup often has four defenders, four midfielders and two forwards.)
However, there's only one goalkeeper.
For the Pittsburgh Riverhounds, who are getting ready for the start of the 2017 season, the lineup is taking shape. But while there's a little more open room for competition in the other positions, the goalkeeper race is incredibly tight.
Keasel Broome and Trey Mitchell know that. They're both professional goalkeepers, and they're both competing for the Riverhounds' starting job in net.
However, the two are friends — on and off the pitch. On the pitch, they work together closely, along with goalkeeper coach (and former Riverhounds goalkeeper) Hunter Gilstrap.
Right now, Broome wears the No. 1 jersey, but the competition is still pretty open. Luckily, the two have managed to keep things friendly and fun.
"Keasel and I instantly hit it off and haven't missed a beat since," Mitchell said. "We have the understanding that this is a team sport and also the understanding that there is only one goalkeeper that plays come game day.
"He and I want what's best for the team, which means whoever is chosen to be in goal, we will trust our coaching staff's choice and that we will support each other to make sure, at the end of the day, there are no goals that end up in our Riverhounds net."
Broome, who played for the Harrisburg City Islanders last season, is on the same page as Mitchell, who starred in the MLS last season as a League Pool goalkeeper.
"I think our relationship is pretty good," Broome said. "We both are perfectionists when it comes to training and like to perform our best every day. Off the field, we are good friends, and we enjoy talking about our playing experiences together and just enjoy life."
The two look to Gilstrap for advice both on the pitch athletically and when it comes to competition.
"Working with Hunter has been great so far," Broome said. "I love coming in every day and having a quality keeper session together before we join the rest of the team. He brings a lot of experience, and I'm just trying to tap into that and get better as a goalkeeper. He's a great coach to learn from."
Mitchell echoed Broome's sentiments.
"We have an amazing goalkeeper coach, and he is more than capable (of getting) Keasel and I in the form we need to be so we can be at our best each day," Mitchell said. "He also helps us improve every day, which is vital for our success with this team as well as for us to reach the goals we have set for our future careers. Hunter is someone I have always wanted to work with."
Both players are also in the process of building chemistry with the rest of their teammates.
"My relationship with the other players is very good," Broome said. "We hang out a lot together off the field, and I think we enjoy each other's company. We all are in this together, and with the core group coming back from last season with the influx of new and young guys, it creates and good atmosphere on and off the field."
Mitchell added he thinks the team bonding is going well but, as is normal, will take some time.
"Our bonding has been awesome," Mitchell said. "In my opinion, we are still in the process of feeling each other out as a whole. But I would say that his is going to be a special group, and a lot of it has to do with our coaching staff."
The goalkeepers have plenty of time to work on their chemistry and competition; the season doesn't start until the end of March. However, Pittsburgh's preseason starts in February, with their first preseason matches coming on Feb. 18 and 19 when the Riverhounds travel down to North Carolina. On Feb. 18, the Riverhounds will face the NASL's North Carolina FC, and, the next day, will face Duke University.
Normally, a club would have three goalkeepers, and there are still roster spots available for the Riverhounds. But, right now, it's unclear whether head coach Dave Brandt will bring in a third goalie.
All that's clear right now is that either Keasel or Broome will be starting in net for the Riverhounds' season opener against the New York Red Bulls II at Highmark Stadium on March 25 — and the other will be cheering on the team on the bench.