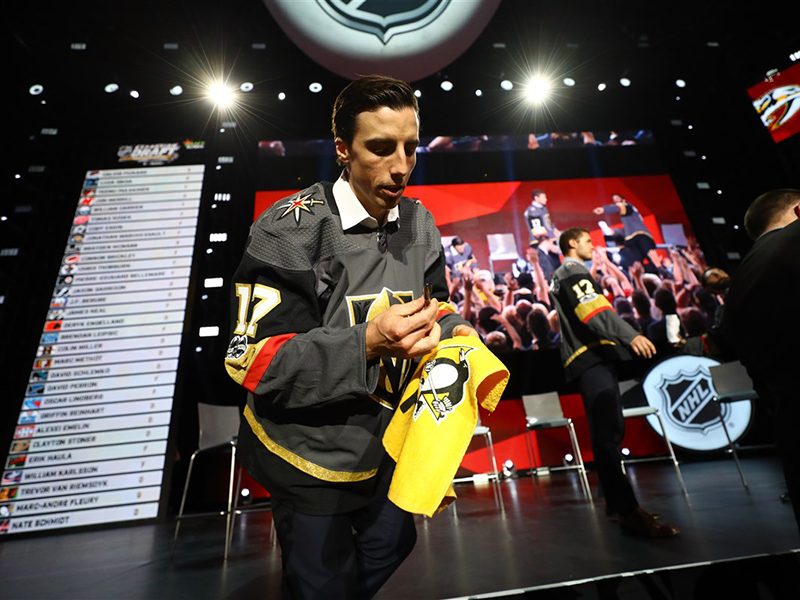 (Photo by: Bruce Bennett/Getty)
Exactly 14 years ago, Marc-Andre Fleury was taken by the Pittsburgh Penguins with the No. 1 pick in the 2003 NHL Draft. In those 14 years, Fleury won three Stanley Cups, racked up enough wins to be 15th all-time in wins by a netminder and became one of the most beloved players in the Steel City.
But Wednesday night, Fleury found himself a new team — and a new city.
Fleury was "knighted," taken in the NHL Expansion Draft by the Las Vegas Golden Knights.
With the largest ovation of the night, the 32-year-old Fleury walked out on the stage wearing yet another jersey with black and gold on it, only this one was different. It sparkled (literally).
Looking down at his new sweater, he said, "It still feels a little bit surreal. The next few days I'm sure I'll understand it a little bit better."
Vegas, you got a good one.

Fleury, you are an incredible netminder, prankster, teammate, and an even better person. Thank you. #MerciFleury pic.twitter.com/DJXIgkJ18t

— Penguins 🌼 (@penguins) June 22, 2017
Pittsburgh also sent a 2020 second-round pick to Las Vegas.
Fleury waived his no-movement clause earlier this season, which allowed Pittsburgh to protect starting netminder Matt Murray. In return, the Penguins didn't deal Fleury at the trade deadline to a team on his no-trade list but he'd be exposed in the expansion draft.
He told the Pittsburgh Post-Gazette, "It gave them more (flexibility) for the future, for the summer, so they weren't scrambling to trade me. … I thought it was the right thing to help the team, to stay with the team and finish the season here and have a chance to play for the Cup again."
And play for the Cup he did.
When Murray went down with an injury before Game 1 of the playoffs, Fleury stepped up and stepped in — and was utterly spectacular. Without Fleury's stellar play, the Penguins almost certainly don't hoist the Cup.
It was only 10 days ago that Fleury was celebrating that back-to-back Stanley Cup victory in Nashville, Tenn., which marked quite the end to his career with the Penguins.
"It's crazy how this whole thing works, how life works," Fleury said. "I got drafted in Nashville, played my last game (in a Pittsburgh uniform) in Nashville. Weird circumstances."
Marc-Andre Fleury waiting to be drafted… pic.twitter.com/pHWiI0PJ0I

— Mike Commito (@mikecommito) June 21, 2017
But while leaving Pittsburgh is hard, Fleury is excited for this new chapter.
"It was time," Fleury said. "I've been on good teams in a great organization for 14 years with great teammates that taught me. I can share my experiences, my playoff experiences, with my teammates here. We can be good right away. We can win games right away."
He and his wife, Veronique, are planning on going house-hunting in the next couple of days.
In Las Vegas, Fleury will be reunited with expansion defenseman Deryk Engelland (Calgary Flames), who played for the Penguins from 2009-14.
"It's great to be reunited with him," Engelland said. "He's amazing, top notch in every aspect. Never too high, never too low, great in the community, great around the ice. I could never say anything bad about that guy."
Fleury was one of three goalies taken in the expansion draft  — Calvin Pickard (Colorado Avalanche) and Jean-Francois Berube (New York Islanders) were the other two — but Fleury is the presumptive starter. He currently has two years left on his contract at $11.5 million against the cap.
Not many teams have been able to take a goalie with the pedigree of Marc-Andre Fleury in the Expansion Draft, but once in a while it happens pic.twitter.com/s073Y6krkP

— StatsCentre (@StatsCentre) June 22, 2017
Watching Fleury take the stage in his new jersey was a familiar face: Sidney Crosby, who played with Fleury since being taken No. 1 in the 2005 NHL Draft.
"I'll let him know how weird it was to see him in a jersey like that," Crosby said.
Penguins in the house with their feelings on Marc-Andre's introduction in a different team's jersey. pic.twitter.com/Y0yFaPAY6d

— Angie (@acarducci) June 22, 2017
He continued, "I know that he's going to do great things here. … Just a great guy, so important to our team over the years. It's tough to see him leave. … I'm sure it hasn't been an easy couple of years being in that situation. I think sometimes you forget how difficult it is just because he handles it so well.
"I know he's excited for the opportunity, and I think the experience he has is going to go a long way with helping the team here. You really couldn't get a better guy to it."
When you build a team from scratch, you start from the net out. We also decided to start with a Stanley Cup champion. #VegasDraft pic.twitter.com/dx2BhiGVLc

— Vegas Golden Knights (@GoldenKnights) June 22, 2017
Right now, Fleury is just relishing his role as the face of the new franchise and is excited about bringing greater awareness to the sport in a city not exactly known for its hockey.
"I always like to get out there," Fleury said. "Especially here, maybe hockey's not the most known sport. Hopefully we can help grow the game here in Vegas. … I'll give it everything I've got to win games and get into the community and meet people and spread the word about the Golden Knights."
You'll be missed, Flower.
Fleury on what he would miss the most about Pittsburgh: "Everything." #Pens

— Wes Crosby (@OtherNHLCrosby) June 15, 2017