Mario Lemieux, a prized hockey legend and courageous man, continues to "put on the Ritz" in our beloved hockey town of Pittsburgh.  Most of you may know that Mario Lemieux fought hard on the ice, made ridiculous goals, won Stanley Cups, and saved our beloved Penguins from being taken away from their loyal, die-hard fans.  But what you what you might not know is, Mario Lemieux, out of the kindness of his golden heart, called a Pittsburgh woman during her Hodgkins Lymphoma cancer treatments for encouragement and support.  That woman was me.
Lemieux, born on October 5, 1965 in Montreal, Quebec, quickly became an undeniable genius of hockey.  He was drafted first overall in the 1984 entry draft and continued to prove his agility, power, and extensive skill throughout his infamous years as a Pittsburgh Penguin.  He has won six scoring titles, three Most Valuable Player awards, two Stanley Cup Championships as a player (1991 and 1992) and one as an owner (2009).  Le Magnifique was named NHL First Team All-Star six times (1988, 1989, 1993, 1994, 1996, and 1997) and claimed the Calder Memorial Trophy (rookie of the year) in 1985.
He was inducted into the Hockey Hall of Fame in November of 1997, without having to wait the leagues customary three years after retirement.  In 1997, his prominent jersey number, 66, was raised to the rafters in Mellon Arena which made him the first Pittsburgh Penguin player to have his number retired.  But what is most astonishing is his fight against a rare disease, Hodgkin's Lymphoma, all while doing what he does best, playing ice hockey as a Pittsburgh Penguin.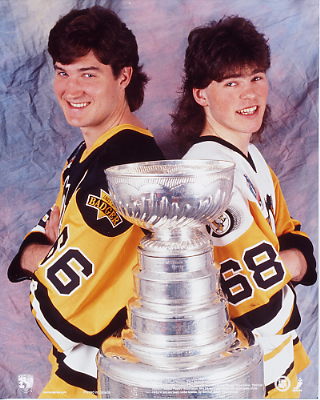 It was during his 1993 season where he was on rapid pace to achieve a new NHL scoring record that he was diagnosed with Hodgkin's at a tender age of 28.  Soon to follow were radiation treatments, which can cause major side effects such as fatigue, nausea, and further illness.  But with Lemieux's powerful mindset, his desire to return to the ice, and his strength to beat the disease, he became unstoppable and returned to the play of game on March 2, 1993.  On this day, after finishing his last radiation treatment, he took a plane to Philadelphia, where he scored and had an assist against the Flyers.
Lemieux, not only had the strength to save his life, he saved our Pittsburgh Penguins in 1999 as well. Mario formed an ownership group to purchase the Penguins and save them from possible relocation out of Pittsburgh. He served as Chairman of the Board, President and Chief Executive Officer while the team was put back together, so to speak. Currently, he is the Penguins principal owner and Chairman of the Board.
On June 16, 2006, I was diagnosed with Hodgkin's Lymphoma at the age of twenty-six.  At that point in time, I had no clue what cancer was or who "Hodgkins" was, for that matter.  On the day of my diagnosis, the pathologist asked me "Do you know Mario Lemieux?"  I quickly nodded because being born and raised in Pittsburgh, who doesn't?  He continued to tell me that Lemieux was also diagnosed with the same disease and has since been in remission.  It was that instant that I felt relief and hope.
I received a phone call during my second chemotherapy treatment from Lemieux.  Our conversation was one of brilliance.  We spoke candidly about cancer, its side effects, and how he scored and had an assist in Philadelphia after his last radiation treatment.  He was humble, kind, and supportive.  One of the greatest statements he told me was "mind over matter!"  I will never forget his encouraging statement because I live by it to this day.  I am proud to be a Pittsburgh woman that lives amongst a man of the greatest quality, generosity, and complete unselfishness.
Mario's unselfishness has led to many projects throughout the city of Pittsburgh including the Mario Lemieux Foundation, The Mario Lemieux Center for Blood Cancers, Austin's Playroom Project, just to name a few.
Lemieux's generosity extends infinitely into all surrounding areas of Pittsburgh and throughout the world.  Pittsburgh has a man of greatness who is devoted to making the Pittsburgh Penguins succeed along with all of those touched by cancer! Thank you, Mr. Mario Lemieux, thank you!