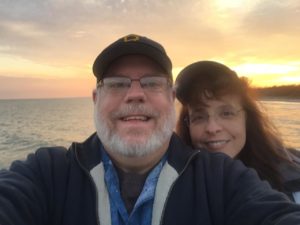 March 25, 2015 started off as a "lousy" day for Marion Shipton as she walked hand-in-hand along PNC Park with Tom Leturgey.
What she didn't realize was that particular Wednesday would change her life.
At the Roberto Clemente Statue, Shipton broke off from Leturgey, further detailing her awful day.
Shipton thought she was there because Leturgey had invited her to take a walk around PNC Park — but he had a different motive.
He had a ring in his pocket and the approval of Shipton's parents, Bill and Marion Brooks. Now, he was just waiting for the perfect moment to propose.
Standing at the Mazeroski Statue, Shipton called her day "lousy," and Leturgey knew that was his cue.
"I pivoted and put my hand in my pocket, looked to the sky and said, 'Well, it's either going to get a lot better or a lot worse,' and I got down on one knee and proposed," Leturgey says. "It took her a little while, as you can imagine if you've ever seen a person try to change gears. Every emotion she could go through, she went through at that time. I always joke it took her 20 minutes to say yes, hence it became the '20-minute story.' She did say yes, and it's been a great adventure ever since."
Leturgey first met Shipton at Bucaroos, the concession stand by the Highmark Legacy Square entrance to the ballpark, as a result of his job at PNC Park — he's part of game day security, a post he's held since 2008.
He was struck when he saw a "cute girl" and, as a single man, he looked for a ring on her wedding finger. That "cute girl" was Shipton, an ARAMARK supervisor at Bucaroos. When Leturgey saw no ring, he attempted to flirt with her, but she didn't catch on. As an attempt at a first date, Leturgey asked Shipton if she was interested in going to see the symphony, but she never answered, and he wrote it off. At this point, the pair were friendly after weeks of talking — but there wasn't much more there.
The ice broke around two years ago when Leturgey was preparing to leave the ballpark. He was talking to a co-worker when he saw Shipton.
"I asked her where she was parked," Leturgey says. "She said, 'By the casino,' and I turned to my buddy and said 'I'll see you later.' I was going to walk her to her car. We walked all the way over to her car by the casino, and she just talked and talked and talked. It was right then and there that I knew I could fall in love with that girl. It was just the ease and tone of the conversation. It was comfortable, and I always thought she was attractive, so that's how it came to be."
PNC Park has played an important role in bringing the two together so it makes sense that it would play one more important role: wedding site.
The two will be married July 16 at that same Mazeroski Statue. The ceremony will last only a few minutes, with the couple jumping out of the car and Richard Olasz, the magistrate Leturgey works for, performing the ceremony. Between the wedding and reception afterward, 62 people are confirmed to attend.
Among those invited was former Pittsburgh Pirates catcher Manny Sanguillen — who has been friendly with Shipton for years — but is unable to attend because he'll be visiting a friend in California he hasn't seen in decades.
But there was still one guest missing: Bill Mazeroski himself.
"Through the help of the Pirates, they got him the RSVP," Leturgey says. "I can't thank the Pirates enough for their assistance in this once-in-a-lifetime opportunity. Mr. Mazeroski was unable to make it, but we got a nice handwritten card from him wishing us nothing but the best. That will be on display at the ceremony."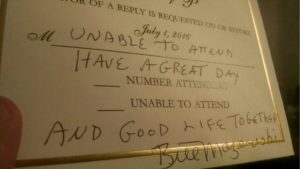 It's been a wedding years in the making, but it's been well worth it for Leturgey.
"Occasionally I will look at her and smile to myself, amazed as to how God had this planned for me," he says. "She truly is the best girl I have ever known. … To borrow a line from 'As Good As It Gets,' Jack Nicholson's character says to Helen Hunt's, 'You make me want to be a better man.' I know what he meant."
Image credit: Photojunkie