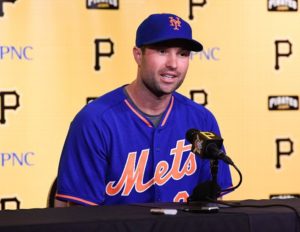 Monday morning, Gerrit Cole had a chance to play tour guide, showing off the sites Pittsburgh had to offer, but his guest was a familiar face.
After sleeping in his own bed and swimming in a pool he helped build, Neil Walker made his long-awaited return to Pittsburgh as his new team, the New York Mets, are visiting town for a three-game series.
This past off-season, Walker was traded to the Mets, a trade that shocked people and caused anxiety because of several factors.
For one, his wife was pregnant. Then, there was the idea of finding a new living arrangement in New York, all while preparing for spring training. This after nearly two weeks of being shocked about trading in colors Walker had known all his life for blue and orange. (Walker, who grew up in Pittsburgh as a Pirates fan, was drafted by the Pirates in 2004 out of Pine-Richland High.)
Walker felt some nerves going into spring training, but by the end, he felt at home, as if he had been a part of the Mets for year.
"It's been everything I've expected so far," Walker said of the adjustment. "It is a really good fan base with high expectations on the players in the organization. The players have really rallied, and we see how special that group is in the clubhouse."
Walker has always been at home at PNC Park, but when he entered the ballpark Monday it felt a bit different. If anything though, the nerves he might feel coming back to Pittsbugh have been helped by a strong start with the Mets. This season, Walker is batting .279 with 13 home runs and 25 RBI — all while making a home at the cleanup spot.
When Walker does bat for the first time Monday night, it's unclear how Pittsburgh's fans will respond. He was undeniably a popular figure, and he was vocal in trying to extend his stay with the Pirates — he made several statements after the trade reflecting this.
"I certainly have some anxiety toward that situation," Walker said. "The way I see it, my time, here I grew as a person and a player. I gave everything I had to give. Whether it's a warm reception or a not so warm impression, I think I can live with how I played here in the time I spent."
Walker expressed his appreciation for being a part of the Pirates organization. He went from teams that struggled to stay close to or above .500 and win a game per series to winning (and sweeping) series and not just eclipsing a .500 record but making the playoffs in three consecutive seasons.
"I've appreciated my time, fans and the organization more than I can express," Walker said. "Sometimes the business of baseball gets really ugly, and, in my case, the end of my time here wasn't very pretty. You think about some of the things that might have been done or said and if you should or shouldn't say things. More than anything, when you think about the game of baseball and how it's played between the lines, that has to be separate from what goes on off the field. I've always felt warmly accepted by people in this city, and I've always tried to be prideful handling myself the right way.
"I appreciate the people wishing I was here, and that is a cap tip to me, per se. I will be very happy to give that back to them this series with a cap tip of my own."
Tonight's Lineups
Pirates (30-26)
Jordy Mercer SS
Andrew McCutchen CF
Gregory Polanco RF
Starling Marte LF
Josh Harrison 2B
Francisco Cervelli C
Sean Rodriguez 1B
Cole Figueroa 3B
Jonathon Niese P
Mets (31-24)
Curtis Granderson RF
Asdrubal Cabrera SS
Yoenis Cespedes CF
Neil Walker 2B
Wilmer Flores 3B
James Loney 1B
Michael Conforto LF
Rene Rivera C
Steven Matz P
Bottom of the ninth
With all of the hubbub surrounding Walker, it's worth noting that Jonathon Niese, the man Walker was traded for, is pitching for the Pirates in this game against his old team.
Niese himself has found a winning formula of late, going 2-0 with a 2.25 ERA in his last four starts. He has received 6.19 runs of support per game, the sixth-best total in the National League.
"He's left-handed, so he has that going for him, but he has command of a bunch of different pitches," said relief pitcher Jared Hughes. "A left-handed cutter is a unique pitch, and he can control it on either side of the well. I can't think of many lefty starters that do that, maybe Cole Hamels. He has some things that are unique and can go out and pound the strike zone help us get wins."
Niese is 5-2 on the season with a 4.36 ERA and is coming off a no-decision where he allowed two runs on six hits in five innings.
Matt Joyce is one home run away from 100 in his career … The Pirates are 28-13 against NL East opponents since the start of the 2015 season … Josh Harrison is on a six-game hitting streak against the Mets … Beating the Mets in a road series this year has been difficult, as they are 5-1-3 in series away from Citi Field.
Image credit: @Mets