The Penn State Nittany Lions (16-12-4; 8-7-1-0 B1G) will welcome the Big Ten's top-ranked team in the  Michigan Wolverines (19-11-0; 11-5-0 B1G) on Friday night and Saturday afternoon in what will be Penn State's final home series of the season.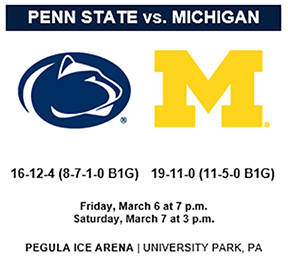 Battle of the Predators:  Michigan boasts the highest scoring team in the nation with 4.0 goals per game. The Wolverines currently have 33
points in the Big Ten scoring race, giving them a three-point lead over Minnesota, a five-point lead over Michigan State, and an eight-point lead over Penn State.
Michigan's point-scoring prowess is led by forwards Zach Hyman and Dylan Larkin. The duo have combined for 87 total personal points. Hyman leads the team with 19 goals, falling second in the Big Ten to Penn State's Casey Bailey.
The Wolverines also receive a boost from Andrew Copp with 13 goals and Alex Kile with 11 goals. Copp and Kile command Michigan's powerplay unit, coming in at 25.2 percent, one of the nation's best.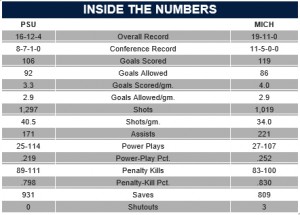 Penn State has scored 106 goals through 32 games this season, and are  championed by Bailey, the Big Ten's leading scorer with 21 goals. Bailey currently ranks fifth nationally in goals per game, averaging .66, and is  one of nine players – and the only player in the Big Ten – to register more  than 20 goals this season.
The Nittany Lions have the nation's highest shot count, registering 40.53  shots per game and outshooting opponents in 24 of 32 games this season.
Penn State assistant captain Nate Jensen offered his opinion of the  upcoming game. "There's definitely a rivalry between Michigan and Penn  State that started from last year and earlier this season. Our two teams  don't like each other. It's definitely going to be good hockey games, and  I'm excited. I'm looking forward to the weekend."
Looking for Redemption: The Nittany Lions are hoping to turn their tides after being swept for the second time this season. Despite scoring first in both games, Penn State fell to Ohio State 5-3 in both games of an away series in Columbus. The Buckeyes took advantage of a three-goal streak in each game to ultimately top the Lions.

During Saturday's game, Penn State held the lead until 15:30 remained in the game when Taylor Holstrom went down with a game-ending, and ultimately season-ending, injury to his leg. With Holstrom out of the lineup for the Lions, Penn State's deadliest – and one of the nation's top-producing – line of Holstrom, Bailey, and David Goodwin has been broken. The line combined for 93 points (39 goals, 54 assists) and a 14-10-4 record this season.
Other injuries include Jonathan Milley. It was announced this week that the junior forward would not be continuing his career with the Nittany Lions after battling with injuries all season. Penn State head coach Gadowsky offered words of support to Milley.
"Jonathan has spent more time and worked harder in the training room than any other athlete I have ever seen. I know he gave his absolute best effort to play, but his body just didn't comply. He is a great student and will continue to help our program off the ice.
Celebrating the Past and Present: This weekend is Penn State's Alumni Weekend. More than 40 former players will be returning with their families in tow to see the Lions take on the Wolverines. Saturday is Senior Day, and the Penn State coaching staff, players, and fans will have the opportunity to honor the careers of Jacob Friedman, Max Gardiner, Taylor Holstrom (a Hobey Baker nominee), Nate Jensen, Patrick Koudys, PJ Musico, and Peter Sweetland. Additional senior Tommy Olczyk, son of former Pittsburgh Penguins center, head coach, and color commentator Eddie Olczyk, will finish his NCAA eligibility next year after being redshirted.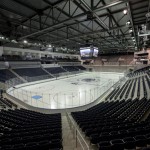 Gadowsky praised the seniors for their impact on Penn State hockey, pointing out that these men were the pioneers  of "Hockey Valley" when they were recruited, as Penn State did not yet have a Division I hockey team, and instead  were playing for the Penn State club team, the Icers. Gadowsky noted that the players were promised a new league  and a new arena, but it appeared that nothing was being done.
"These guys, they had to have a lot of faith in Penn State and what this staff was sort of saying would happen. More  importantly, they had to have a lot of faith in themselves because we recruited a lot of players. A good portion of  those would come back and say, 'Jeez. I just don't want to lose for four years.' These guys never said that. Anybody  that came from this class, they never said that."
Flash forward three years later, and the seniors will round out their careers in the brand new, state-of-the-art Pegula Arena and have the opportunity to represent Penn State in the Big Ten Hockey Playoffs.
Availability: Neither game will be broadcast on live television, but will be available on BTN Plus, a paid subscription service through the Big Ten's digital network. Friday's game will be available on the Penn State Sports Network; listings are available here.
Photo Credits: GoPSUSports.com (main and inset)