This is part two of Pittsburgh Sporting News' 2015 Penguins top-10 prospects. The methodology and part one can be found here.
High risk, high reward These players have the potential to make a splash in the NHL some day, but as of now their future is less certain.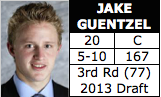 #6 Jake Guentzel will be a junior at the University of Nebraska-Omaha this year. He has found himself near the top of various national rankings in each of his first two seasons of college hockey and looks like he may be capable of being a second line player in the NHL some day.
However, he is still a bit small by NHL standards and he still has a few years of development before he moves up to challenge for a spot. There's also a question if he will be able to stick at center as a professional. As more of a playmaker than a sniper, a move to wing would hurt his value.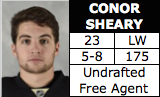 #5 Conor Sheary is a winger who joined the Wilkes-Barre/Scranton Penguins as an undrafted free agent out of UMass in the spring of 2014, where he burst onto the scene one of their most effective players in the playoffs. Last season as a rookie on an AHL contract, he managed to be their top scorer in both the regular season and the playoffs.
He earned himself an entry-level NHL contract this summer and hopes to get a chance to crack the NHL lineup. He has the potential to eventually be a second line scorer in the NHL, but the biggest concern is his small stature and whether or not he can continue to score at the NHL level.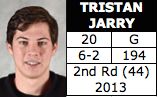 #4 Tristan Jarry spent the past three seasons with the WHL's Edmonton Oil Kings. During his draft year, he led the league in goals against average and save percent as a backup. In his first season as starter in 2013-14, he led the league in goals against average, was named an All-Star, and helped his team win both the WHL Championship and the Memorial Cup.
However his numbers were down last year, although he was named an All-Star again. This year he is expected to turn pro and battle for playing time in the AHL with long term potential of being a solid NHL starter. Jarry's inconsistency over his junior career leaves question marks about where he will fit in as a pro.
Low risk, high reward Although they don't necessarily have top-of-the-chart potential, these players should play important roles in the Penguins' future success, and will possibly even ready to step into a NHL roles as early as this year.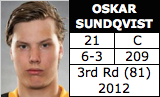 #3 Oskar Sundqvist spent the past two seasons playing for Skelleftea in the Swedish Hockey League. He proved himself capable of playing center or wing on a shutdown line against adults in one of the top leagues in the world. This year, he looks to make the NHL lineup, playing the same defensive role as a shutdown forward and penalty killer in Pittsburgh.
While his size and defensive responsibility mean that he'll be immediately slotted as a bottom-line player, he does have the offensive talent to move up the roster. 2015-16 will be a big adjustment year for him. He's been hampered this offseason with a thigh injury.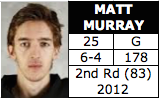 #2 Matt Murray took the AHL by storm last season. He set records for the longest shutout streak in league history and the most shutouts by a rookie in a single season, finishing the year with a league leading goals against average and save percentage, while winning awards for rookie of the year and goaltender of the year.
He hopes to continue to build upon that success this season and in the future could become an NHL goaltender. With his path currently blocked by Marc-Andre Fleury in Pittsburgh, Murray will return to Wilkes-Barre and hope to repeat his stellar performance of 2014-15.
Blue chip prospects The Penguins currently only have one prospect remaining that has elite level potential, and while he's far from a sure thing, he clearly possesses the most talent in the system.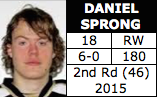 #1 Daniel Sprong is from the Netherlands and spent the past two seasons playing in the QMJHL. He possesses elite level offensive talent and skating which caused many scouts to expect him to be drafted in the first round of the 2015 draft. However, the Penguins managed to pick him up when he fell all the way to #46 overall in the second round.
He has some work to do still developmentally and it could be a few years before he is NHL ready, but he stands a good chance of contributing to the Penguins top scoring lines in the future. One of the reasons for his decline in the draft was questions about his ability to be a two-way player and contribute defensively. He'll return to Charlottetown in the QMJHL this season, and will likely need a season in the AHL as well before he's ready for the NHL.
Photo credit: Pittsburgh Penguins