Earlier I began discussing Pittsburgh legend Dick Hoak, by looking back at his collegiate career at Penn State.
Now, in part two of a three-part series, I turn my attention to Hoak the NFL player.
Not too many football players are afforded the opportunity of living their dream by getting to play in the NFL, but even fewer are afforded the opportunity of getting to do so in their hometown.
Hoak got that opportunity when he was selected by the Pittsburgh Steelers in the seventh round of the 1961 NFL Draft.
He put together an impressive career, rushing for 3,965 rushing yards (which was a big total in Hoak's era) and 25 touchdowns. Hoak also caught 146 passes for 1,452 yards and eight touchdowns.
Hoak was named to a Pro Bowl and led the Steelers in rushing three times.
When Hoak decided to hang up the cleats after the 1970 season, he retired as the Steelers No. 2 rusher all-time and to this day still ranks sixth on the franchise's all-time rushing list.
While today's NFL Draft is a major event, it wasn't back in the 1960's and it is a little bit funny on how Hoak found out that the Steelers had selected him.
"It's funny," said Hoak. "Back then pro football wasn't like it is today. I ended up playing in an all-star game in Phoenix. I was out there practicing and we took a day off from practice and took a bus to Las Vegas. We get to Vegas and I step off the bus and a guy that was working for the Steelers at the time approached me as soon as I got off the bus and said Dick Hoak? I said yeah and he said we just drafted you. I said what do you mean you just drafted me? I didn't even know the draft was going on at that time."
Back in the 1960's teams tried to sign their draft picks immediately, but Hoak was not one of them
"What they did is they took some guys right off the bus and took them into a room and tried to sign them right there," added Hoak. "I actually didn't sign then. I said I couldn't do this right now without talking to my family. I came back and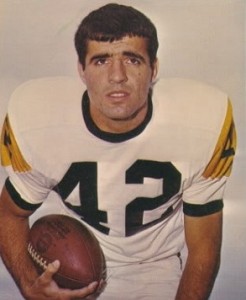 Pappy Lewis, the old West Virginia coach, came to my house and I ended up signing with the Steelers."
It just goes to show how the NFL has changed over the course of time.
During Hoak's day there was no scouting combine, no breaking down countless hours of video and no daily draft analysis on drafting a player.
"It's certainly not like it is today," Hoak added. 'No one ever came and made me run a 40. Nobody came and ever watched me throw a ball or worked me out. Teams sent out little postcards and there were questions on them like what is your 40 time? Are you interested in playing for the Steelers and other stuff. Then you would send the cards back and that was the last I ever heard from anybody until I was drafted."
Once he got to Pittsburgh Hoak had some success, but it wasn't necessarily the glory days of the franchise.
The team did ok in terms of wins and losses his second and third years in the league and in 1962 finished 9-5 and made the playoffs for the first time since 1947, eventually losing to the Detroit Lions 17-10.
But that would be about as much success as the team would have while Hoak was a player.
"When I first started it wasn't too bad," said Hoak. "From 1961-63 we weren't too bad of a football team. But after that year everything seemed to go downhill. Coach (Buddy) Parker traded all the draft picks away and tried to win with trades. For instance the year I was drafted I was the Steelers second pick and I wasn't taken until the seventh round. I think that hurt the Steelers at the time. It didn't work out and kept getting worse and worse."
Many people associate the Steelers with six Super Bowl victories, a ton of Hall of Fame players and all of the glory that surrounds the franchise.
But before the glory came some really low times, times that Hoak had to go through.
"At the time we used to play at the old Pitt stadium," added Hoak. "It got so bad that there were two tunnels where you would come out onto the field. When the weather was bad we used to switch up which tunnel we would come out of because we didn't want the people to know because they would throw snowballs and everything at us."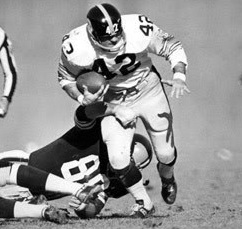 Towards the end of Hoak's career, he started to see a change.
It wasn't a change in wins and losses because in 1969 the team went 1-13 and in 1970 they finished only 5-9.
The change came when Hoak played his final two seasons under Chuck Noll.
Hoak knew instantly that Noll was in store for big things.
"You just knew," said Hoak. "When Chuck came in he had a plan. There was no more trading the draft choices away. He was going to build through the draft and do things his way. You had to do what coach Noll wanted.  It's not that he was strict or anything, but you understood he had a plan. He told you the way it was going to be right off the bat.  When you watched the people he drafted you just knew. You could tell right away he had a great eye for talent. He took people other teams probably wouldn't have drafted like L.C. Greenwood all the way to a guy like Justin Strzelczyk and plenty of others in between. It was different but it was also a lot better."
On the field Hoak had plenty of good moments where it was hard to narrow it down to just a few, but one thing that really sticks out in his mind in the 1968 season.
That season Hoak set career highs with 858 rushing yards and 253 receiving yards.
He also was named to the Pro Bowl that season.
"The best year I had was 1968," said Hoak. "I always had the tag of he is too slow or he is too small. It always seemed like that someone else would start the season out and by the third or fourth game I would be playing. That season I didn't start for the first four games and still ended up with over 800 yards. If I would have started the season I would have been over 1,000. That's not a big deal today but back then it was. That year we played the Cowboys and no one had rushed for 100 yards against them and I ran for over 100 and we played New Orleans and I had 16 carries for like 166 yards. I can't just pick one moment. That year was very memorable for me."
Hoak retired following the 1970 season, spending his entire NFL playing career in Pittsburgh.
While his playing career came to an end following that year, Hoak wouldn't be out of the game for long.
Check back tomorrow as I discuss Hoak's lengthy career as a Steelers' coach with him.
Photo Credit: