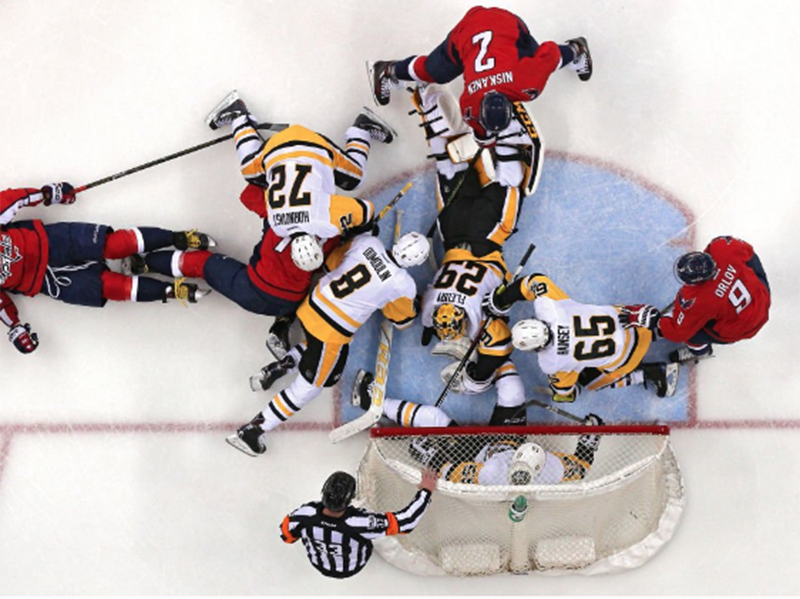 Marc-Andre Fleury (29) makes a save as Penguins and Capitals players battle for the puck. (Photo by: Patrick Smith/Getty Images)
For the first 20 minutes, the game was scoreless.
But it took just 12 seconds into the second period for Sidney Crosby to give the Pittsburgh Penguins the lead. And just 52 seconds later, he doubled it.
The Washington Capitals managed to tie the game up at 2-2, but another timely goal — this time off the stick of Nick Bonino — gave the Penguins the 3-2 win in D.C. to take the early 1-0 lead in the second round of the Stanley Cup playoffs.
In a series that had been billed as "Crosby vs. Ovechkin — Round 10,000," this game actually lived up to that hype. After Crosby scored his two goals, Alexander Ovechkin came right back with a snipe from the top of the slot to cut Pittsburgh's lead to 2-1 and to make the game feel a bit like a battle between the two superstars.
"They're special athletes, both those guys, and they look for the big moments," said Washington head coach Barry Trotz. "They're special players."
But every battle must have a winner, and Thursday, that was Crosby. Now we'll see in the coming days who wins the war.
A Fleury of saves — including one by Guentzel?
Thursday night, Penguins netminder Marc-Andre Fleury was — again — spectacular. Still filling in for the injured Matt Murray (who has yet to play a minute this postseason), Fleury made 33 saves on 35 shots.
He was particularly fantastic in the second half of the game, when the Capitals were pressing and carrying the play. Fleury's acrobatics saved Pittsburgh on several occasions, especially when things got frenzied late in the game with about three minutes left to play.
Chaos, chaos and more chaos. The flower stood tall through it all. #StanleyCup pic.twitter.com/9spqPbmd1M

— NHL (@NHL) April 28, 2017
Our panic level: 100
Fleury's panic level: 0

He's got this. pic.twitter.com/bD91felLOz

— Pittsburgh Penguins (@penguins) April 28, 2017
"I couldn't see the puck, (and) for a little while there, I had no stick, so I was trying to make some stops," Fleury said. "It was fun."
Of that sequence, Matt Cullen said: "That was him at his best right there. … He battles for us. It's been awesome the way he's played."
But as good as Fleury was, it might have actually been winger Jake Guentzel who made the save of the game. An Ovechkin shot went off the skate of Penguins defenseman Brian Dumoulin and made its way by Fleury to Capitals forward T.J. Oshie, who looked to have an empty net.
Well, empty at least until Guentzel slid over and made a kick save.
Jake Guentzel stones TJ Oshie with a kick save pic.twitter.com/fbe3k3zxJl

— Pete Blackburn (@PeteBlackburn) April 28, 2017
"Kind of a weird play, and I think he shot it right into me, so I'll take it," Guentzel said. "I saw it after it bounced in the middle there; I was trying not to touch it."
The batting helmet has been awarded yet again.

Fleury: "Nice save, Jake." pic.twitter.com/3bArSIeOqh

— Pittsburgh Penguins (@penguins) April 28, 2017
With Murray still out with a lower body injury, Guentzel looks like he could be ready to spend a shift or two between the pipes if absolutely necessary.
BoninoBoninoBoninoBoninoBONINO
While Crosby set the stage for Pittsburgh's win, it was Bonino who finished the Capitals off with a beautiful goal after a quick shift caught Niskanen in the neutral zone.
We love you, @NickBonino. pic.twitter.com/755QPzlHAe

— Pittsburgh Penguins (@penguins) April 28, 2017
"'Bones' is a guy that's a high-stakes player," Sullivan said. "He bring his best game when the games are most important."
In case you forgot, it was Bonino who finished Washington off in Game 6 of last year's playoffs when he scored an overtime goal in Game 6 of the second round of the playoffs to send Pittsburgh to the Eastern Conference Final and Washington back home.
The Capitals and their fans are probably getting might tired of seeing Bonino celebrate playoff game winners.
Let's get physical, physical
The Penguins and Capitals have quite the tumultuous history, and it's more than fair to say these two teams don't like each other much. So, as you might imagine, things Thursday night got a little physical — and a whole lot heated — on the ice. Washington dwarfed Pittsburgh with 41 hits to the Penguins' 17.
Orlov on Kuhnhackl pic.twitter.com/hfXJSlVLOi

— Pete Blackburn (@PeteBlackburn) April 28, 2017
GIF: Cole with the headlock takedown. pic.twitter.com/zZP7gbVAgC

— Benstonium (@Benstonium) April 28, 2017
Pittsburgh likes to play a fast game and relies more on its speed than its physicality. Washington is the opposite, preferring an aggressive approach. But many teams this season have tried to use their brawn to slow down the Penguins, and it hasn't exactly worked.
The Capitals' physical play resulted in three penalties for Pittsburgh — interference on Ovechkin, roughing on Kevin Shattenkirk and slashing on Matt Niskanen — and while the Penguins couldn't find the back of the net on any of those opportunities, that probably won't always be the case. Pittsburgh has a dangerous power play, and Washington is risking a lot with its aggressive playing style.
Crosby coming in hot
The 2016 Conn Smythe trophy winner for playoff MVP tried to seal it again Thursday night with his two quick goals to put Pittsburgh up 2-0 over Washington. Crosby now has nine career multi-goal playoff game (three have been against the Capitals). And in 14 career playoff games versus Washington, the Penguins' captain now has 10 goals and seven assists.
Pleasure doing business with you, Sid. pic.twitter.com/HoCnuiFQsJ

— Pittsburgh Penguins (@penguins) April 28, 2017
Crosby has now scored the first goal of the game in four of Pittsburgh's last eight playoff games at Washington.
While the assists on Crosby's second goal went to Patric Hornqvist and Olli Maata, Penguins head coach Mike Sullivan should really get the credit. Crosby's first line originally came off the ice before Sullivan put them right back in. Then it was just a nice hustle from Crosby to get up the ice and put the puck away.
Round Two, Game One… Goal Two. pic.twitter.com/LoqQtaKzff

— Pittsburgh Penguins (@penguins) April 28, 2017
Coming into the game, Crosby had seven points but had just two goals. Now, he has four goals and nine points.
"That's how it goes sometimes," Crosby said. "You don't get some for a while and then they come in bunches."
Shootaround
Chris Kunitz returned to the lineup after missing 10 games with a lower-body injury. … Patric Hornqvist, who had two assists Thursday, looked good on Pittsburgh's first line alongside Crosby and Guentzel. … Carl Hagelin has yet to return for Pittsburgh, but it still looks like he could return at some point in this series. … Evgeni Malkin had a relatively quiet Thursday with two shots on goal.
Up Next
The Penguins and Capitals will take to the ice again Saturday in the nation's capital for Game 2 of this series. Puck drop is set for 8:00 p.m. ET.