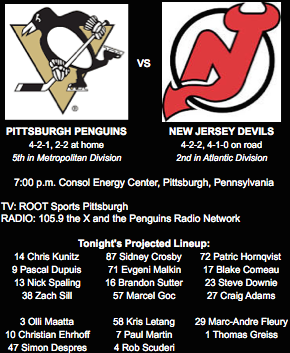 The New Jersey Devils will take their show on the road when they bring the best road record in the NHL to Consol Energy Center tonight to do battle with the Pittsburgh Penguins.
The Devils are 4-0-1 away from their home ice this season. It's an area of improvement for the team after going 20-38-17 on the road for the last two seasons under Head Coach Peter DeBoer.
TONIGHT'S OPPONENT: The Devils will be without leading goal scorer Mike Cammalleri. Cammalleri came over from Calgary in the offseason as a free agent, and has five goals in eight games. He was injured in Friday's shootout loss to the Dallas Stars.
Also missing from the Devils lineup will be veteran forward Martin Havlat. He was placed on injured reserve on Monday with a lower-body injury. He joins Jordin Tootoo on the injured list for the Devils. Tootoo has a bruised foot and has been on the IR since last Friday. Rookie Reid Boucher will make his season debut as a result of the injuries. He has scored a goal and three assists in six games with AHL Albany so far this season.
In goal for the Devils tonight will be Corey Schneider. The 28-year-old netminder has a 4-2-2 record and a .912 save percentage in eight games. The bigger story is who won't be playing goal for the Devils.
For the first time since March 25, 1993, the Devils will be coming to Pittsburgh without Martin Brodeur on their roster. The Penguins won that game, 4-3. Chris Terreri played in goal for the Devils, as did current Penguins Assistant General Manager Bill Guerin. In the lineup for the Penguins were current Assistant Coach Rick Tocchet and current New Jersey right-winger Jaromir Jagr.
THE 4077: As we reported yesterday, Olli Maatta will have surgery to remove a tumor on his thyroid gland. Recovery for the procedure will take about a month and it is scheduled for next week. He will play in this week's games against New Jersey, Los Angeles, and Buffalo.
Returning from injury just in time to replace Maatta in the lineup will be defenseman Robert Bortuzzo. Bortuzzo was injured in a late September preseason game against the Minnesota Wild and has yet to play in a regular season game this year. Bortuzzo and winger Beau Bennett practiced with the team this morning but are not quite ready to return to the lineup.
"[Bortuzzo] is basically within couple days of being ready to play…probably over the next five to six days," said Head Coach Mike Johnston after morning skate, "With Beau, he skated for the first time…It's probably going to take him three to four practices with our team and then I'd assume he'd be cleared for contact at that time."
Bennett could return as soon as the end of next week.
SHOOTOUT SHUTOUT: The Devils have lost 18 consecutive overtime shootouts, dating back to Mar 10, 2013. The Devils didn't win any in 13 tries last season, and have started 2014-15 with a loss in a one opportunity.
The Penguins went 7-3 in the shootout in 2013-14 and have yet to be involved in one this season.
MINOR MATTERS: Wilkes-Barre/Scranton (AHL) lost at rival Hershey 4-1 on Saturday. Matt Murray made 24 saves in the loss. Jayson Megna scored the lone goal.
On Sunday, they defeated Binghamton, 3-2. Eric Hartzell made 21 saves to earn his first win of the season. Andrew Ebbett, Tom Kostopoulos, and Derrick Pouliot score goals. It was Pouliot's first professional goal. Bobby Farnham missed Sunday's game while serving a one-game suspension and Nick Drazenovic was held out with an injury.
Wheeling (ECHL) defeated South Carolina 5-1 on Saturday. Zach Yuen had two goals and Franky Palazzese made 32 saves for the win.
(Photo Credit: NHL)