After a quiet 2015 NHL draft, the Pittsburgh Penguins have had a busy Monday. The Penguins signed defenseman Ian Cole to a three-year contract Monday morning, and Mon Monday afternoon, the Penguins qualified five of their restricted free agents for the 2015-16 season.
According to a source close to the situation, the Penguins sent qualifying offers to forwards Beau Bennett, Bobby Farnham and Dominik Uher and defensemen Brian Dumoulin and Reid McNeill.
Bennett, 23, had a disappointing 2014-15 season, recording just four goals and eight assists in 49 games as he struggled through a series of medical ailments. The former first-round draft pick has lost some of his luster, as the talented winger has scored just 10 goals in his three seasons with the Penguins.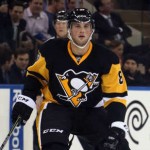 Dumoulin, also 23, spent most of the last three seasons with Wilkes-Barre/Scranton in the AHL. He played in eight games with Pittsburgh last year, and was called up for the playoffs, skating in all five Penguins playoff games. The Boston College grad and former second-round pick will be waiver eligible for the first time this season, so look for him to make the team in some capacity.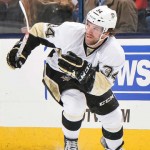 Farnham, 26, got his first taste of NHL action in 2014-15, and became something of a cult hero, recording 24 penalty minutes in his 11 games and drawing 4.6 penalties per 60 minutes of ice time, sixth in the NHL. Farnham will also be eligible for waivers for the first time.
Uher, 22, also got his first NHL action last season, seeing two games with the Penguins. The Czech left-winger spent most of his season on the third line in Wilkes-Barre, teaming up with Carter Rowney and Tom Kuhnhackl, both of whom have already been re-signed. Uher will not have to clear waivers to be assigned to Wilkes-Barre.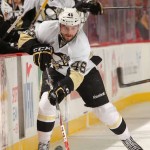 McNeill, 23, has spent two years in Wilkes-Barre after starting his pro career with the Wheeling Nailers of the ECHL. The 6-foot-3, 210-pound blue liner is a physical presence and has racked up 240 penalty minutes over the last two AHL seasons. With the graduation of Dumoulin and Derrick Pouliot, McNeill will be called on to have a larger role in Wilkes-Barre this season.
Qualifying those players give the Penguins the right of first refusal should they sign a contract elsewhere. The Penguins would receive draft picks as compensation from any team that signs one of their RFAs.
The Penguins chose not to qualify three players: right-winger Adam Payerl, defenseman Nick D'Agostino and goaltender Eric Harzell. Those players will now be unrestricted free agents, but are not precluded from signing with the Penguins at a later date.
Free agency begins at noon on Wednesday, July 1.
HALL CALL: The Hockey Hall of Fame's 2015 class was revealed on Monday. Five players were honored: Detroit Red Wings defenseman Nicklas Lidstrom and forward Sergei Fedorov, Buffalo Sabres defenseman Phil Housley, defenseman Chris Pronger, whose contract was traded to the Arizona Coyotes on Sunday, and United States Olympian Angela Ruggiero.
Also, two men were enshrined in the Builder category: former Hockey Hall of Fame chairman Bill Hay and Carolina Hurricanes owner Peter Karmanos, Jr.
Penguins player development coach and longtime right-winger Mark Recchi was passed over for the second consecutive year.
Photo credit: NHLI/Getty Images