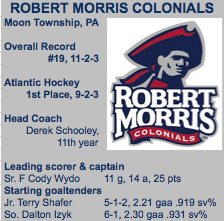 The third annual Three Rivers Classic tournament will once again bring championship-caliber college hockey to Consol Energy Center when the tournament kicks off this afternoon.
Host Robert Morris University has brought in an outstanding field this year, with perennial guest Penn State being joined by Colgate and Western Michigan.
Today's semifinal games will pit Western Michigan against Colgate at 4:30 p.m., and Penn State and Robert Morris at 7:30 p.m. The winners will play in the final Tuesday at 7:30 p.m., with the consolation final being played at 4:30 p.m. Tickets for both sessions are available online or at the Consol Energy Center box office.
The tournament will be a welcome challenge for the Colonials, who are off to a hot 11-2-3 start, but will need some non-conference wins to secure a second consecutive NCAA tournament berth because of a weak conference schedule.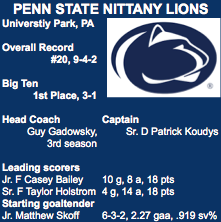 "It's always great to play outside your league, to play some different opponents, and play some teams you don't see on a regular basis, so it's a great opportunity for us to get a chance to play some very high-level teams," said Robert Morris head coach Derek Schooley.
"These are all high-level hockey teams. It will be exciting for us, our students, and our university."
Penn State, whose program is only in its third season, is having unprecedented success. They are in first place in the Big Ten, and are nationally ranked for the first time in team history.
Head coach Guy Gadowsky thinks there is a lot to like about playing in Pittsburgh: "I love the fact of where it is. It's a great experience for our student-athletes, just to play in this building alone."
"We have a lot of Penn Staters that love Penn State and love the hockey program [here]. It's great to able to play here and feel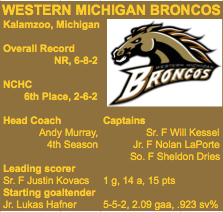 their love and get a chance to watch us."
Fans of the game should expect to see some great goaltending on display. All four starting goaltenders have save percentages of at least .919. They'll sure to be tested by some of the game's elite scorers.
Robert Morris senior forward Cody Wydo is third in the nation with 25 points, despite only playing 16 games. He's also sixth in goals and fifith in assists. Wydo was the highest-scoring returning NCAA player coming into the season, and he hasn't disappointed thus far.
The Nittany Lions top-scoring duo of Taylor Holstrom and Casey Bailey are tied for 19th in the country in scoring. Holstrom has been the passer, with 14 assists, and Bailey has been the finisher, scoring ten goals.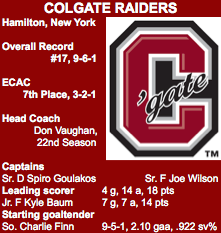 NHL teams have already drafted six players that are participating in the tournament. Penn State backup goaltender Eamon McAdam was the New York Islanders third-round prick in 2013 and defenseman Mike Williamson was a sixth-round pick of the Vancouver Canucks the same year.
Western Michigan also has three drafted players: sophomore defenseman Mike McKee and junior forward Colton Hargrove, both drafted in 2012, by the Detroit Red Wings and Boston Bruins, respectively, and right-winger Aidan Muir, who was drafted by the Edmonton Oilers in 2013.
Colgate sophomore forward Tim Harrison was a sixth-round pick of the Calgary Flames in 2013.
Boston College won the tournament a year ago, beating Penn State in the championship game. Robert Morris won the inaugural tournament in 2012.
Photo credit: Pittsburgh Penguins