The Pittsburgh Penguins decided to shake things up by changing the forward line combinations once again. This time they decided to try to fall back to the tried and true combination of Chris Kunitz, Sidney Crosby, and Pascal Dupuis. Of course this has caused quite a stir as there are those who feel Kunitz and Dupuis are too old and not talented enough to play with Crosby, a sentiment that has been echoed time and again since the line was first put together.
Crosby was drafted by the Penguins 1st overall in the 2005 NHL Entry Draft and made his regular season debut on Oct. 5, 2005. Dupuis was acquired in a trade with the Atlanta Thrashers and made his Penguins debut on Feb. 28, 2008. Kunitz was acquired in a trade with the Anaheim Ducks and made his Penguins debut on Feb. 27, 2009.
They didn't play together much in the beginning as Crosby had Bill Guerin on his wing, but when they started together in 2010-11 they managed to lead the entire team with a combined 42 points. Unfortunately Crosby then got sidelined by a concussion and missed the remainder of the season and much of the following year.
They were reunited for the lockout shortened 2012-13 season and once more led the way with a combined 70 points. They were together once more for the 2013-14 season up until Dupuis got hurt and missed the remainder of the year, however they still managed to lead the team with a combined 57 points. Those two seasons playing with Kunitz and Dupuis earned Crosby one Art Ross trophy for league leading scorer, two 1st Team All-Star bids, two Ted Lindsay awards as most outstanding player, and one Hart trophy as most valuable player.
The trio has not been used together much since Mike Johnston took over as head coach. Part of that may have been an attempt to distance himself from former head coach Dan Bylsma who was often criticized for his decisions to use that line. Of course when they did get around to reuniting the unit it didn't last long before Dupuis was sidelined for the remainder of the season with blood clots.
With you and without you Looking back over the seasons they have been together for 1216:17 at 5-on-5. During the games in which they were all healthy Crosby spent 633:35 with neither Kunitz nor Dupuis, Kunitz had 653:30 by himself, and Dupuis had 1218:04. Bylsma was especially keen to use them together, and even Johnston tended to pair Crosby with at least one of the two.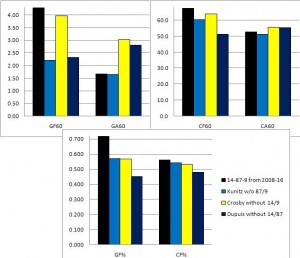 When all three forwards are healthy they all generated more shot attempts and scored more goals while playing together than they did while playing apart. In addition both Crosby and Dupuis were better defensively when they were all together as a combined unit, they gave up fewer shot attempts against and allowed fewer goals to make it through into their own net. The end result is that all three players were better able to outshoot and outscore their opponents when they played together than they did when they were apart.
Of course that is the combined totals over eight seasons, some would argue that it was unfair to compare the players when they were younger. Over the past two seasons under Johnston the line was only together for a total of 29:34 when all three were healthy, so a larger sample size is required to draw any real conclusions. Stretching it back one additional season by including the 2013-14 season increases the total to 410:33, with Crosby spending 132:23 with neither Kunitz nor Dupuis, Kunitz spending 204:56 alone, and Dupuis at 325:52.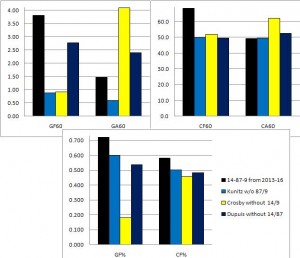 In recent seasons the difference is actually even more pronounced. As a combined unit the line was much more effective, scoring more goals and generating more shot attempts and even allowing the opponent fewer shot attempts against, although with goals against once again Kunitz was more effective defensively when he was on his own. The end result is that they were better able to outscore and outshoot their opponents when they were all working together on the same line rather than playing with different linemates. This is especially true for Crosby who performed exceptionally poorly when separated from Kunitz and Dupuis the past few years.
Photo credit: NHL.com