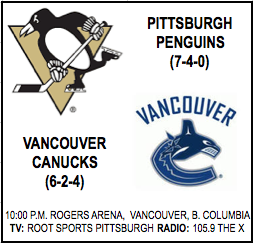 The Penguins will start the Western Canadian portion of their four-game road trip tonight when they visit the Vancouver Canucks at Rogers Arena tonight at 10 p.m.
The Pens have already been on the road for four days. They left Pittsburgh on Friday before their 4-0 victory over the Toronto Maple Leafs on Saturday. Since then, the Penguins have had a rare three days off on the road.
KUNITZ QUESTIONABLE
Left-winger Chris Kunitz will be a game-time decision for tonight's game. He skated this morning but missed the team's practices in Vancouver earlier this week. If Kunitz cannot go, he will be replaced in the lineup by rookie Daniel Sprong.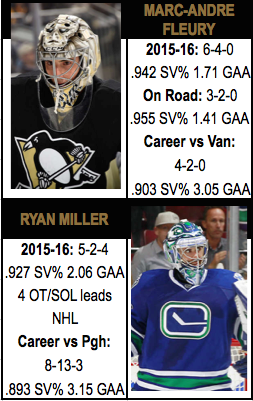 FEHR FACTOR
Eric Fehr scored a goal and an assist in his first game with the Penguins on Saturday. Fehr missed the start of the season while recovering from offseason elbow surgery, but he appears to be in mid-season form, scoring two points in just over 12 minutes of ice time.
"It was great to be back," he said after the game. "I've been preparing for this for a long time. It came a little bit quicker than I thought. It's a fast game. You forget how fast it is until you get out there."
TRADING SPACES
The Penguins and Canucks made a three-player exchange this offseason that saw Brandon Sutter go to Vancouver in exchange for Nick Bonino, Adam Clendening and an exchange of draft picks.
Sutter scored 45 goals in his 209 games with the Penguins, and seven of them came while shorthanded. The Penguins are familiar with Sutter's strong play on the PK, and know it's something they'll have to deal with as they try to get their power play rolling.
"He's got deceptive speed when he gets going. Some people underestimate that in the neutral zone, especially shorthanded, but our guys, we know Sutter well," head coach Mike Johnston said.
OLMYPIC MEMORIES
It was on the same ice in Vancouver that Canada defeated the United States in overtime of the gold medal game of the 2010 Olympic Games. Tonight, the same two key participants in that goal — Sindey Crosby and Ryan Miller — will again face one another.
[youtube width="560″ height="315″ link="https://youtu.be/F_koQujQ8Vg"]
MINOR MATTERS
The Wilkes-Barre/Scranton Penguins are off to a red-hot start. They've won seven of their first eight games, six games in a row, and lead the AHL's Atlantic Division with a .875 points percentage.
Leading the way offensively for the AHL Penguins is left-winger Scott Wilson. The second-year pro has 11 points in seven games, including six goals. Rookie center Dominik Simon has chipped in with three goals and five assists of his own.
The Penguins are hosting St. John's this evening.
Photo credit: Gregory Shamus/NHLI via Getty Images