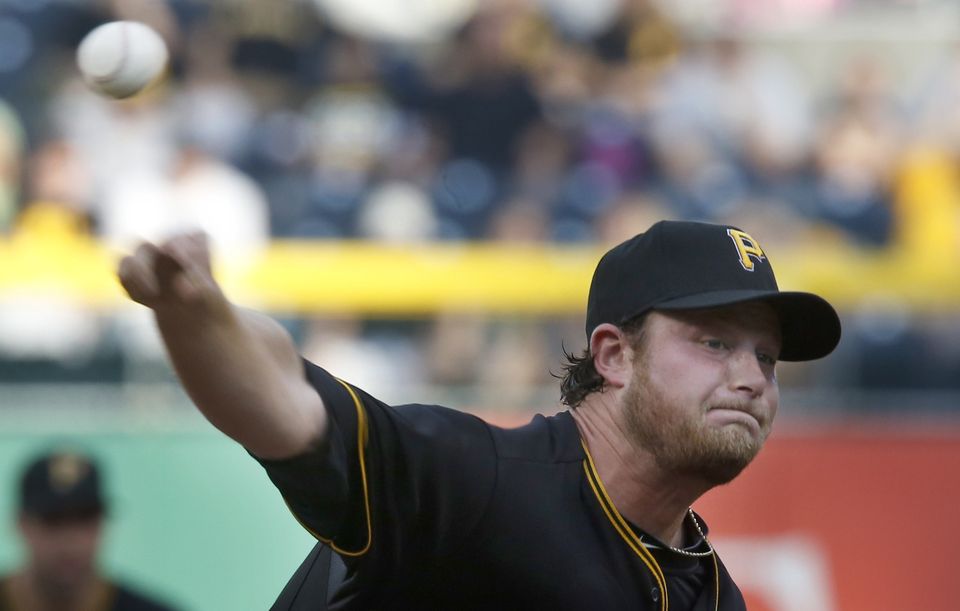 PNC Park — The Pirates continued to break out the bats and Gerrit Cole recovered from a shaky first inning as the Buccos continued to exercise their demons against the Brewers 10 – 3 on Friday night. It was Gerrit Cole's fourth victory in as many tries to start his ML career. It ended an eventful day that saw the organization introduce Austin Meadows earlier that afternoon.
The Brewers got to Cole fast in the first as Nori Aoki walked on four pitches to start the game off and Jean Segura and Carlos Gomez singled to load the bases. Cole would then hit Aramis Ramirez to force in a run. Another would score by way of a Jonathan Lucroy GIDP and Juan Francisco would single in Gomez to make it 3 – 0. "He got some adversity – right away. His command wasn't there, he didn't really have much of a secondary arsenal to go to, initially, and then after the first inning he just met the demands of the game" said manager, Clint Hurdle.
Cole would then settle down through the next five innings thanks, in part, to some fine defense in the second. Andrew McCutchen would make a sliding grab to rob Segura of a hit with Aoki on first. Aoki would then be thrown out stealing on a perfect throw by Russell Martin to end the inning.
He knows that it's okay to let your teammates contribute to help you succeed, "Those were big (the two plays in the second) – we played solid defense all night and they took away a couple of hits and, you know, that's so huge when you're on the ropes and pitch count is getting up there to have those guys be able to pick you up and make some quick outs. It changes the ballgame."
From there, Cole would only allow four hits while striking out three. Ryan Reid would then pitch the final three innings while allowing only three total base-runners for his first career ML save. To Reid, he was just contributing to the team, "You work hard for this opportunity and when you get here and get that opportunity – what are you going to do with it? And to have the opportunity to be a part of a winning ball club like this, I couldn't of imagined and you gotta keep it rolling. I'm excited to be a part of it and we'll see what happens from here."
On the other side of the mound, the Pirates bats were as alive as the thunderstorm that rolled through Pittsburgh two hours before first pitch. They would get to Brewers starter, Johnny Hellweg in his ML debut, with a 7-run second inning which was started by a 2 RBI double by Neil Walker. Starling Marte, Russell Martin and Andrew McCutchen would all record RBI singles in the inning.
The Pirates would not be finished, although, as they would score once in the third, sixth, and eighth innings to end the scoring. Gerrit Cole would record his second hit as a Pirate in the second and score from first on a Marte RBI double.
Marte would score the ninth run in the sixth inning after leading off the inning with a triple to right-center field. He may be the only player in baseball to be fast enough to do that. He, also, would barely avoid the cycle when he flew out to deep left in his final at-bat. Cutch would end the scoring with a monster shot six rows deep in the north side notch in the eighth.
Final Score: Pirates 10, Brewers 3.
"We maintained momentum we had on the road," said Cutch. "It's good to play at home in front of a sellout crowd. It makes it fun and just to have their support behind us, you know? It was good to be able to get a win."
These two will be back in action tomorrow evening at 7:05
Starters Lines:
Cole (W, 4 – 0) 6 IN, 8 H, 3 R, 3 ER, 3 BB, 3 K's 1 HP. 94 Pitches (56 Strikes)
Hellweg (L, 0 – 1) 1 2/3 IN, 6 H, 7 R, 5 ER, 2 BB, 1 K. 52 Pitches (26 Strikes)
Tomorrow's Starters:
(LHP) Francisco Liriano (PIT) 6 – 3, 2.30 ERA
(RHP) Donovan Hand (MIL) 0 – 0, 2.37 ERA
(Photo Credit: (AP Photo/Keith Srakocic)