For eight innings in Tuesday night's Pittsburgh Pirates' contest against the Milwaukee Brewers (39-52), the Pirates led.
Then, in the ninth inning, Pittsburgh (48-45) handed the ball to closer Mark Melancon, who allowed the first two Brewers he faced to reach base (issuing a walk to Ryan Braun and giving up a single to Jonathan Lucroy). Melancon seemed to find his rhythm and get things together, striking out the next two batters he faced. But, needing one final strike to close out the game, he gave up a single to Hernán Pérez.
Luckily, Melancon's blown save was moot when, to start off the bottom half of the ninth, Pirates second baseman Josh Harrison hit a long drive off PNC Park's right-center field wall that center fielder Kirk Nieuwenhuis couldn't time. Harrison rounded second base and dove into third.
Nieuwenhuis made a quick relay to Milwaukee second baseman Scooter Gennett, who under-threw Pérez, the Brewers' catcher, and the ball went out of play. It was ruled an error, and Harrison was awarded the Little League home run to give Pittsburgh the 3-2 walk-off win.
.@jhay_da_man's adventure around the bases sent everyone home happy. #Walkoff #Pirateshttps://t.co/3fXEdF4plc

— Pirates (@Pirates) July 20, 2016
Heading into Sunday's game against the Washington Nationals, Melancon had an 18-inning scoreless streak and 23 consecutive saves. Now, the Pirates' closer has blown two saves in a row.
But Melancon's ninth inning adventure wasn't the only close call for the Pirates.
Pitcher Jameson Taillon was making his first start since being placed on the 15-day DL because of right shoulder fatigue, and his appearance was nearly shorter than expected.
Taillon was hit in the head by a 105-miles-per-hour line drive, and the pitcher immediately went to the ground on the mound.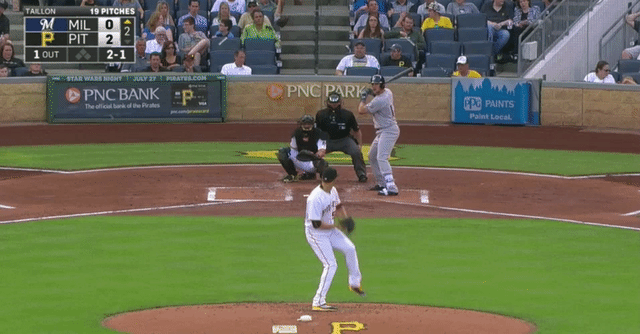 Quickly, Pittsburgh's head athletic trainer Todd Tomczyk arrived on the mound with fellow trainer Ben Potenziano. While they assessed Taillon, Pirates manager Clint Hurdle and team physician Dr. Edward Snell were on the mound listening to the trainers' feedback.
Though the blast immediately scared Harrison and Andrew McCutchen McCutchen behind him, Taillon threw a few warmup pitches and remained in the game — to the delight of Pirates fans who gave the pitcher a very loud ovation when he stood and started warming back up.
Not exactly how I imagined today going when I got out of bed. But going to bed feeling extremely lucky. Thanks to everyone who reached out

— Jameson Taillon (@JTaillon19) July 20, 2016
Taillon (2-1, 3.44 ERA, 1.18 WHIP) went six innings and received a no-decision; he allowed one run on five hits. Perez made the lone dent in Taillon's line with a fourth-inning RBI ground out that scored Chris Carter.
The Pirates got the scoring started in the first inning off Nationals starter Júnior Guerra. Right fielder Gregory Polanco walked, McCutchen singled, left fielder Starling Marte walked and third baseman David Freese singled to right, scoring Polanco. Then, catcher Francisco Cervelli, in his first game back off the DL because of a broken left hamate bone, hit an opposite-field sacrifice fly to plate McCutchen.
See also: Why Pirates should be buyers — not sellers — at trade deadline
It was Cervelli's first appearance for the Pirates in 31 games — he'd been on the DL since June 11. Prior to the injury, the catcher was batting .257 with 21 RBIs in 49 games. Tuesday, batting sixth, he was 0-2 at the plate with one walk, one strikeout, the one RBI and one stolen base.
Up Next:
With the Pirates now on a two-game winning streak, they'll look for a series win Wednesday when Jeff Locke (8-5, 5.26 ERA) gets the start against Milwaukee's  Chase Anderson (4-10, 5.44 ERA). Locke has a 5-5 record with a 3.26 ERA in 13 career starts against the Brewers.
Of Note:
Tuesday was Polanco's first appearance in the Pirates' starting lineup in 11 games — he'd been dealing with a nagging left hamstring issue that began bothering him in early July. … To make room for Cervelli and Taillon, pitcher Chad Kuhl was sent to the minors after starting Sunday, and catcher Erik Kratz was designated for assignment. He had a .107 average with one home run and four RBIs.