The Pittsburgh Pirates are looking for their second five game winning streak this season which would happen if the team defeats the Philadelphia Phillies tonight.
Last night, the Pirates won 7-2 at Citizens Bank Park. Josh Harrison and Andrew McCutchen each hit their third home runs in the victory. McCutchen had not hit a home run in a month, which spanned 98 at-bats. Harrison had gone 62 at-bats without a homer and it was the first three run home run of his career.
Tonight's starters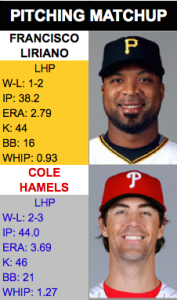 In tonight's contest the Pirates will send left-handed starter Francisco Liriano to the mound against fellow left hander Cole Hamels.
Liriano owns the second lowest road ERA in the National League at 1.27 while also holding opposing batters to an NL low .149 batting average against. Liriano's strikeouts-per-nine of 10.2 also is among the NL leaders. Liriano is 1-0 with a 0.00 ERA in one career start against the Phillies. Liriano lost his last outing against the St. Louis Cardinals allowing six runs [five earned] on six hits in 6.1 innings of work. Of the three batters that have faced Liriano seven times or more, none are hitting above .143 against him.
Hamels is 2-2 with a 2.76 ERA in seven career games against the Pirates. He is 55-43 with a 3.25 ERA in 138 career home starts. Hamels ranks among the league leaders in night ERA [2.18], strikeouts [42], opponent batting average against [.216], home runs allowed [8], wild pitches [3], strikeouts-per-nine [9.4], balks [2] and walks [21].
"We can anticipate seeing two guys that work well at a good pace," manager Clint Hurdle said. "This is a really good matchup on paper, one of the best in the league today. You've got to love that about our game."

Pregame thoughts:
Sean Rodriguez makes his return to the starting lineup today. He is hitting .382 on the season.
"We've liked the defensive versatility, the determined focus and determined practice reps," said Hurdle. "He has a lot of qualities that Russell Martin has as far as intangibles, character. He plays with an edge and plays very focused."
Hurdle even joked that Rodriguez is referred to as Serpico, the Al Pacino character from the 1973 movie with the same name is an eye patch shy of falling as a Pirate, either way he has made himself a welcome part of the team.
"The swing is playing with the limited at-bats so he's been a very good addition," said Hurdle.
Corey Hart will get the start in right field today. Rodriguez will start at first base since Hurdle said he wanted the better defender at first base with Liriano, a traditionally ground ball type pitcher.
This is the fourth left-handed starter the Pirates have had this season which has made at-bats hard to find for Hart.
"It can make it a little difficult but we're all professionals so try to stay ready and you've got to adjust," Hart said. "It's always tough when you don't see many but you've got to find a way to get it done."
On Thursday, pitcher Jameson Taillon will take the next step in his recovery from Tommy John surgery. Taillon will pitch an inning in extended Spring Training tomorrow, his first action against live hitting. Sunday general manager Neal Huntington had teased Taillon was getting close to game action.
"He's really excited and our entire organization is excited for him, he's worked extremely hard," Hurdle said. "Six months ago he was pushing that sled at Pirate City and doing so much extensive work to keep his mind where it needed to be because he wasn't really able to throw a ball. It was good have him in Spring Training and see that youthful enthusiasm. It also adds a layer of physical and mental toughness to these guys when they go through that."
Bottom of the ninth:
In yesterday's pregame press conference, Hurdle discussed moving Starling Marte to cleanup and Neil Walker second in the batting order. Hurdle explained this lineup construction against right-handed pitching and in an exclusive interview, Walker has bought into it.
"I feel like I'm capable of being productive at any of those spots but right now it seems like a pretty good fit and guys seem to be falling into their spots well," Walker said. "We're going to try and continue to move forward in that fashion and try to utilize that lineup construction as much as we can."
Reliever Antonio Bastardo is expected to return to the team following this series against the Phillies meaning he will be in Chicago for the three game set against the Cubs.
Clayton Richard earned the victory in today's game with Triple-A Indianapolis. He pitched five shutout innings allowing no runs on four hits, two walks and four strikeouts.
Photo courtesy: Charles LeClaire/USA TODAY Sports