It was another extra inning game last night for the Pittsburgh Pirates and this one lasted 5.5 hours. In the end the Pirates defeated the Detroit Tigers 5-4 in 14 innings.
Neil Walker's RBI double ended up being the game-winning hit as it brought Josh Harrison home from second base.
In tonight's game A.J. Burnett will face Alfredo Simon.
Burnett is making his 16th start of the season and his 6-3 earned a no-decision in his last start after allowing two runs [one earned] in six innings of work against the Cincinnati Reds. He is 6-3 with a 4.81 ERA in 12 career starts against the Tigers. Burnett is five strikeouts away from tying Jim Kaat for 35th all-time in the category.
Simon last pitched against the Chicago White Sox and earned a no-decision allowing five runs on six hits in 6.1 innings. He is 4-4 with a 2.98 ERA in 19 games against the Pirates, five of which are starts. He last pitched eight shutout innings against the team earlier this season and allowed two hits.
Successful June: The Pirates finished 17-9 in the month of June. It is the most wins in a month this season and third-best record in baseball. The team won 17 games in both June and September of the 2014 season. He pitched eight shutout innings against the Pirates in a start earlier this season.
"It just shows that we have a good team and a team that can win in a number of different ways," manager Clint Hurdle said. "Everybody depends on everybody else. We know we need to work hard every day to get just a little bit better. We had a good month of June and we'll crack into July."
Seventh inning stretch: Pirates fans are used to seeing Francisco Cervelli get fired up however Chris Stewart showed that side of him all throughout last night's game. He would pump his first after a big fastball and did the same when he scored on Andrew McCutchen's RBI single in the eighth inning.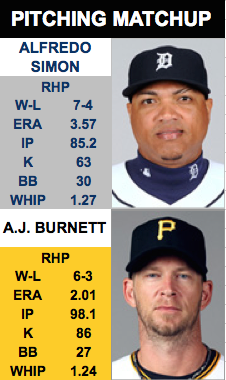 "I let them go once the inning is over," Stewart said. "We got out of a big jam and I let it go for a little bit and once it's over I lock back in. You're always proud of your guys when you get out of a big jam. When they're doing that it pumps me up."
Deolis Guerra earned his first career major league win last night after battling his way for the better part of a decade.
Fellow Venezuelan Miguel Cabrera stood in the way of this mission.
"He was one of my favorite players and to face him there is an honor and an amazing feeling for me," Guerra said. "He's one of the best in the game."
Top of the ninth: Pedro Alvarez has been criticized for a lot of things while wearing a Pirates uniform, however his slide on a tag play in the third innings earned praise from his manager.
"On the bases he's a very good base runner," said Hurdle. "He works very hard in it and takes great pride in it. Any other way than that way he probably doesn't score that run."
Victor Martinez was less than thrilled about being hit by a pitch in last night's game. Gerrit Cole hit him in the fourth inning after Starling Marte was also beaned in the top half of the fourth inning. Home plate umpire Chris Segal issued warnings to both benches.
"I've got no respect for nobody on that team including Cole and their coaching staff," Martinez said to Jeff Riger of 97.1 The Ticket in Detroit. "If they think we did it on purpose, then they're playing the wrong sport."
The Pirates are five games ahead of their pace from last season…Neil Walker now has a .417 batting average in his past five games at Comerica Park… Burnett's 2.01 ERA ranks third in the National League… Pirates catchers enter tonight's game with a .306 batting average which is a major league best… Corey Hart went 1-for-4 with an RBI in his first rehab assignment game as a member of the Indianapolis Indians. John Holdzkom was placed on the 7-day disabled list retroactive to June 29 with a right shoulder strain. This is the second time he has been placed on the DL this season. Jose Tabata meanwhile has been outrighted to the Indians.