When the Pittsburgh Pirates landed from Kansas City at 2:30 a.m Thursday morning, they were coming off a 1-5 road trip. The Pirates returned home and defeated the Washington Nationals by a 7-3 score.
Francisco Liriano picked up the win and manager Clint Hurdle would remark after the game of his starting pitcher's early game dominance that he had never seen four innings where it was only the pitcher, catcher and first baseman that had to make plays.
The Pirates hope to make it two in a row in the second game of a four-game series against the Nationals.
This task will not be easy as Jeff Locke faces Max Scherzer. Fans will remember what happened the last time the Pirates saw Scherzer as he was a Jose Tabata hit-by-pitch away from a perfect game.
Scherzer has had success against the Pirates and has not surrendered a run to them in 19 innings which dates back to June 23, 2012 when he was on the Detroit Tigers. He is 4-2 with a 2.50 ERA in eight career starts against the Pirates. In his last start he took the loss against the Los Angeles Dodgers allowing one run on seven hits in six innings.
"He's a guy you've got to out-compete in the box," Hurdle said. "You need to be ready to hit when you get in the box. You're going to get strikes."
Locke has gone 7-4 with a 2.86 ERA in his last 20 home starts. He is 0-0 with a 2.53 ERA in two career starts against the Nationals. He took the loss in his last start against the Milwaukee Brewers allowing three runs on eight hits in 7.1 innings. Locke batted in the lone Pirate run of that game.
"It starts with conviction to pitch and then the execution of the pitches," said Hurdle of Locke. "In the home starts our record is good in games he starts. He's continuing to learn and challenge himself and continues to learn from opportunities that maybe don't go his way."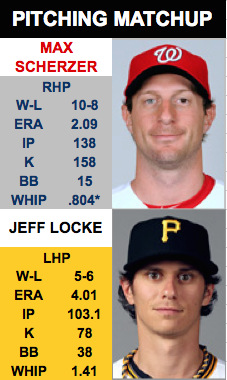 Seventh inning stretch: Though Arquimedes Caminero earned his first career major league win this month, it has otherwise been a struggle for him.
In his first full season, Caminero had found some success but in July has allowed seven runs on 14 hits in 7.1 innings, good for an 8.59 ERA.
"This is a league where three digits isn't going to back anyone away," said Hurdle. "I think he's understanding the importance of location more and reacquire some angle to his pitches he had earlier."
Caminero is out of options meaning if he leaves the major league roster the Pirates risk losing him to another team.
Hurdle also updated the media on various injuries.
Rob Scahill [forearm tightness] tossed a flat ground session today and will have a bullpen session this weekend. Hurdle said that there would be multiple bullpen sessions.
Justin Sellers [Achilles/heel pain] finished rehab in the Gulf Coast League and was optioned out to play in game action. In the Gulf Coast League, Sellers batted .348. It was not known at the time of this writing which minor league affiliate he will join.
Corey Hart [shoulder impingement] will be kept down for "a while". He has been with the team that past couple of days and after being sent home will come back for a few days likely in the middle of August. He will then be placed on assignment where the goal will be to get at-bats every other day. The Pirates are hoping for him to be a usable bench bat come September.
Bottom of the ninth: The Pirates game against the Los Angeles Dodgers on August 9 will be moved from 1:35 to 8:05 to accommodate ESPN for Sunday Night Baseball… Andrew McCutchen scored the 600th run of his major league career last night. Since he joined the major leagues in 2009 he has scored the fifth-most runs behind Miguel Cabrera [674], Ian Kinsler [642], Albert Pujols [625] and Robinson Cano [618]… Gregory Polanco has safely reached base each of the past 14 games… Ian Desmond hit his 100th career home run in last night's game and is the second player in Nationals history to join the mark. Ryan Zimmerman [189] was the first.
Update 6:55 p.m.: First baseman Clint Robinson was a late scratch for the Nationals. He was replaced in the lineup by left fielder Matt den Dekker, with Tyler Moore shifting from left field to first base.
Photo credit: Alex Branton/AP