The Pittsburgh Pirates return to PNC Park for their first home game in the month of September. The opponent is a familiar one in the Milwaukee Brewers.
This is the last series between these two teams in 2015. The Pirates have lost their past six contests against the Brewers and are 6-9 against them this season.
Tonight, A.J. Burnett makes his return to the Pirates rotation and will face Wily Peralta.
Burnett is returning from right elbow inflammation and missed 37 games overall. He is 2-7 with a 4.35 ERA in 12 career starts against the Brewers. Burnett is 1-2 with a 10.13 ERA in the second half, however the legitimacy of those numbers can be questioned because of the injury. In his last start, which was July 30 against the Cincinnati Reds, he allowed eight runs [seven earned] on 10 hits in 4.1 innings. He has a 2.11 ERA in 10 home starts this season.
Peralta is making his 18th start of the season and first against the Pirates. His last start was September 5 against the Reds and he allowed no runs on two hits in two innings before a 93 minute rain delay interfered with his coming back into the game. Peralta is 2-2 with a 3.66 ERA in five career starts against the Pirates.
Seventh inning stretch: It is no secret that Jung Ho Kang has been performing well of late. Kang has a team-high 11 home runs since the All-Star Break which also places him in a tie for second among National League rookies.
Kang also has 24 extra base hits since the All-Star Break and 40 on the season which is the most since Neil Walker had 44 in 2010.
"He's had a strong second half and has come out of the chute very well," manager Clint Hurdle said. "He's a good hitter that has hitting instincts. We just need to continue to let it play out. He's doing everything he can to get a little better every day."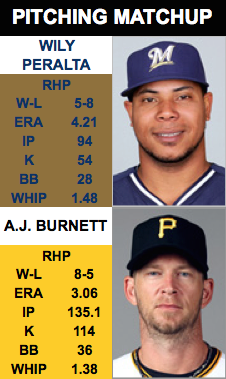 In his pregame press conference, Clint Hurdle talked about a name familiar to Pirates fans, Jeff Banister. To the surprise of many, Banister's Texas Rangers are two games behind the Houston Astros in the American League West and. 1.5 games ahead of the Minnesota Twins for the second AL Wild Card spot entering play today.
"They're hunting, it's a fun team," said Hurdle. "Jeff has done a really good job with them and it was working out the way it was meant to. It was hard at the start but Jeff knows how to do hard."
Bottom of the ninth: Despite the usage of instant replay, ejections are noticeably up this year. This is purely because of balls and strikes however. Even in last night's game against the Cincinnati Reds, prior to Joey Votto's ejection, he was disappointed in the call for strike one before he was denied the ability to call timeout prior to a pitch.
"It's the only thing we have left to tussle about, whine about, cry about and yell about," Hurdle said.
Neither Tony Watson nor Mark Melancon will be available for tonight's game. Joakim Soria will close should the situation arise… Hurdle did not divulge if A.J. Burnett would have a pitch count. Burnett is three strikeouts away from passing Don Drysdale for 32nd in career strikeouts… Michael Morse is batting .392 [31-for-79] in his career against the Brewers… Andrew McCutchen is one home run away from 150 in his career… The Pirates are 4-0-4 in four-game series this season and are 22-6 in their past 28 games played at PNC Park. Their 46 wins at home are one less than the Los Angeles Dodgers who possess the best home record in Major League Baseball.
Photo credit: Ed Zurga/Getty Images