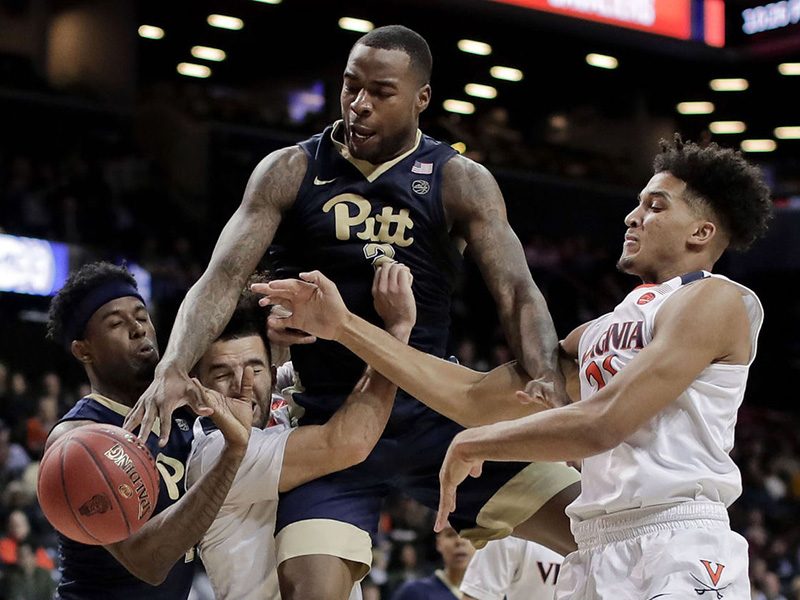 (Photo by: Julie Jacobson/AP)
The season is officially over for the Pittsburgh Panthers men's basketball team.
Pitt fell to the No. 21 University of Virginia Cavaliers 75-63 on Wednesday night in the ACC Tournament to end the season on a low note. The night before, the 14-seeded Panthers started the tournament with a narrow 61-59 win over the tournament's No. 11 seed, Georgia Tech.
"We're very disappointed," head coach Kevin Stallings said after Wednesday night's game. "Congratulations to Virginia. They just played better than we did. Our inability to keep them away from effective 3-point shooting I thought cost us for the whole game, really."
To say the Cavaliers were effective on the 3-point line is putting it lightly; Virginia converted 11 out of 22 3-point attempts. The Cavaliers were led in scoring by freshman Kyle Guy, who notched 20 points. (Guy made four out of six 3-point attempts.)
Virginia had two other double-digit scorers, as London Perrantes had 15 points and Ty Jerome, who came off the bench to play 28 minutes, had 11. Perrantes, a senior, is the undisputed leader on the court for the Cavaliers.
"Yeah, I basically just do whatever (Perrantes) tells me," Guy said. "He's been a tremendous leader on and off the court — for me, especially, and the rest of the guys. When he tells us that he loves us and he has confidence in us, it's really easy to play free."
On the other hand, Pitt was led in scoring by sophomore guard Cameron Johnson, who scored 20 points. Senior guard Jamel Artis had 18 points, and fellow senior, Michael Young, forward, scored 14 points. It was the final ACC game for both of the seniors, as well as for fellow seniors Chris Jones, guard/forward, and Sheldon Jeter, forward. Jeter led the team in rebounds with seven while Young and Jones tied for most assists, providing two each.
The Cavaliers led in every major offensive category — field goal percentage, 3-pointers, free throw percentage, assists, rebounds — except blocks (the Panthers had three to Virginia's one.) Pitt even had more turnovers than the Cavaliers (10 to Virginia's seven).
With their NCAA tournament hopes destroyed, the Panthers will now await news from the NIT. Pitt finishes the season with a 16-17 record (4-14 in the conference). The losing record is the first for the team since the 1999-2000 season.