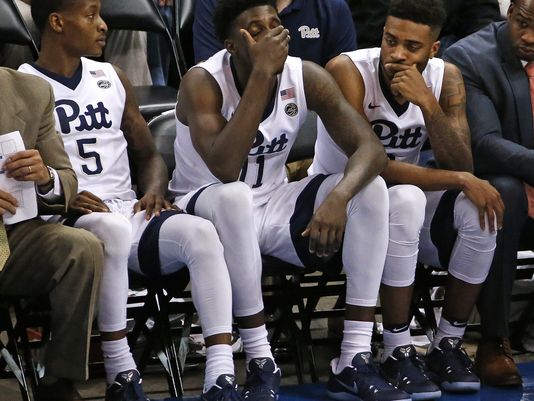 Only three days after handing the Maryland Terrapins their first loss of the season, the Pittsburgh Panthers were upset by their local rivals, the Duquesne Dukes, 64-55.
Notably absent from the game for Pitt was senior guard Jamel Artis. However, Panthers head coach Kevin Stallings said the guard's absence was only a "one-game thing."
"Hopefully we don't have to be without him very much," Stallings said. "He's a pretty good player, and his numbers speak to that. We have to do as a team what we have to do in order to be successful with whoever is in the game."
He added later: "We are obviously disappointed with the outcome of the game. (Duquesne) played really hard and deserved to win the game tonight. As a team, we have to do what we have to do to be successful with whomever we have out there. We weren't good enough on offense; we didn't shoot well enough. We didn't anything well enough offensively to win the game. Our defense was just OK."
Michael Young led the Panthers with 19 points. Pitt's Cameron Johnson also notched double-digit points with 14, while Chris Jones added 11 points. Sheldon Jeter led the Panthers with 10 rebounds, and oth Ryan Luther and Johnson recorded eight rebounds. Young and Jones led the team in assists with three each.
"This is the first time that we've had a game that Mike's been off, but it's unfair to put the pack on his shoulders every night," Stallings said about his senior.
 The Dukes' Emile Blackman led the team in points with 21, and he was followed by Mike Lewis II (15 points) and Tarin Smith (12 points). Isiaha Mike led the team in rebounding with eight rebounds while also tying Smith for the most assists with three assists each.
"That was a great win for our team and for our university," said Dukes head coach Jim Ferry. "This is just a credit to our kids and how hard they played. It hasn't been the easiest year for us this year with all of these new guys. We've lost some close games at the buzzer. For these kids on a big stage with the lights on in a rivalry game, it just shows such character and heart. I'm really proud of these guys."
The Panthers struggled with their three-point shots, only converting 3/22 attempts. Pitt's field goal attempts weren't much better, as only 20/60 field goal shots were converted. Ultimately, it was the three-point shots that made the difference, as the Dukes converted 8/26 three-point shots.
However, Jones, a guard for the Panthers, isn't seeing the loss in complete negativity. Jones said the Panthers need to re-group and focus on the rest of season, not just dwell on the City Game loss.
"I think it will hurt now," Jones said. "I know it hurts Mike (Young) and the rest of the team just as much, but there is a lot of basketball left to play, and we got to just turn it around. I mean it hurts now, but we just got to get over it and turn it into a positive down the road."
What's next?
The Panthers will host the University of Buffalo at the Peterson Events Center on Wednesday, Dec. 7. Tip-off is scheduled for 7 p.m. EST.
Image credit: The Associated Press