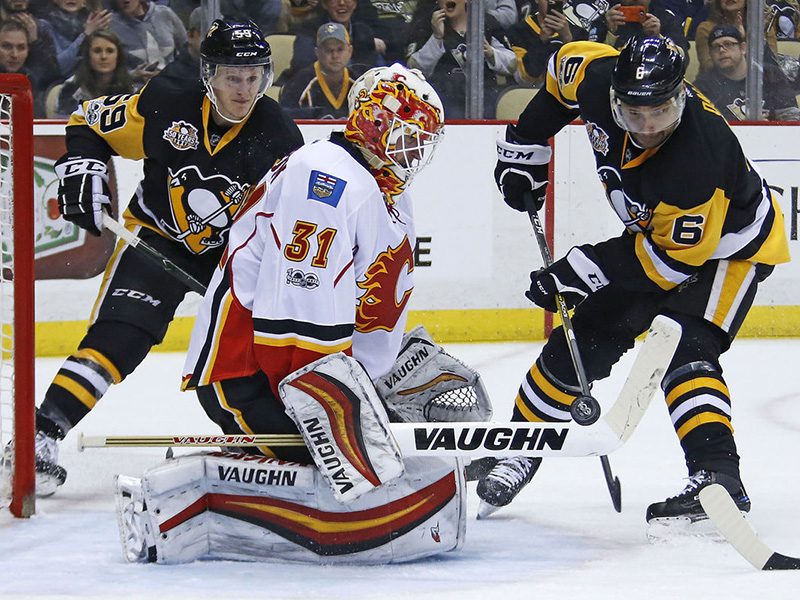 (Photo by Gene J. Puskar/AP)
Riding a three-game win streak, expectations were high for the Pittsburgh Penguins (33-13-6) heading into their game against the Calgary Flames (28-25-3). But the Penguins didn't have the explosive start they were hoping for — Pittsburgh was down 2-0 after the second period — and it hurt the team's chances in the long run.
In the end, the Penguins fell to Calgary 3-2 in a shootout loss.
"We didn't have very many shots in the first half of the game," said winger Chris Kunitz, who scored Pittsburgh's first goal. "We had only a few good shifts that first half. It wasn't good enough. We found a way to come back, but it wasn't good enough."
While the Penguins are a very fluid, versatile and shoot-happy team, the Flames are much more reserved in their play. By controlling the puck and taking only smart shots, they gave the Penguins a run for their money.
Both teams were guilty of struggling offensively. While Pittsburgh was able to rally back from the two-goal deficit and tie the game, putting themselves in that tough of a position heading into the final period of play against a struggling team obviously isn't ideal.
Starting the season at PPG Arena with a record of 20-1-2, the Penguins haven't been as dominant at home in their last four games, posting a 2-1-1 record. Kunitz and rookie center Jake Guentzel, who scored his fifth goal this season, tied the game with less than six minutes remaining, but, in the shootout, Calgary winger Kris Versteeg's shot was the only one that went in.
Chad Johnson, the Flames goalie, did a wonderful job in fending off Pittsburgh's offensive power and secured his 17th win of the season. On the other side, Penguins netminder Matt Murray has continued his up-and-down play, earning his eighth loss on the season and his third in his last five starts.
Chasing 1000
Sidney Crosby's play Tuesday night got him two steps closer to his magic 1000th career point; he now has 998 points. He got a point Tuesday night after setting up Kunitz, who was charging from the wing right to Johnson's doorstep.
Kunitz, in one fluid motion, was able to take the quick feed from Crosby and dish it right past Johnson to get the Penguins on the board early in the third period.
Crosby had several phenomenal chances for that 1000th point, but both Flames netminder Johnson and the post denied the Penguins' center. He finished with three shots on goal.
With 998 points, Crosby is still eighth on the active NHL points leaderboard behind Jaromír Jágr (1897 points), Joe Thornton (1374), Jarome Iginla (1287), Marian Hossa (1122), Patrick Marleau (1067), Alexander Ovechkin (1015) and Henrik Sedin (1002).
Final Notes
Pittsburgh's penalty-kill unit did a great job Tuesday night even if it wasn't able to deliver a win. Killing off four penalties against a puck-controlling team was paramount for the Penguins to even have a shot at winning the game. The biggest kill came in overtime when defenseman Trevor Daley was called for holding and there was outstanding play by both the penalty kill and by Murray in net
Lastly, the Penguins didn't have a single shot on net in overtime. Pittsburgh has a lethal offense, so, while the team spent a portion of its overtime period on the penalty kill, there's no excuse for not getting off a single shot.
The Penguins have typically played well in overtime this year, with five wins coming in the added time. Tuesday night's game against Calgary just wasn't an overall good performance from the offense.
Injury Report
Winger Scott Wilson left the game with about four minutes left in the second period and didn't return. … Winger Carl Hagelin was scratched before Tuesday's game; he's in concussion protocol after a hit in Saturday's win over the St. Louis Blues. …  Center Evgeni Malkin missed his fifth-straight game with a lower-body injury but skated Tuesday morning wearing a non-contact jersey.
Looking Ahead
The Penguins now begin a brief two-game road trip to the West Coast, beginning with the Colorado Avalanche on Thursday at 9:00 p.m. EST.