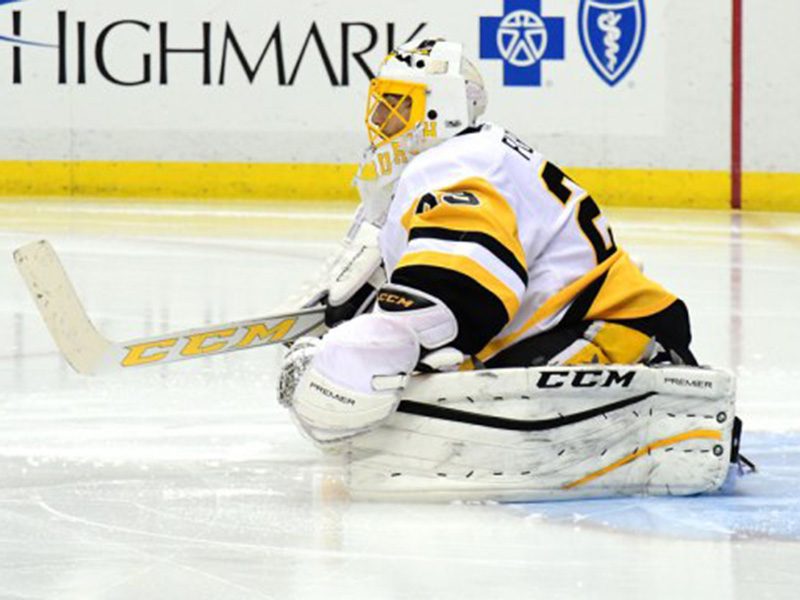 After sitting for eight games, Marc-Andre Fleury put together a stellar performance in net, saving 22 of 23 shots. (Photo by: Matt Kincaid/Getty Images)
A strong defensive performance Saturday night against the St. Louis Blues (25-22-5) gave the Pittsburgh Penguins (33-13-5) their third-straight win, beating the Blues 4-1. The win came not only from a disciplined defense but also a great showing by veteran goalie Marc-Andre Fleury.
After not starting in eight games, Fleury finally got the nod to start in net. In his two previous starts, he gave up a combined 10 goals. But Saturday night, Fleury faced 23 shots and saved all but one of them. His performance helped his team move into a tie for second place in the Metropolitan Division with the Columbus Blue Jackets.
With the Washington Capitals still atop the Metropolitan Division by five points, Pittsburgh still has an uphill battle to climb should the team have aspirations of getting another Division Championship. For the Penguins to get there, their defense will be vital.
Everyone knows Pittsburgh's offense can score, but, defensively, the Penguins have lacked toughness and discipline at certain points this season. Committing only two penalties Saturday night and drawing five — although no goals resulted — the Penguins appear to be beginning to play tighter around the net.
Fleury gobbled and cleaned up a lot of rebounds, but the ones he couldn't get were almost immediately handled by his teammates, who cleared the puck and pushed to the opposite side of the ice. This was a huge game for Fleury, and he did a great job in being both physically and mentally prepared for St. Louis.
"A lot of times it starts with the management of the puck," said head coach Mike Sullivan. "It all starts in not giving up the puck or odd-man chances to our opponent. … I know this team is talented and will score goals, and to become a playoff ready team, we need to be a tougher team to play against."
Crosby Melting the Ice
This season, Sidney Crosby has found a whole new level of elite. Not only did he score yet another first-game-goal, he did it with style. Closing in on his 1000th career point, it's safe to say Crosby has been one of the league's best players to ever touch the ice.
Saturday night, he was able to score his 29th and 30th goals of the season, the final one being a chip shot on an open net. His first goal came off of a beautiful pass from Chris Kunitz right in front of the net, which Crosby backhanded past Blue's goalie Jake Allen.
Crosby also was able to tally an assist by faking out the St. Louis defense while defenseman Justin Schultz streaked behind the Blues' net and Crosby tossed it right to Schultz's stick for Pittsburgh's third goal of the game. Overall, the Penguins did a good job of going on the road and beating a team with playoff hopes.
Final Notes
The Penguins suffered yet another injury on the ice in the game against St. Louis, with Carl Hagelin leaving the game with what appeared to be a shoulder injury. Pittsburgh is already down a man with Evgeni Malkin out with a lower-body injury.
Carter Rowney, playing just his third game since being called up, got his first career assist. Not only was he able to score a point, but his consistency in being at the right place at the right time was exactly what the Penguins and Sullivan were hoping for.
Despite just being called up, Rowney looked as if he had been on pro ice for most of his career. If the Penguins can continue to get solid play by players who still have a lot to prove, it will only give this team a better shot at making a second-half run for the division lead.
Looking Ahead
The Penguins will next come home to PPG Paints Arena to host the Calgary Flames this Tuesday at 7:00 p.m. EST.