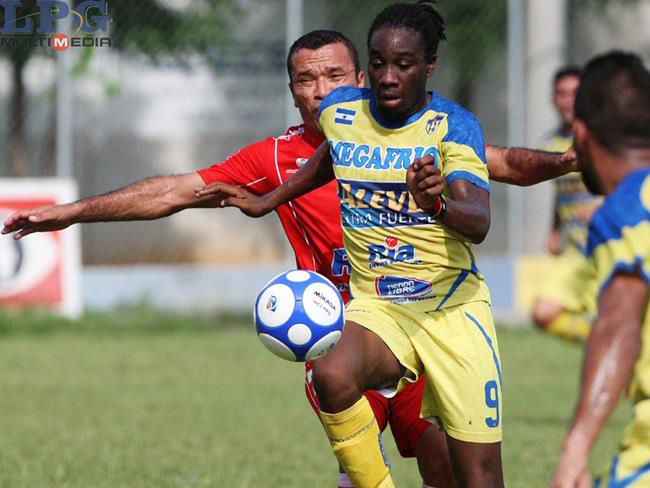 Devaughn Elliott (9) scored in El Pasaquina's 3-1 victory over Juventud Independiente. (Photo by LPG)
The Pittsburgh Riverhounds are adding to their roster non-stop. Only a day after exercising an option to keep leading scorer Corey Hertzog for the 2017 season, the Riverhounds signed striker Devaughn Elliott.
Elliott, who is from the West Indies island nation of Saint Kitts and Nevis, started his career in 2009 with the club Positive Vibes. He didn't record a single cap with the club and wouldn't record any caps with Village Superstars, where he spent time from 2010-13.
However, Elliott found success when he signed with W Connection FC in Trinidad and Tobago. He recorded 64 caps, scoring 25 goals. He spent three seasons with the club and helped the team win a league championship in the 2013-14 season.
After his strong campaign in Trinidad and Tobago, he moved to El Salvador's Salvadoran Primera División league. He signed with C.D. Pasaquina, where he made 23 appearances and scored eight goals. In 2016, Elliott made his way to Murciélagos, where he appeared in 19 matches for both the professional team and its B-side. He scored five goals between the professional team and the B-side.
At the international level, Elliott has 29 caps for St. Kitts and Nevis, where he has scored five goals. He made international history when he scored against Andorra, making him the first player in the St. Kitts and Nevis' history to score against a European team. St. Kitts and Nevis ended up winning the match, 1-0.
Head coach Dave Brandt raved about the signing of Elliott in a press release.
"Devaughn, his best trait is that he is fast. He's got great speed and he's a very aggressive attacker, so those are both big plusses for this club," Brandt said. "I think him having played in the Mexican second division this past year — that is a quality league where the tempo is also high. It's a fast, skillful league. Coming out of a league like that, maybe instead of another one where the pace is a bit slower, that's going to make his transition to the USL that much easier."
The Riverhounds now have nine players under contract for 2017. Elliott joins Kay Banjo, Keasel Broome, Shane Campbell, Ritchie Duffie, John Manga, Kevin Kerr, Chevaughn Walsh and Hertzog.
The Riverhounds are holding open tryouts for their club Dec. 9 and 10. Registration for tryouts ended Dec. 7.