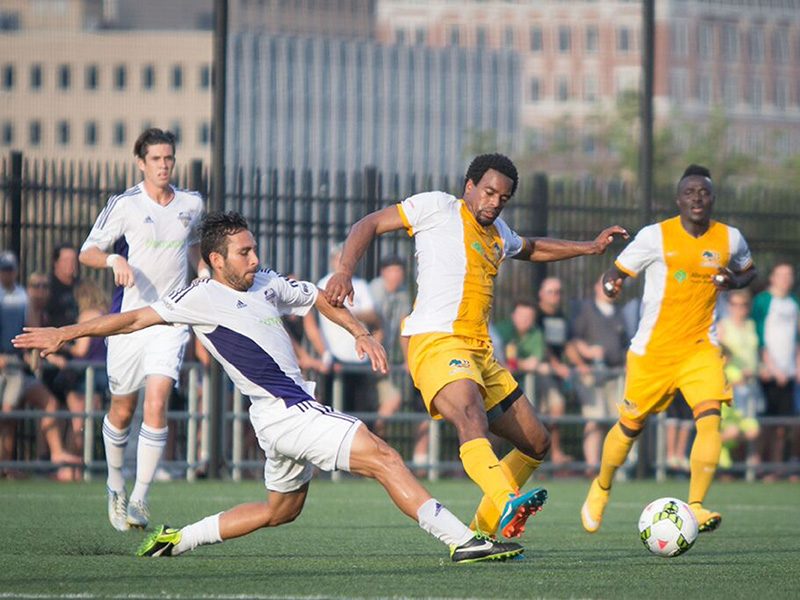 Mike Green re-signed with the Pittsburgh Riverhounds for the 2017 season. (Photo by: Terry O'Neill/Riverhounds.com)
The Pittsburgh Riverhounds gave fans a late Christmas present Wednesday, announcing the re-signing of midfielder Mike Green.
Green, who has spent his entire career with the Riverhounds, was challenged by head coach Dave Brandt to improve his play. According to Brandt, Green passed the test.
"I challenged Michael right after the season to pick up his entire game and take it to a new level — actually, essentially, trial him a month after I said that — and challenged him to be the best player there, and he was the best player there," Brandt said. "I saw a completely different Michael Green from the one who was already a good player. I challenged Michael to be a great player, and I think people are going to see some great things from him in 2017."
Last season, Green appeared in 29 matches where he logged 2,234 minutes, which was the fourth most on the team behind Corey Hertzog, Kevin Kerr and Willie Hunt. In addition, Green had three assists. In his career, he's made 117 appearances for the Riverhounds, scoring five goals.
Even though he's listed as a midfielder, Green saw action on defense last season, specifically at the right back position.
Green joins returning players Hertzog, Kerr, Chevaughn Walsh, Ryan Adeleye, Danny Earls, Jack Thompson and Nick Thompson. Pittsurgh's new players consist of Kay Banjo, Keasel Broome, Ritchie Duffie, John Manga, Taylor Washington, Devaughn Elliott, Shane Campbell, Bryan Arguez, Kenroy Howell and Jamal Jack.