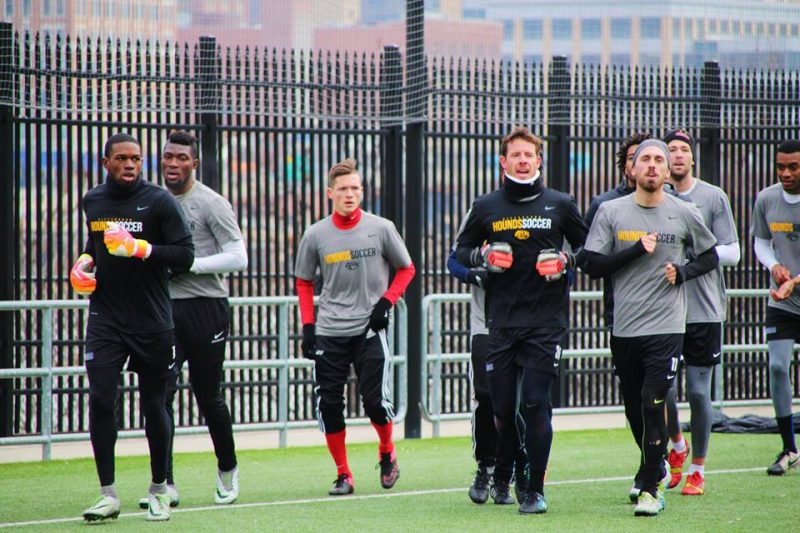 (Photo by Rachael McKriger)
The Pittsburgh Riverhounds opened their preseason action Saturday against North Carolina FC.
The match — the first preseason match as the head coach for Dave Brandt (Mark Steffens was in charge last preseason) — ended in a 1-1 draw, with Mike Green scoring the equalizing goal in the 87' minute. Green's goal was assisted by Kay Banjo, one of many offseason signings.
North Carolina FC, a North American Soccer League (NASL) club, got on the board first when Connor Tobin found the back of the net in the 8' minute on a free kick.
Starting in net for the Riverhounds — which is a United Soccer League (USL) team — was Trey Mitchell, while the second half start went to Keasel Broome. Both goalkeepers are competing for the starting position when the start of the season rolls around.
Plenty of new faces made their first appearances in a Riverhounds jersey. And there were also a couple of additional players, who have yet to be signed by the team, that made appearances. Guy Ballo, Dan Bedoya and Hayden Partain all appeared in the match and are on trial with Pittsburgh.
Ballo, who is from the Ivory Coast, joined the club after starring for the Tulsa Roughnecks FC in 2016. Meanwhile, Bedoya is from the New York Red Bulls II, and Partain formerly attended Wake Forest University. Bedoya has faced the Riverhounds before; he scored a goal against the club in a 2015 USL playoff match.
The Riverhounds also announced that a few players —Ryan Arguez, Devaughn Elliott and Chevaughn Walsh — didn't make the trip down to North Carolina due to injury. Also missing the match was Danny Earls, who is currently serving a suspension from last season.
The Riverhounds will face Duke University on Sunday at 11 a.m. EST for Pittsburgh's second preseason match of the season. The match will be held at the Blue Devils' Athletic Field Complex in Durham, North Carolina.