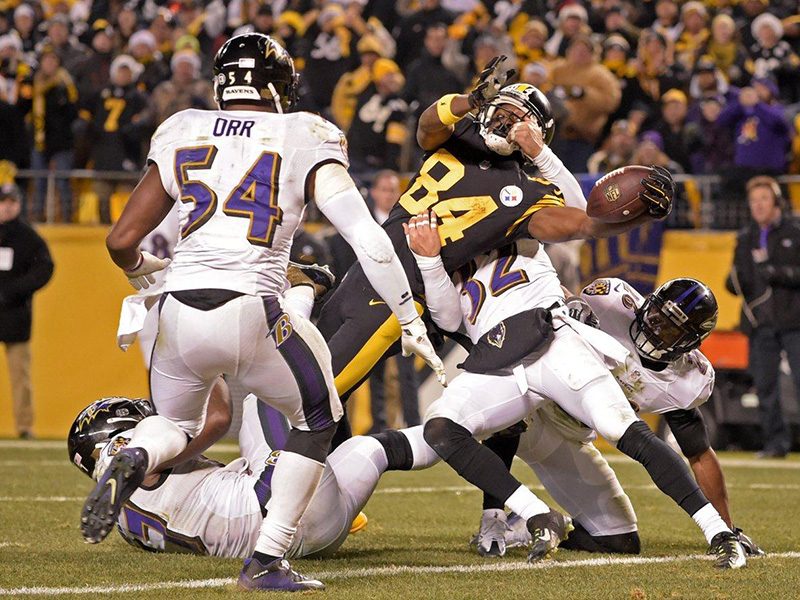 (Photo by: Fred Vuich/AP)
While the Pittsburgh Steelers celebrated their "present" of becoming the AFC North champions on Christmas Day, the Baltimore Ravens sat with a "bah-humbug" attitude in their locker room.
The Steelers narrowly defeated the Ravens, 31-27, on Christmas Day to secure the AFC North title and punch Pittsburgh's ticket to the playoffs. The Ravens are officially eliminated from the playoffs; the Oakland Raiders, Kansas City Chiefs and Miami Dolphins have secured the rest of playoff slots.
Here are the Steelers' grades for their performance against the Ravens in Week 16.
Quarterback:
Ben Roethlisberger wasn't perfect by any means, but when you need someone to get an offense down the field with only 1:18 left on the clock, he's your man. Roethlisberger found targets to get down the field, and he didn't settle for a field goal to tie the game and send it into overtime. However, Roethlisberger's two interceptions can't be ignored.
Grade: B
Running Back:
Le'Veon Bell got back to his "usual" ways with a game over 100 rushing yards. Bell rushed for 122 yards on 20 carries and scored one touchdown. (In the air, he was just as effective, scoring a touchdown and catching three passes for 15 yards.)
Grade: A
Wide Receivers:
Antonio Brown's "Immaculate Extension" was the highlight of the entire game. Give Brown credit; looking back on the replay, he was surrounded by three Ravens defenders but managed to get the ball over the goal line. Brown led the wideouts with 10 receptions for 96 yards. Also tacking on a touchdown was Eli Rogers, who had a big reception (a spectacular, leaping catch for 39 yards) to get the Steelers downfield on the last drive.
Grade: A+
Tight Ends:
Xavier Grimble stepped up with the absence of Ladarius Green. Grimble had one catch, but it was a key touchdown and was the first one for the Steelers. Meanwhile, Jesse James stepped up, too, with four catches for 49 yards. Both tight ends also helped in the blocking department for Bell.
Grade: A-
Offensive Line:
The offensive line was practically perfect against the Ravens. Roethlisberger wasn't sacked a single time, and Bell was productive on the ground. What else could you ask for? Fewer penalties would be nice, but, other than that, it was a solid outing by the 0-line.
Grade: A+
Defensive Line:
Stephon Tuitt was missed, and it was pretty clear. Javon Hargrave had two solo tackles and two assisted tackles, while Dan McCullers only had one tackle. The defensive line had a rough day against Baltimore; the Ravens' running backs had 122 yards. Fullback Kyle Juszczyk had the late touchdown to give Pittsburgh a scare.
Grade: C+
Linebackers:
Lawrence Timmons and Ryan Shazier continue to show their defensive dominance. Shazier picked off Ravens quarterback Joe Flacco, while Timmons recorded a sack. Also recording a sack on Flacco was Bud Dupree. However, the day went to James Harrison, who led the defense with nine tackles and two assisted tackles.
Grade: A
Secondary:
Rookie corner back Artie Burns and rookie safety Sean Davis both had five solo tackles and two assisted tackles to round out their days. Also having the same numbers was cornerback William Gay. The corners and safeties had some good looks in red zone coverage, but the group let a few bombs from Flacco get to the receivers too easily, especially that Steve Smith Sr. touchdown.
Grade: B+
Special Teams:
Chris Boswell had one field goal attempt from 36-yards that he booted through the uprights; he also converted all four of his extra point attempts. But Boswell struggled on kickoffs, kicking out of bounds twice. Jordan Berry had three punts, with one pinned inside the 20 yard line.
Grade: C
Coaching:
Pretty good for a cheerleader, huh, Terry Bradshaw? Sunday, Mike Tomlin proved that he's much more than a cheerleader, winning the AFC North for the fifth time in 10 years. While Tomlin still needs to work on lowering the team's number of penalties, he gets brownie points for stating that Roethlisberger, Bell, Brown and Maurkice Pouncey will be rested against the Cleveland Browns.
Grade: A
What's Next?
The Steelers will host the Browns on Sunday, Jan. 1, at Heinz Field. The game will begin at 1 p.m. EST. After that, Pittsburgh will be locked and loaded for playoff football.