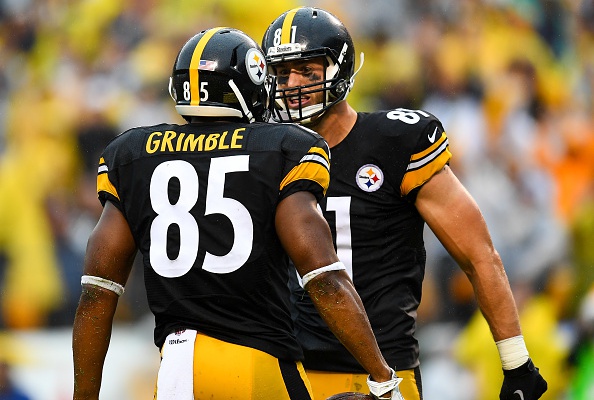 The Pittsburgh Steelers are trying to focus on getting back some momentum after their 24-9 win over the Cleveland Browns that quelled Pittsburgh's four-game losing streak.
Sunday, the defense looked stellar, and, on offense, running back Le'Veon Bell lit up the Browns' defense for 146 rushing yards — he also had 55 receiving yards. But Bell hasn't had many 100-plus rushing games this season (he did miss the first the first three games of the season with a drug-related suspension).
So, what's the problem?
One big concern with both Pittsburgh's rushing and receiving game is the tight end corps. It's obvious to see that the veteran presence of Heath Miller — who retired last season — is greatly missed. While Jesse James is a physically imposing tight end, he's been pretty quiet. And the other tight ends haven't done much better. Ladarius Green just played in his second Steelers game this season after missing most of the season with an injury. Xavier Grimble and David Johnson have been quiet, too.
James has only racked up 236 yards on 29 receptions this year. His longest reception is for 24 yards, and quarterback Ben Roethlisberger has found James in the endzone three times. His highest game, in terms of receiving yards, came against the Dallas Cowboys when he caught four passes for 59 yards.
Green hasn't looked impressive in his two games this season; he has three receptions for 30 yards. In his career with the San Diego Chargers, who he played with from 2012-15, he scored seven touchdowns, four of which came from last season. With Pittsburgh, Green dropped a crucial pass in the endzone against the Browns.
Because of Green's injury, Johnson is listed as the team's second-string tight end behind James. Johnson has appeared in 10 games this season for the Steelers, recording five receptions for 53 yards. (He caught the two-point conversion pass from Roethlisberger against the Browns.)
Meanwhile, Grimble, a rookie, is listed as Pittsburgh's fourth-string tight end behind Green. He's appeared in nine games this season, recording 10 receptions for 98 yards and scored his first — and, thus far, only — NFL touchdown against the Cincinnati Bengals in Week 2.
All four tight ends should be expected to be targeted more. Right now, the wide receiver corp is depleted because Markus Wheaton (shoulder), Darrius Heyward-Bey (foot) and Sammie Coates are all nursing injuries (finger) and Martavis Bryant is out for the season with a suspension. The Steelers' only three healthy receivers are Antonio Brown (who is seemingly almost always double-teamed), Eli Rogers and Cobi Hamilton.
The tight ends need to be counted on in the run game, too. The group has struggled to help Bell rush for over 100 yards a game. (Bell's 146-yard game was really all offensive line work.) This season, he's only had two games where he rushed for over 100 yards. The other game was against the Kansas City Chiefs in Week 4. Before Bell returned from his suspension, backup running back DeAngelo Williams had one game where he rushed for over 100 yards — against Washington in Week 1.
On Thanksgiving, the Steelers are facing a fairly young defensive line on the Indianapolis Colts. Henry Anderson has two years of experience and David Parry has three years, while Arthur Jones has seven years.
When it comes to the linebackers, D'Qwell Jackson and Robert Mathis are two names that pop out; Jackson is the team leader in tackles (67). As a team, the Colts' defense has allowed 1,131 rushing yards on 249 total attempts.
The Steelers' tight ends have a chance to have a big game against Indianapolis in the air, too. The Colts' secondary (which consists of Vontae Davis Clayton Geathers and Mike Adams) has allowed 3,976 passing yards.
This season, Pittsburgh is clearly missing Miller, but the Steelers aren't down and out with the tight ends they have. It still might take a little longer for Green to get acclimated with the system, but James and Johnson certainly need to step up in their roles — now.
Against the Colts is exactly the place to do so.
Image credit: Joe Sargent/Getty Images