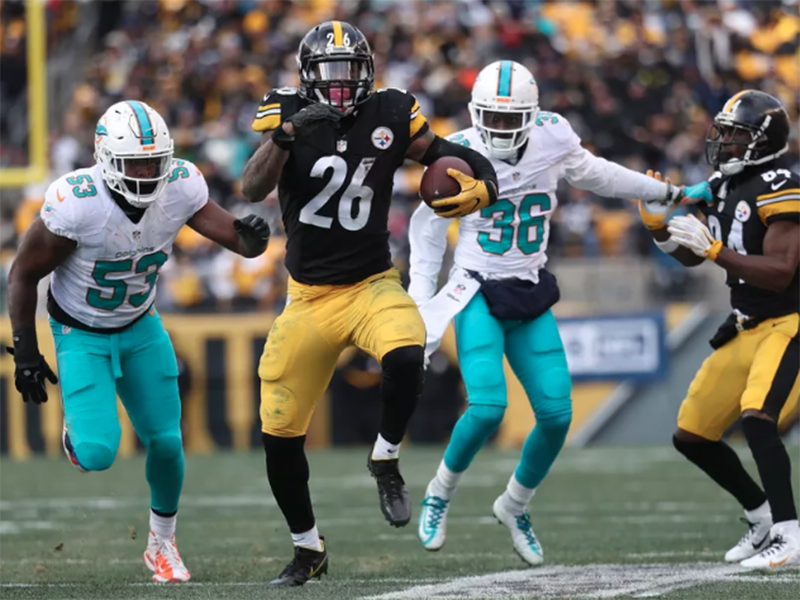 (Photo by: Rob Carr/Getty Images)
Well, that was easy.
In the Pittsburgh Steelers' first playoff game with Ben Roethlisberger, Antonio Brown and Le'Veon Bell on the field at the same time, Pittsburgh rolled to a 30-12 victory over the Miami Dolphins.
And it was those three — the Killer B's — who set the tone in the game. Roethlisberger started the game 11/11, Brown took two short passes for back-to-back 50- and 62-yard touchdowns, and, on one drive, Bell carried the ball 10 times (on 10 plays) for a touchdown.
After the first quarter, Pittsburgh led 14-3. After the second quarter: 20-6. After the third quarter: 30-6.
And while Miami threatened to make it a close game a couple of times, the Dolphins were never able to capitalize and were unable to slow down the Steelers' dangerous offense.
It was a much different story from the last time these two teams met. Then — in Week 6, where the Dolphins won 30-15 and thoroughly embarrassed Pittsburgh and had people calling for head coach Mike Tomlin's job — Bell had 10 carries for 53 yards, and Miami running back Jay Ajayi had 25 carries for 204 yards.
Today?
Bell had 29 carries for 167 yards (a Steeler playoff record) and two touchdowns, while Ajayi had 16 carries for just 33 yards (an average of 2.1 yards per carry). Pittsburgh's first two drives were predominantly pass, which set up the run for the rest of the game. And Bell and his stellar-as-usual offensive line took advantage of a Dolphins run defense that is among the worst in the league (No. 30 of 32 teams).
It looked like having a game off did Bell, Brown and Roethlisberger some good. All three sat out the Steelers' regular-season finale versus the Cleveland Browns, and the three didn't look rusty at all. Instead, they staved off any injury concerns heading into the playoffs and looked fresh — and, as such, very, very dangerous.
Roethlisberger finished 13 of 18 for 197 yards and two touchdowns. He had two picks, the second of which came in garbage time but was just kind of stupid (the first was a little high, but that's a catch Brown typically makes.) Roethlisberger also found seven total receivers, spreading the ball out. He found Brown five times; Bell and Demarcus Ayers twice; and Eli Rogers, Darrius Heyward-Bey, Cobi Hamilton and Jesse James once.
Brown's five catches (on nine targets) went for 124 yards and the two very long touchdowns.
But it wasn't just Pittsburgh's offense that had itself a game. Pittsburgh's defense came to play, too.
Linebacker James Harrison looked 22 years old rather than 38 years old, forcing a fumble, playing a role in forcing another fumble, sacking Dolphins quarterback Matt Moore 1.5 times and finishing with eight total tackles.
Fellow linebackers Bud Dupree and Ryan Shazier combined for 10 tackles and half a sack, and linebacker Lawrence Timmons added 11 tackles and two sacks for a loss of 21 yards.
Miami quarterback Matt Moore, starting in place of the injured Ryan Tannehill, started off well, but his game quickly devolved. He and his offensive line struggled against a dominant Pittsburgh defensive line that sacked Moore five times. He finished 29 of 36 for 289 yards and one touchdown, one interception and two fumbles.
In the third quarter alone, Pittsburgh scored 10 points off turnovers.
But it wasn't like the Steelers' defense was so truly spectacular as a whole — it was more that the defense came up with big plays when they absolutely had to. Pittsburgh struggled to defend on third down, and defensive coordinator Keith Butler called plays to rush only three on those plays instead of bringing four or blitzing.
Overall, it was a physical game — Dupree was called for a vicious roughing the passer hit to Moore — and there were several scuffles after plays. But Tomlin never let his team's emotions get the better of them, and Pittsburgh used their physicality to take control of the game.
In the end, however, it didn't matter. The combination of the Steelers' killer offense and the defense's big plays was too much for a Miami team that was thoroughly outplayed.
Now, the Steelers will travel to face the No. 2 seed Kansas City Chiefs next weekend at Arrowhead Stadium. The two teams faced each other in Week 4 at Heinz Field — the Steelers won easily, 43-14 — but, if today's game is any indication, regular-season games carry no importance when the playoffs roll around.